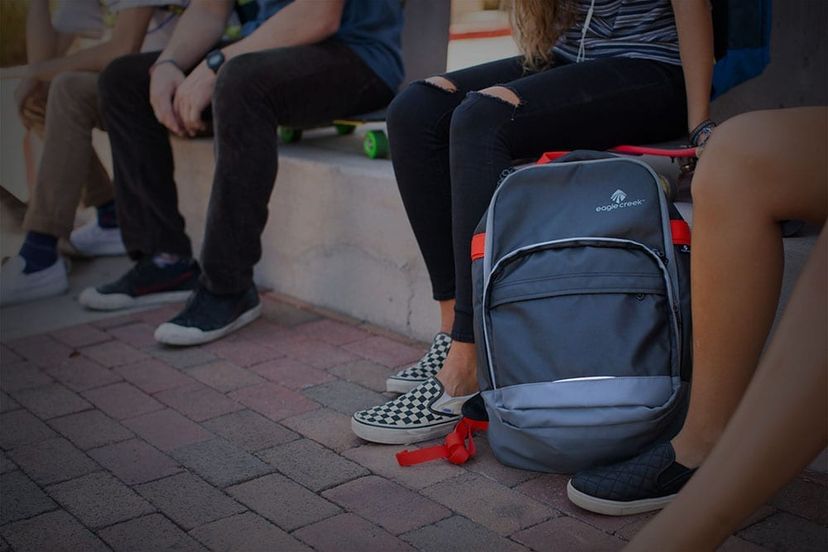 I'm a huge fan of Eagle Creek products; they're pretty much all I use when traveling. I have the large FlipSwitch, the roll-aboard Tarmac 22, and other products like a toiletry kit, travel pillow and the AMAZING packing cubes which have completely revolutionized my packing game. Check out all my Eagle Creek posts here.
There was one thing I was missing though: the perfect, multi-use backpack. I found it in the brand new Eagle Creek Wayfinder, which just hit the market today.
My FlipSwitch converts from wheeled to backpack, but it's really big. Perfect for a serious, long trek but not carry-on or shorter trips. And I have a small laptop backpack, but it doesn't hold a whole lot more. Here's what I was missing in the backpack game:
A pack made for a laptop, with cushioned sleeve and protection for electronics.
Plenty of additional room inside — to use as a single carry-on for long international flights, that would accommodate headphones, book, camera, snacks, change of clothes, travel pillow, etc; or to be used as the single piece of gear for shorter adventures, with space for several outfits and shoes in addition to electronics.
Lots of outside pockets for water bottle and easy access to phone, keys, etc.
Lightweight and comfortable, not bulky or too big.
Durable yet attractive.
My love affair with Eagle Creek has led me to realize that I can almost always find something of theirs that will fit a specific checklist of needs that I have (for instance, as a BAD airplane sleeper I'm never going back to another travel pillow!) So when I heard about their new Wayfinder backpack that was coming out in July, I couldn't wait to give it a preview test spin — and I had the perfect trip in mind. A four-day fitness and wellness retreat in the redwood forests of northern California, with lots of hiking and a carry-on flight.
First the preliminaries: I ordered the Cypress/Highland Green pack because I love color and tend to shy away from the boring black luggage (but the Wayfinder also comes in Black/Charcoal and Night Blue/Indigo). I was pretty pleased with it out of the box: nice color, right size, lightweight but durable fabric that's a nice recycled PVC-free coating which I really appreciate. It actually comes from windshields currently in landfills, which not only recycles waste but also adds a high level of resistance and durability. Win-win!
It had enough, and the right kind, of pockets inside and out. I started packing for my trip, and the Wayfinder accommodated everything I had in mind for it. The back inside compartment held my laptop in its cushioned compartment, and I slid my kindle, book, camera and headphones into the space next to it. I like the fact that this compartment has a water-resistant zipper to help protect your electronics against rain or wetness.
Into the front compartment went:
two pairs of sandals (I wore my hiking shoes)
three pairs of socks
a dress
shorts
two pairs workout/yoga pants
three sports bras/workout tanks
three other blouses
five pairs underwear
swimsuit and coverup
toiletry bag
ziploc bag of liquids and other misc stuff
Yep, all that fit. It was an admittedly tight squeeze, but it all fit nicely and the bag still felt very comfortable on my back. I didn't even need to use the extra waist strap, but it's there if you need it for heavier loads.
Off to the airport, where it was easy to store and quickly grab things like my boarding pass, phone, ID, etc. and go through security. On the plane, the Wayfinder fit easily into both the overhead compartment, and under the seat in front of me (I tried both). Oh, that brings me to a nifty little safety feature that this pack, like a lot of new Eagle Creek products, has: their patented Secure Zip™ Toggles, lockable zippers and Central Lock Point to keep unwanted hands out of your bag. Nice!
This brings me to the only critique I have of this bag, and what I would change about it. Unlike my waist pack and laptop pack, this Wayfinder does not have an RFID blocker pocket. If you don't know what RFID is, thieves use these readers to get your digital information, like from credit cards and passports. Some of my other Eagle Creek products have pockets that block RFID readers, where you can store these things, which is really nice. I do wish that the Wayfinder had this feature, which would make it absolutely perfect.
Once I landed in California and on my weekend retreat, the Wayfinder was really the right backpack for the job. I could easily take it as a lightweight day hiking pack, but it served just as well as the complete piece of baggage for the entire trip and my packing. A couple of really cool features I noted (though I haven't actually used them yet) were the hidden tech pocket, which enables access to power banks and cords for secure, hands-free connectivity while you're wearing the pack; and the drain hole in the front compartment, which would be really useful if you needed to put anything damp in there, like if you get caught in the rain or waded through a creek and had wet socks. Another nice touch I liked was the microfleece lining in the small front pocket, which was a soft place to protect sunglasses and cell phone screens.
And as always, the product is covered by Eagle Creek's legendary No Matter What™ Warranty.
Bottom Line? I love the Wayfinder, and it has proven to be the exact solution I was looking for: triple duty as a day hiking backpack, complete light-travel luggage solution, and long-travel carryon for my electronics and all the other stuff I like to bring along during time-intensive journeys.
The Wayfinder comes in 3 sizes and 3 colors. Check out a demo in the video below: