Some people say they don't like Los Angeles because of its traffic, smog, urban and suburban sprawl, and its numerous wannabe actors and actresses, but Angelenos don't really focus on those things. They're too busy having a good time at the beach, hiking in the hills, visiting top-notch galleries and museums, checking out bands, watching obscure films that no one else in the country gets to see, shopping at cool local boutiques, and eating delicious, healthy food. That's the Los Angeles that visitors should experience when they visit.
In addition to the laidback lifestyle that comes with living in a city on the beach that sees sun most of the year, Los Angeles has a surprising number of cultural goings-on outside of the film industry. Although the bonus of living in the center of movie land is that you get to see films before anyone else in the country sees them, and there are dozens of theaters and other venues devoted to various genre of film, so you're never just limited to the Hollywood blockbuster.
The Museum of Contemporary Art consistently showcases top-shelf exhibits as does the Los Angeles County Museum of Art. The Los Angeles Natural History Museum is one of the best in the country and a fabulous place to take the kiddies. And, you'll find loads of great galleries in West Hollywood and Silver Lake, which was also the center of LA's music resurgence a few years back. In fact, it's still home to several music venues where you can see (mostly indie rock) live shows most days of the week.
And, for a city infamous for its pollution and traffic as anything else, Los Angeles also offers a surprising number of outdoor activities above and beyond the beach. People tend to be healthy and into fitness here, and there are plenty of bike trails, hikes, and climbs to keep outdoor enthusiasts happy. For visitors, hikes in Malibu's Temescal Canyon are great for nice views and crisp, cool walks through the woods on a hot LA day. The rest of the Santa Monica Mountains offer dozens of hikes within more than 300 public parks spanning over 65,000 acres.
So pack your bathing suit, your hiking shoes, and your hippest out-on-the-town clothes, then rent a car and experience LA as the Angelenos do.
The Best of Los Angeles
Home to one the world's busiest amusement parks (Disneyland), Los Angeles is a highly entertaining city, with several distinct neighborhoods offering a wide range of experiences. In fact, Los Angeles has often been described as more of a collection of small towns connected by a freeway than a proper city.
LA's 60-mile-long western border is created by one long string of beaches and their accompanying charming beach towns, such as the super posh movie-star haven of Malibu, great shopping offerings of Santa Monica, bright and lively Venice Beach, casual eateries and energized nightlife of Manhattan Beach and Hermosa Beach, the sleepy town atmosphere of Redondo Beach and the incredible coastline and city views of Palos Verdes.
Beverly Hills and Hollywood, two of LA's most famous neighborhoods, are on the west side of the city, slightly inland from the beaches. Beverly Hills is worth a visit just to gawk at the houses and stroll along Rodeo Drive -- sure it's a cliche, but it's also a lot of fun.
Similarly, you can't go to LA and not see Hollywood. With all the studios long-since moved to larger lots in outlying areas like Burbank and Studio City, Hollywood is experiencing a rebirth with a few buildings being refurbished, thanks to a recent investment from the city. West Hollywood is also great during the day for both shopping and browsing through the area's handful of great art galleries.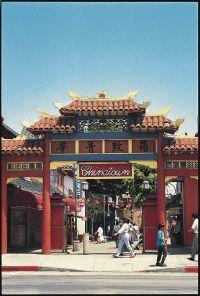 Unlike most cities, the downtown in Los Angeles isn't the central part of the city, it's really just another neighborhood, and despite a lot of recent investment, it's still a slightly worn neighborhood. There are, however, some sights worth seeing downtown, especially in the Historic District, where the buildings are fun to check out.
In Chinatown, you can find some pretty decent dim sum and inexpensive souvenirs. In Little Tokyo, you can find very good, traditional Japanese food, hang out in one of the Japanese Gardens, or check out the Geffen Contemporary Museum, an extension of the Museum of Contemporary Art.
Silver Lake -- with its art galleries, music venues, and hip bars -- is a great place to hang out, day or night. Just north of downtown and adjacent to Los Feliz, which is where the Griffith Park Observatory and the Los Angeles Zoo are located, it's also one of the precious few LA neighborhoods well suited for walking and bar hopping.
Pasadena, site of the annual Tournament of Roses Parade, is worth a visit for its architecture and pleasant setting. The Old Town is a pedestrian mall, similar to the Third Street Promenade in Santa Monica, and adjacent streets are dotted with great neighborhood restaurants and a handful of local boutiques.
Fast Facts & Information
Fast Facts & Information
Geography and landscape: Los Angeles comprises 469 square miles, which includes beaches, dunes, wetlands, hills, mountains, and rivers. The area contains a number of important biological communities and a wide variety of native plants, including the California poppy, Matilija poppy, Toyon, Coast Live Oak, and hundreds of others. Exotic flowers and flowering trees like Jacaranda, Hibiscus, Bougainvillea, and Bird of Paradise bloom year-round in LA's temperate climate.
General orientation: There's no doubt about it -- LA is really spread out. That line from the movie Clueless is pretty true, though; except at rush hour, "everywhere in LA takes 20 minutes!" Unless of course you get lost, which is easy to do in this city of huge freeways and sprawling neighborhoods. Getting a map and acquainting yourself with the city's freeway system before driving in LA is an absolute must.
In addition to major freeways and highways like the 101, the 405, the 5, the 10, etc., there are several major surface streets that act as arteries moving traffic from downtown to the beaches and vice versa: Sunset, Santa Monica, Wilshire, Olympic, Pico, and Venice boulevards.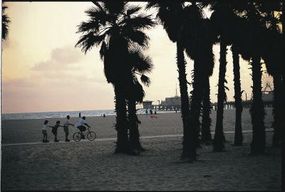 Safety: As in any big city, you should always have your wits about you in LA. There are certain neighborhoods that even locals wouldn't particularly want to venture into at night -- East LA and South Central. The area around Los Angeles International Airport (LAX) also isn't the best after dark either. It's not advisable to wander these streets unless you know where you're going.
Downtown Los Angeles has been getting progressively nicer through the last few years, but it's still not the greatest place to be at night, unless you're going straight to your destination and then straight back to your hotel; the same goes for Hollywood.
Population: With a population of more than 3.8 million, Los Angeles is the largest city in California and the second largest city in the country according to the last census (2005). Los Angeles is an extremely diverse place, with people from all over the world setting up their homes, businesses, and communities throughout its various neighborhoods. A cultural melting pot, people from 140 countries speaking 96 different languages have settled in LA, which means you'll see signs in various languages and be treated to a huge variety of cuisines and cultures.
Climate/weather: You can expect sun, sun, and more sun when you visit Los Angeles. It used to be that the temperature didn't fluctuate all that much, except when it became really hot in August and rained a bit in January. In the last couple of years, though, the weather patterns have shifted a bit. In recent years the heat waves are higher and longer, and the scattered winter showers have turned into full-blown storms that run well into spring.
It's difficult to tell if this is just a fluke or a permanent shift, but either way, it's a good idea to bring an umbrella if you're visiting LA from December to April, and tank tops and shorts if you're here in the summertime. The average temperature in January ranges between 49 and 67 degrees Fahrenheit, in April from 54 and 71 degrees Fahrenheit, in July from 63 and 82 degrees Fahrenheit, and in October from 59 and 78 degrees Fahrenheit.
The prospect of getting around in Los Angeles is daunting to many. On the next page, we'll give you our transportation tips.