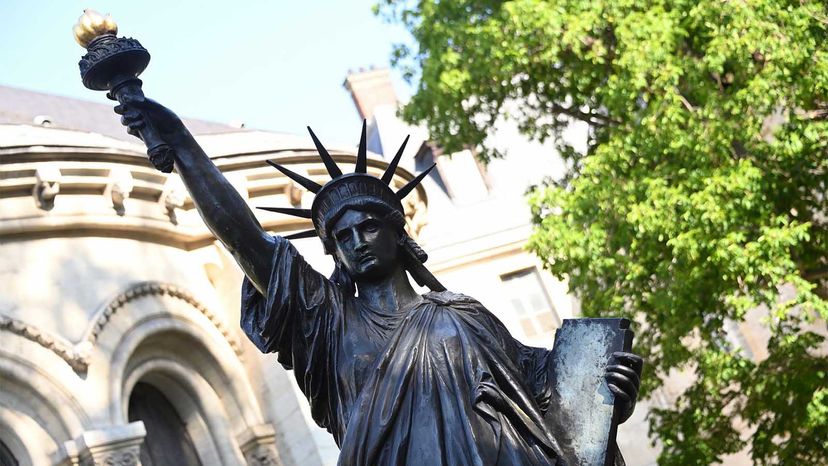 Lady Liberty is getting a mini me. This, of course, isn't the first miniature version of the Statue of Liberty in the United States. There are several across France, the country that gifted the U.S. the 111 feet (34 meters) tall version (toes to torch) that stands in New York Harbor as a beacon of freedom for all who see her. One of the most well-known is perhaps the massive replica outside of the New York-New York Hotel & Casino in Las Vegas, Nevada.
But the newest statue coming to America is different. She's special. She's considered the "little sister" of Lady Liberty and is crafted from the original 1878 plaster model by French sculptor Frédéric Auguste Bartholdi. This 9-foot (2.7-meter), 1,000-pound (453-kilogram), bronze statue has been on display at Paris' Musée des Arts et Métiers (National Museum of Arts and Crafts) for 10 years, and will be shipped to the U.S. to be exhibited in honor of the 135th anniversary of the Statue of Liberty's dedication at Liberty Island.
The entire endeavor — especially transporting the statue — is a logistical challenge that you can track online. The statue will make her way across the Atlantic Ocean June 20-July 1 in a plexiglass case designed to protect and safeguard her during the nine-day voyage. She will be sailing aboard a container ship from the French port of Le Havre to Baltimore, Maryland. Once she arrives in New York City, there will be an inauguration reception, and she'll be on full display July 1-5 on Liberty Island in honor of Independence Day.
Then mini-Lady Liberty is set to go to Washington, D.C., to the gardens of the French Embassy just in time for France's Bastille Day celebration July 14 where she will stay for the next decade.
The original Statue of Liberty is recognized across the world as a beacon of freedom. The concept for her was conceived in the 1860s by French antislavery activist Édouard de Laboulaye. He enlisted French sculptor Bartholdi to help him create a magnificent monument that would represent an alliance between America and France — one that symbolized freedom and liberty for people all over the world.
Today the Statue of Liberty stands on Liberty Island in New York Harbor facing southeast where she has been welcoming visitors and immigrants for 135 years.