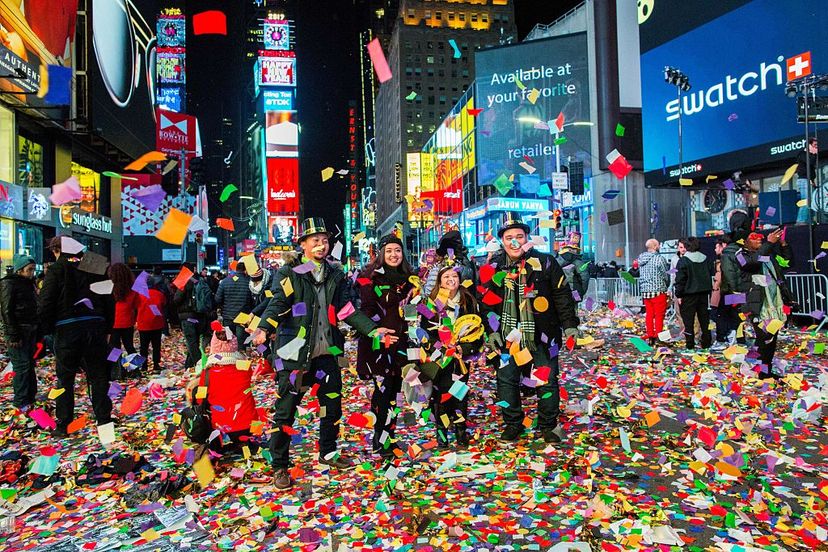 A new year signifies new beginnings – whatever that looks like for you. While some of us tend to fall into bed long before the midnight ball drop, many people love to stay up, party, and ring in the next year with a bang! How will you celebrate this next New Year's Eve? Traditions and customs around the world differ, but in the U.S., the holiday is generally celebrated with fireworks, food, and friends. Sure, a small gathering would be fun, but why not travel somewhere more interesting in the great country of America? If you're still deciding what to put on the calendar for this special date, check out our list below of the 7 best places for your New Year's Celebration in the USA!
Honolulu, Hawaii
Ring in the New Year in shorts and a tee shirt when you head to Honolulu, where fireworks burst over both Waikiki Beach and the Aloha Tower Marketplace. This is one of the best family-friendly New Year's Eve celebrations in America and we suggest toting the kids along for an unforgettable vacation. The Kaka'ako Waterfront Park boasts something for everyone including carnival rides, a beer garden, carnival food trucks, and multiple stages of entertainment to enjoy. If you have no kids in tow, make sure to hit up one of the epic parties which feature themes, dress up parties, and the hottest DJs in town. Ringing in the new year Hawaiian style is a blast, so count on hitting the beach in the morning to cure that hangover. This is certainly the most tropical place to celebrate in the United States!
Las Vegas, Nevada
Vegas on New Years Eve is sure to be one heck of a party with over 300,000 fellow party-goers who descend on the city to take part in the festivities. The entire strip is shut down to vehicle traffic and transforms into one giant block party. At midnight the casinos launch a choreographed fireworks display that puts the Times Square ball drop to shame. Inside the club's thump with the hottest entertainment and party-goers are dressed to the nines with everyone from average joes to celebrities dancing the night away. There is no shortage of places to party here, just make sure to book early and buy any tickets that you may need long ahead of time, as this is one busy place. Splurge and stay at the Skylofts at MGM Grand which gives awesome two-story panoramic views of the strip. Eat, drink, and plan to party for days when you hit up this city on New Years Eve. Just note that your Dry January commitment might start a little late if you celebrate here.
Chicago, Illinois
Chicago is loaded with things to do on New Years Eve, including dinner ideas, parties, firework cruises and family-friendly events. Navy Pier is one of the best places to head, especially if you have kids in tow. Here you'll find all the entertainment, rides, and attractions you can handle, along with a kaleidoscope of colorful fireworks that are perfectly synchronized with music, that burst over Lake Michigan. The Chicago Resolution Gala is another place to head if you plan on mingling and dancing the night away. Here you will find over 30 bars, buffet stations, and access to the Grand Ballroom and the Lakeview Terrace. Or head to one of the many hotels that host awesome parties with superb entertainment. Yes, it will be busy and crowded, yes it will be loud, and yes it will be an epic time.
Portland, Oregon
There are more nightlife venues in Portland than visitors know what to do with, promising that this city is the perfect place to party on New Years. Besides cozying up at one of the craft brew pubs with some friends and listening to live music, there are celebrations all over the city including some epic balls. The Portland Champagne Ball is one of the most famous parties in the city and boasts 17 bars, four different themed rooms and 4 dance floors. Expect a hot and cold buffet with desserts, late night pizza, party favors, photo booths, wine and more. Plus, you get to dress up and act fancy when you attend this party. Or head to the Pearl District and hit up such places as Big Legrowlski, Low Brow Lounge, or the Teardrop Cocktail Lounge. Whatever kind of celebration you're looking for, find it in the city of Portland.
New Orleans, Louisiana
Next to Mardi Gras, New Years is one of the best parties to be had in New Orleans. Here they do things a little differently. Sure, there are still funny hats and noisemakers, but there are also some unique experiences to be had. Jackson Square boasts the biggest party in town featuring live music all night long as well as a magnificent fireworks display. Instead of a typical ball drop at midnight, a giant fleur de lis descends from a 25-foot pole on top of a building and the fireworks light up the sky in sync to the music. The party continues on Bourbon Street when the parties and clubs get wild as people party into the wee hours of the morning. Or hit up one of the incredible restaurants or live music venues for a slightly calmer New Years celebration.
Los Angeles, California
From mammoth street parties to black tie affairs to all night clubs, this city has a New Year's Eve celebration for every taste and budget. LA loves to keep things close to their heart and often doesn't release their party info until the last minute. Club crawls have become a popular way to spend New Years Eve, where one purchased ticket gets you past the velvet rope at multiple clubs. There are endless things to do in Hollywood alone and a strong acceptance of all walks of life. The annual Cleopatra's New Year's Eve Ball at the Egyptian Theatre in Hollywood is always a hit where a DJ spins the hottest tracks, an LED light show takes place, and a balloon drop and confetti blast kick off the new year. One of the free events in the city covers Grand Park and beyond where stages are set up with live entertainment, along with food vendors throughout.
New York City, New York
The city of New York is one of the most popular New Year's Eve destinations for Americans and even people from countries all over the world! The city's iconic public square – Times Square – is where most head to watch the ball drop. NYC boasts over 100,000 places to have a drink and ring in the new year, but many choose to bundle up and brave the elements in Times Square where you can purchase an official party pass and glide right past the velvet ropes and onto premium open bars. Other popular places in the city to party include STK Rooftop where a live DJ spins the hottest tracks and the bar overlooks the Hudson River, or the Monarch Rooftop Lounge which boasts awesome views of the Empire State Building. Wherever you choose to ring in the new year here, we promise it's going to be the most epic New Year celebration in the USA ever!