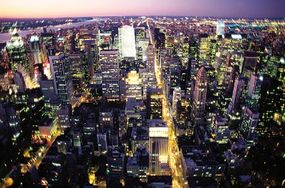 New York City, The Big Apple, Gotham: No matter what you call it, there's no place quite like it. Everything about the metropolis seems to demand the superlative: it's the biggest, the boldest, the hippest, the richest, the most expensive, the quirkiest, and the most diverse. There's a reason why the city has been attracting everyone from aspiring artists to financiers to immigrants for generations. New York is, simply put, where it's at.
Everyone has a home in New York City, whether it's for a lifetime or only for a few days. The city is so large and multifaceted that it can satisfy every interest, every taste. New York's most famous attractions draw hordes of tourists every year, but the tourist side of New York is not the heart of New York.
That lies elsewhere -- in the neighborhood hangouts, ethnic restaurants, offbeat museums, Off-Off-Broadway theaters, underground nightspots, and much more. A visit to New York doesn't have to take in the obvious. You can tailor-make your trip, and turn the city into your own.
The Best of New York
In the last decade, New York has evolved from a great city into an even greater one. Crime is way down -- New York is now the safest major city in the United States -- and development is way up. Once-deserted neighborhoods now pulse with trendy restaurants and nightspots; a plethora of new small museums have opened up; a large waterfront park is growing along the West Side; and new businesses dot virtually every street corner. The September 11, 2001, tragedy still remains fresh in the locals' thoughts, especially since the Ground Zero site has yet to be rebuilt. That hasn't stopped natives and tourists alike from visiting the location. But New Yorkers also have squared their shoulders and gone on. Life in the "greatest city in the world" goes on.
Different visitors come to New York for different purposes. For some, arts and culture is the biggest draw -- and for good reason. New York has the most museums, art galleries, theaters, music clubs, book stores, and film venues of any city in the U.S. A true culture buff could spend months here and still not run out of things to do.
Others come to New York for its glamour and glitz. Midtown is home to some of the ritziest hotels in the world. And even if you can't afford to stay overnight in the Pierre, Plaza, or Ritz-Carlton, you can always stop into one of their posh bars for a cocktail, espresso, or after-theater drink. Fifth Avenue beckons with upscale shops, SoHo with pricey boutiques, and the Gansevoort Meat Packing District with posh nightclubs that keep going until near-dawn.
Still others come to New York for its architecture, its food and restaurants, its shopping, its late-night vibe, its special events, or simply its great people-watching. Whatever you're looking for--if you can't find it in the Big Apple, it doesn't exist.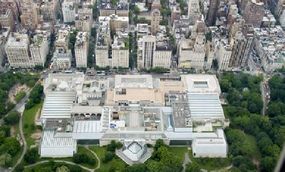 Fast Facts & Information
Safety: New York is the largest city in the United States, and also is distinguished as having the lowest crime rate among the 25 largest American cities, according to the FBI Crime Report. Still, as in all big cities, visitors should stay alert and use common sense wherever they go. Avoid unpopulated and unlit stretches, especially after dark. Don't carry large quantities of cash. Ignore anyone with an elaborate sob story. Avoid the parks at night, and be extra careful around transportation centers, where pickpockets are often at work. Stick to the major streets in Harlem and the Far East Village.
When traveling the subways, common sense also applies-- don't wear flashy, expensive jewelry and avoid empty cars. During off hours, wait for your train in the well-lit waiting areas near the token booths. When your train comes, sit in the center car, which has a conductor. If you experience an emergency, dial 911 on your phone. To find the nearest police precinct, dial (646) 610-5000.
General orientation: New York City is made up of five boroughs -- Manhattan, Brooklyn, Queens, the Bronx, and Staten Island. Only the Bronx sits on the mainland; the rest of the city is spread out over a group of islands in New York Bay.
Manhattan is the epicenter of New York City. Most of the city's skyscrapers, museums, theaters, hotels, restaurants, businesses, and famous sites are crowded on this small island, which is just 12 miles long by three miles wide.
Most of Manhattan is laid out in a grid pattern, meaning that it's easy to find your way around. Avenues run north-south and streets are east-west. Fifth Avenue separates the East and West sides, with street numbers increasing as you head away from Fifth. Broadway cuts through the city on a diagonal.
Those neighborhoods not laid out in the grid pattern -- essentially everything south of 14th Street -- are considerably more difficult to navigate, and it helps to have a good map. The same applies to the other boroughs.
In Manhattan, "Downtown" generally refers to anything south of 14th Street, "Midtown" to addresses between 34th and 59th Streets, and "Uptown" to areas above 59th Street. "Downtown" is also used as a kind of shorthand for the hip and avant-garde. "Midtown" is shorthand for corporate professionals, and "Uptown" or "Harlem" is shorthand for the wealthy and sophisticated, depending on who's talking.
Geography and Neighborhoods: For all its cosmopolitan appeal, New York is a city of neighborhoods. Here's a rundown:
Financial District: Oldest among them is what's now known as the Financial District or Lower Manhattan, at the southernmost tip of the island. This is where Peter Minuit "bought" Manhattan from the Algonquins for $24 and where the New York Stock Exchange was born, beneath a buttonwood tree. This is also where the surviving World Trade Center buildings and Ground Zero are located. Though often overlooked by tourists and New Yorkers alike, Lower Manhattan is a fascinating place, filled with historic buildings, cobblestone streets, glistening corporate towers, and the whispers of earlier times. Its Battery Park Promenade offers great views of New York Bay.
Chinatown: Just north of the Financial District is Chinatown, a neighborhood of low-slung brick buildings housing an astonishing number of restaurants. This is a great neighborhood for exploring since its streets are filled with exotic markets, quick-moving crowds, and prosperous shops selling everything from fresh fruits to mounds of fresh fish to colorful toys and knickknacks. Mott Street, below Canal Street, is the heart of Chinatown and offers an especially large number of restaurants to choose from. Mott is especially fun to explore, as is Canal Street itself. Pell Street is known for its barber and beauty shops as well as its Buddhist Temple (4 Pell St).
Little Italy: North of Canal Street is Little Italy, a fast-disappearing neighborhood being gobbled up by the area's exploding Chinese community. Today, less than 10 percent of the neighborhood's residents are of Italian ancestry and the heart of the district has shrunk to just three short blocks along Mulberry Street. Here, Italian restaurants and cafes line the street, with tables and striped umbrellas set out in warm weather. It's all very touristy -- this is not the place to find the best Italian food in the city -- but it's also a lot of fun. New Yorkers often stop for dessert in Little Italy after eating in Chinatown.
SoHo: SoHo, short for "South of Houston" (a major cross street that's pronounced How-ston, not Huse-ton), begins north of Chinatown, while TriBeCa, short for "Triangle Below Canal," lies west of Chinatown. Both neighborhoods were once commercial warehouse districts and are filled with unusual cast-iron architecture -- i.e., buildings with cast-iron facades. SoHo was discovered by artists in the 1970s but soon became too expensive for "starving artist" creative types, and now houses pricey boutiques, restaurants, and bars. It's a compact, splashy neighborhood perfect for wandering around. West Broadway and Broadway are its main thoroughfares, while Prince and Spring Streets hold an especially large number of shops.
TriBeCa: TriBeCa, short for Triangle Below Canal, is a former industrial district encompassing about 40 blocks between Canal, Chambers, Broadway, and West streets. TriBeCa has some of the same attractions as SoHo, but is much more residential. Broadway and West Broadway also are its main thoroughfares, though some of its finest cast-iron buildings are located along the side streets, especially White Street. Lining Greenwich Street is an especially large number of restaurants. Redefining the neighborhood in recent years is the Mobil Three-Star Tribeca Grand Hotel on Sixth Avenue. The first hotel to open in the neighborhood, the Tribeca Grand is a trendy, luxurious spot whose stylish bar is always bustling and busy.
NoHo and NoLiTa: In recent years, the names "NoHo," short for "North of Houston," and NoLiTa, short for "North of Little Italy," are often bandied about. These small areas were deserted no-man's lands a decade ago and their names have become current, largely thanks to real estate agents eager to spin trendy addresses out of the then-near-deserted streets. NoHo, nestled between the West and East Villages, of which it was once considered a part, houses some important historic buildings and arts centers, including the Public Theater and the Angelika Film Center. NoLiTa, just south of NoHo, houses the boutiques of young fashion designers and jewelry makers. Most of their shops are located along Mulberry, Mott, and Elizabeth Streets between Houston and Broome Streets.
East Village: Farther north lies the East Village, for decades a scruffy haven filled with recent immigrants and young artistic types. But ever since the late 1980s, when Manhattan real estate prices began to escalate, and then escalate some more, much gentrification has set in. The East Village still has its artistic component, but plenty of better-heeled types have also moved in. Still, the East Village remains packed with economical ethnic restaurants, coffeehouses, and bars -- along with many trendier and more expensive establishments. The easternmost part of the East Village, where the avenues take on lettered names (A, B, C, and D), is known as "Alphabet City." As little as six or seven years ago, this was a marginal area visited only by the adventurous, but now it, too, has been gentrified.
Greenwich Village: Greenwich Village has suffered a fate similar to that of the East Village, but more extreme. Once an internationally known bohemian capital, home to everyone from Edna St. Vincent Millay to Bob Dylan, Greenwich Village today is largely overrun with tourists. Only the well-to-do can afford to live here now. Wonderful blocks rich with atmosphere remain, however, especially to the west of Seventh Avenue, and the neighborhood is still known for its jazz haunts. In northwest corner of Greenwich Village lies the Gansevoort Meat Packing District, currently the city's trendiest area. Just five years ago, this neighborhood of cobblestone streets and low-slung meatpacking warehouses was infamous for a handful of hip, underground clubs. Since then, however -- and seemingly overnight -- the Meat Packing District has been "discovered." Today, it teems with dozens of upscale restaurants, bars, nightclubs, and two brand-new hotels.
Chelsea: North of the Meat Packing District is Chelsea, filled with many lovely residential blocks, and yet more trendy restaurants and shops. The westernmost part of Chelsea, in the 20s between Tenth and Twelfth Avenues, thrives as the new center of New York's art scene. Dozens of the city's most famous art galleries relocated here after SoHo became too expensive. ©2006 NYC & Company Midtown is where you'll find most of New York's skyscrapers, along with many of the things you'll want to see while visiting the city.
Midtown: Most of Manhattan's skyscrapers are found in Midtown, along with most of its major hotels, theaters, department stores, and famous tourist attractions. The Upper East Side is a hushed and elegant neighborhood that's home to some of New York's wealthiest residents, along with dozens of major museums, including the Metropolitan Museum of Art. The Upper West Side holds a wealth of stunning historic apartment buildings and Lincoln Center.
Harlem: Harlem begins above 110th Street. Like the rest of the city, it has undergone much development in recent years, especially along 125th Street. An architectural treasure trove, Harlem holds some of the city's most beautiful churches and brownstones.
Population: The largest and most densely populated city in the United States, New York has more than 8.1 million inhabitants.
Climate/weather: Visitors can find much to do in New York in any kind of weather, but the spring, early summer, and fall are the best seasons to visit. Temperatures are moderate during those times of year, making it easy and delightful to explore the city on foot. Autumn is often an especially wonderful time to come, as it marks the beginning of the city's new cultural season and the air is often crisp and clear. Winters, on the other hand, can be bitterly cold, with temperatures in the 20s and sharp, icy winds. Summers are usually stifling hot, with temperatures averaging in the 90s with high humidity.
With three major airports, ferries, an extensive public transportation system, and a multitude of taxis, you'll find that you have lots of options when it comes to getting around in New York. Keep reading to learn more about finding your way around the city.