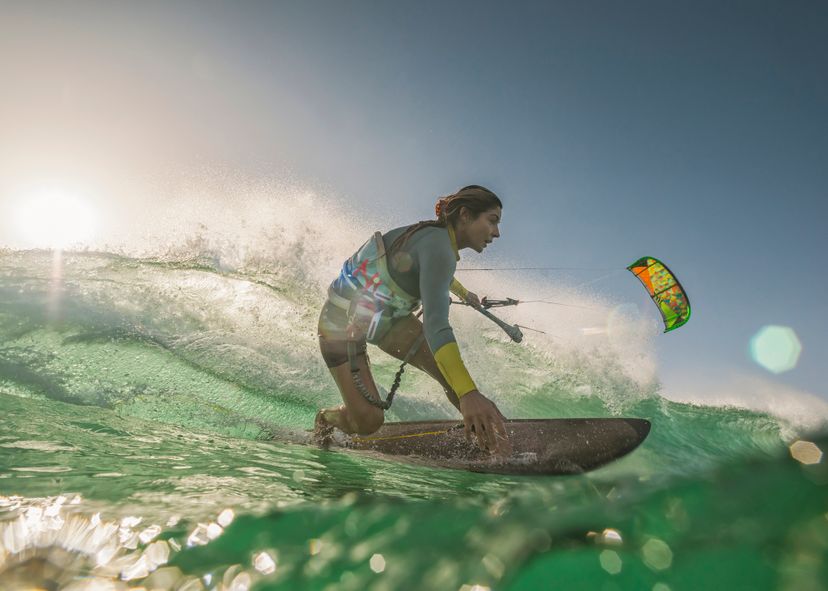 While some vacationers long for a sandy beach and a piña colada, others seek adrenaline and adventure when they travel. Perhaps nowhere is more exciting and adventure-packed than the ocean with its wild waves and creatures below. Whether you're in Mexico, Australia, Belize, or even Norway, extreme ocean adventures await even the most daring of travelers. Free dive with whales, swim with sharks, surf the frigid Alaskan waters, or experience any one of these 12 unforgettable ocean adventures.
Ocean Kayaking (World Wide)
If you are looking to play in the surf, explore hidden sea caves, and navigate through complex ocean rock gardens, sea kayaking is the extreme ocean adventure for you. Sea kayaking is often the most fun on the Pacific Coast throughout Canada and the United States as the mighty ocean gives you big swells and incredible sea life viewing. This is one sport where experience doesn't matter. As long as you can listen to the instructions of your guide or tour company and lift a paddle, you are good to go. For the more experienced though, plan on battling it out with the waves as you paddle to secret waterfalls, beaches, and more. If warm weather and calmer waters are more your styles, head to beautiful Fiji where you can snorkel or fish right from your kayak.
Dive the Blue Holes (Belize)
The Blue Hole descends over 400 feet and only experienced divers should head into this world-famous sinkhole for an awesome ocean adventure you'll never forget. Divers descend along the wall down to 130 feet where you can find an array of limestone formations and bizarre stalactites. There are no colorful fish or coral down in these depths but you may be privy to a hammerhead shark or two that like to hang around in addition to rays and barracudas. There is nothing quite like the silence down there when you're surrounded by the stalactites of the collapsed prehistoric cavern, making for one serious, albeit quiet, extreme ocean adventure. If you are not a diver, you can still experience the surface of the Blue Hole by snorkeling and while the experience may not be as eerie, it is certainly still breathtaking.
Jetpack (Mexico)
If you have ever dreamt about flying, this extreme ocean adventure is for you. Jetpack is a new and exhilarating sport that gives you an awesome adrenaline rush. It's basically a water-propelled jetpack strapped to your back that allows you to fly through the sky! Enthusiasts have to be over 18 to try their hand at this sport, although 16 and 17-year-old's can go with written consent from a guardian. Imagine flying high above the water, with only your hands controlling where you will go and how fast. Similarly, flyboarding – when a board is strapped to your feet and your arms are strapped onto hand jets that propel you into the air – is becoming just as popular. By shifting your weight on the board and using the jets you can count on having one heck of a ride.
Open-Water Kiteboarding (British Virgin Islands)
Winter months are the best time to try this extreme water sport and the British Virgin Islands is the best place to do it, in large part because of the warm weather, strong winds, and warm water. Kiteboarding is the ultimate action sport, combining windsurfing, wakeboarding, and surfing with the aerial possibilities of paragliding. BVI Kite Jam is an awesome week-long event that is held every year and is open to amateurs, professionals, and spectators alike. This event is packed full of Freestyle, Sliders, Big Air, Wave Riding, and long-distance racing. It takes place in some of the windiest and most spectacular locations in the world such as the North Sound, Necker Island, Anegada, and Eustatia Sound. If you have any sort of athletic experience, this ultimate extreme ocean experience is definitely something to try.
Free Dive with Orca Whales (Norway)
There doesn't seem to be a more exhilarating and extreme ocean adventure than to free dive with orca whales; also called killer whales. However, if you want to have this incredible ocean experience you'll have to travel to Norway to do so. The orca expedition fills up fast, sometimes years in advance, so you will want to plan your visit well ahead of time. Guests spend five days chasing orcas in the Fiords of northern Norway and are treated to six night's accommodations aboard the vessel, plus all meals. Coming so close to the orca whales underwater is certainly not for the faint of heart. but rest assured these whales are actually more scared of you. Visitors dive in small groups to avoid scaring the whales and sightings are never guaranteed. If you thought diving with tropical fish and hammerhead sharks was exciting, be sure to try out this epic adventure.
Swim with Great White Sharks (South Africa)
South Africa was the first country to protect the great white shark in 1991 and therefore it's the perfect place to dive with these ocean-dwelling beasts. Rest assured, you will be safely inside a protective cage so no experience is necessary to go down. There are a total of eight companies offering tours that operate in South Africa and all are reputable, as well as certified. A round trip normally takes 3-4 hours and starts off with a safety briefing, followed by a boat trip out to find the sharks. A legal chum is thrown into the water to attract the sharks and then the cages are lowered down. Most of the companies see sharks 99% of the time and there is nothing more exciting than coming face to face with one of these magnificent beasts.
Surfing at Shipsterns Bluff (Tasmania, Australia)
Known to any and all surfers as one of the places to surf before you die, Shipsterns Bluff in Tasmania should be on every extreme ocean adventurer's bucket list. The bluff is actually a reef break off the coast of Tasmania, which produces ultra-powerful waves. Getting here is only possible by boat or a multi-hour trek through the rugged Tasman National Park. What makes this location scary is the dangerously sharp coral reef on the bottom of the ocean, the white pointer sharks in the vicinity, and the fact that the hospital is so far away. Conditions have to be just right to surf this wave as Shipstern breaks properly only on the largest southwest winter swells and the wave is often made unsurfable by prevailing winds from the northwest. This ocean adventure is a daredevil's paradise and not for the faint of heart!
Offshore Odysseys (Worldwide)
These people are passionate about exploring some of the remaining untouched places of the world and are on an epic adventure to seek out the world's most remote and dynamic kitesurfing and surfing locations. And you can join them! In the water right now is the Cabrinha Quest with this vessel is currently exploring the great Pacific Ocean. Travelers who want to join this trip must fill out an application and pay a hefty membership fee, which gets you 10 days aboard whichever vessel you choose and an incredible experience. You must be a thrill seeker to join and want to take part in such activities as spearfishing, free diving in coral gardens, surfing, kite surfing, dolphin watching, and more. If you want to go where no one has gone before, this is the perfect company to team up with.
Marine Conservation Expeditions (World Wide)
If you've thought about being an advocate for ocean conservation but haven't known quite how to do it, Marine Conservation Expeditions is your answer. This company offers adventurers the chance of a lifetime to have an incredible vacation while making a meaningful contribution to marine conservation. Past expeditions have included Belize, where travelers go to dive in incredible coral reefs, take aerial shots of the Blue Hole, swim with whale sharks and dolphins, and support the local economy by dining on amazingly fresh seafood. The expedition to Costa Rica in 2014 involved blue whale feeding and conservation of the huge leatherback turtles and other creatures. Travelers who are interested in this extreme adventure must fill out an online application form and go through a selection process in order to qualify. We promise the end result is worth it though!
Surf in Alaska
Brrrrrrr! Surfing in Alaska sounds cold! Indeed, the water here is frigid but with the right equipment, it can be a surfer's dream come true. Imagine coasting into a wave, snow-capped mountains and hanging glaciers surrounding you, sea lions hanging out on the rocks. The companies that run these adventures are constantly finding new and exciting surf spots and guests can expect days to go by without ever seeing another boat. A mind-blowing experience complete with incredible scenery, awesome food and a couple of great guides awaits you when you join an Alaskan surf adventure.
Snorkel in Antarctica
The crystal clear waters of Antarctica beg to be discovered, not just from the surface but from below. Luckily for those extreme sports enthusiasts who don't mind getting suited up for some extremely cold water, there are a number of different companies offering the chance to snorkel in these arctic waters. For those brave explorers to dip into the waters of one of the coldest places on earth, prepare to witness scenery and wildlife as you have never seen before, such as seals and penguins that jump in and out of the water at amazing speeds. Witness marine life such as crustaceans, isopods, starfish, and nudibranchs – all creatures you could never witness by staying dry. Think off-shore islands, secluded bays, and abandoned shipwrecks in this extreme ocean adventure.
Snorkeling With Humpback Whales (Silver Bank, Dominican Republic)
Swimming with any massive sea animal is always an exciting, extreme adventure but snorkeling with magnificent humpback whales is something not everyone gets a chance to experience. The best place to do so is Silver Bank, which is part of the Sanctuary for the Marine Mammals of the Dominican Republic and one of the few places where swimming with them is officially sanctioned, permitted, and regulated. Swimming with these gentle giants is less of a swimming experience and more of a floating one, as participants are encouraged to float on the surface and let the whales come to you. These playful creatures often put on a great show for visitors making this one epic ocean adventure you won't want to miss out on.