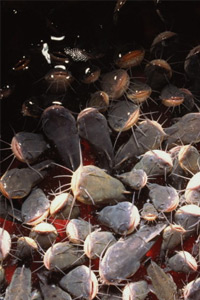 Keren Su/Stone/Getty Images
Though you might think he's ugly, to a female catfish, h­e's the best fish in the sea, so to speak. He makes the house, he guards the kids -- maybe this guy is a catch after all!
Catfish mature at three to four years of age, though females may mature sooner. Catfish nest in cavities. The male creates a nest, and then lures the female there to spawn, no doubt inviting her to view his etchings. After the female has deposited a mound of sticky yellow eggs, the male fertilizes the mass. He drives the female from the nest, preferring to guard the eggs himself. During the six- to 10-day hatching period, the papa catfish eats little. His work is to prote­ct the eggs and keep them aerated and free of sediment by constantly fluttering his fins to circulate water. He continues to protect the young until they leave the nest. [source: Sutton]
Up Next

How to Hold a Catfish
How to Skin a Catfish
Do fish feel pain?
Any avid angler who hears the words catfish and catch together is going to think about going fishing. But wait, spawning season isn't generally the best time to go after catfish - obviously, they're a little preoccupied. Luckily, the peak of spawning season lasts only a few days. Read on to find out when you might want to leave your fishing pole at home.