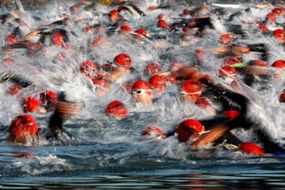 An extreme challenge for the supremely fit, the Ironman Triathlon consists of a 2.4-mile (3.9-kilometer) swim, a 112-mile (180-kilometer) bike ride and a 26.2-mile (42.1-kilometer) run. Just finishing is a victory in itself! The World Triathlon Corporation organizes Ironman Triathlon events held around the world throughout the year.
The idea for the Ironman began as a challenge among a group of Navy SEALs who debated which sport was more physically demanding: running or swimming. The first Ironman began in Hawaii on Feb. 18, 1978, when California triathletes John and Judy Collins organized the first endurance triathlon. The Hawaiian Iron Triathlon was a swim/bike/run event around the island of Oahu. The course revolved around the 2.4-mile Waikiki Roughwater Swim, about 112 miles (180 kilometers) of the 115-mile (185-kilometer) Round Oahu Bike Course and the 26.2-mile Honolulu Marathon [source: Ironman.com].
"Whoever finishes first we'll call the Ironman," Collins reportedly said, and the Ironman triathlon has been one of the world's most popular endurance events ever since [source: Ironman Triathlon World Championship]. In addition to the grueling distance, there's a time limit for each segment. Most Ironman events allow participants 17 hours to complete all three legs of the race. The event begins at 7 a.m. The swim must be completed in 2 hours and 20 minutes; the bike ride must be done by 5:30 p.m.; and the marathon must be finished by midnight.
Athletes looking for a challenge that's slightly less intense should consider the Ironman 70.3 series. At half the distances of a full Ironman — a 1.2-mile (1.9-kilometer) swim, 56-mile (90-kilometer) bike ride and a 13.1-mile (21-kilometer) run — the Ironman 70.3 series is the fastest growing triathlon series in the world.
While the Hawaii Ironman is considered the granddaddy of them all, the Ironman qualifying series includes 28 events (23 Ironman and five Ironman 70.3 races) throughout the world. Qualified athletes then compete in the Ford Ironman World Championship, held every October in Kona, Hawaii. Almost 1,800 athletes gather to participate in the world's most challenging endurance event, where hot temperatures and high winds make the course even more demanding.
Feeling strong? Once you've mastered the distance of the Ironman, consider a Hyperman triathlon (which is three times the Ironman distance over three days) or a decatriathlon (10 times the Ironman distance to be completed in 18 days or less.)
For more information on triathlons and other endurance sports, see the links below.