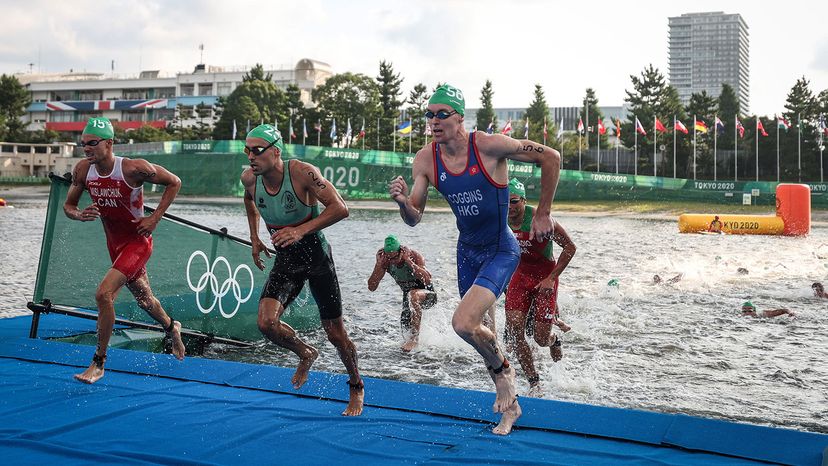 Even if you're not a sports fanatic, triathlons are compelling to watch. Just the idea that someone has the fortitude to swim, bike and run for dozens — sometimes hundreds — of miles is fascinating. So, what are the various triathlon distances? The length of a triathlon may vary, but there are four basic lengths [sources: Lacke; Trifind]:
The most common triathlon distance follows international Olympic guidelines: A swim of 0.93 miles (1.5 kilometers), a bicycle route of 24.8 miles (40 kilometers) and a run of 6.2 miles (10 kilometers).

An Ironman Triathlon, perhaps the event's most famous race, is a 2.4-mile (3.9-kilometer) swim, a 112-mile (180-kilometer) bike ride and a 26.2-mile (42.2-kilometer) marathon.

A Half Ironman is comprised of a swim/bike/run of 1.2 miles (1.93 kilometers), 56 miles (90 kilometers) and 13 miles (21 kilometers), respectively.

Even "sprint," or mini-triathlons, are still arduous, requiring a half-mile (0.8-kilometer) swim, 15-mile (24-kilometer) bike ride and 3-mile (5-kilometer) run.
Most triathlons follow a traditional pattern of swimming, biking and then running, but there are several adaptations designed to make it more feasible for athletes of all ages and fitness levels to compete. For example, an aquathon combines running and swimming, while a duathlon follows a run/bike/run sequence. Aquabike is a combo of — you guessed it — swimming and biking. Triathlons have even become a cold-weather sport that features running, mountain biking and cross-country skiing. And, triathlons have gone off-road. In some parts of the country, competitors swim, mountain bike and trail run to the finish line [source: USA Triathlon].
The idea for a multisport race grew out of an informal cross-training exercise started by endurance runners in San Diego's Mission Bay area. The first recorded triathlon took place there in 1974; a starting line fronted Mission Bay, and a 500-yard swim through the bay was followed by a 5-mile bicycle and 2.8-mile foot race. Four years later, John Collins — who'd been a competitor in the event — combined three of Hawaii's longstanding endurance events into a single triathlon-style competition (dubbed Ironman) that soon captured the attention of sportscasters and television viewers alike [source: Ironman].
The Ironman was a fledgling media darling that came into its own in 1982 as ABC's Wide World of Sports broadcast images of Julie Moss, a female competitor, crawling to the race's finish line. It was the last year athletes could compete without prequalifying for the event and Moss, an amateur athlete, dug deep to complete the grueling journey — it made for fascinating television. To compete in the Ironman World Championship today, entrants must earn a top spot in one of 70 qualifying races across the country leading up to the annual event [source: Ironman]. The same is true for other elite races, including those sanctioned by the Olympic sports governing body, but some offer age-group and amateur divisions for the soft-core athlete. Fortunately, many local and regional races don't have a qualifying system, encouraging anyone who'd like to give it a try.
Although the Ironman Triathlon is arguably the multisport discipline's most recognizable event, thousands of triathlons of varying distances take place each year around the globe, including shorter youth-focused events and "ultra" competitions where competitors double or triple the typical Ironman distances.