The hilliest section of Route 2 and the country's first scenic "auto route," the Mohawk Trail runs through the Berkshire Hills in northwestern Massachusetts and offers a satisfying excursion.
In 1914 the most mountainous miles of the Mohawk Trail were graded and specifically dedicated to auto touring. This stretch begins in the small city of North Adams and zigzags its way up the Hairpin Turn to the western summit of Hoosac Mountain. It runs eastward along heavily wooded ridges, then drops into the long-settled Deerfield Valley, and finally descends into the broad Connecticut River Valley.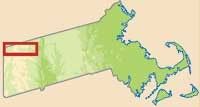 In 1914 the fastest way from North Adams to Boston was by rail, via the 4.5 mile Hoosac Tunnel, itself considered a wonder when it opened in 1875. By 1914, however, cars were becoming affordable and folks were eager to break away from the dictates of the rails, to stop and go where they wished.
The challenge of driving over rather than riding through Hoosac Mountain drew families -- driving their first cars -- from throughout the Northeast. Recognized as a destination in its own right from the 1920s through the 1950s, this initial stretch of the Mohawk Trail sprouted tea shops and motor courts, trading posts and campgrounds, both private and state.
In the 1960s vacation patterns and highway routes changed. The 1965 opening of the Massachusetts Turnpike (Route 90) knocked an hour off the time it takes to cross the state and further back-roaded Route 2. The Mohawk Trail's vintage lookout towers, motor courts, tearooms, and trading posts faded.
For a decade or so now the tourist tide has once more been turning. White-water rafters on the Deerfield River are filling the old roadside lodging places, and bed-and-breakfasts draw travelers into the surrounding hills.
The village of Shelburne Falls, long known for its Bridge of Flowers, has become a showcase for the area's many craftspeople and chefs. Once more the Mohawk Trail is becoming a destination, this time for travelers who appreciate its layerings of history as well as its natural beauty.
The Mohawk Trail, travelers can take it slow and enjoy the view, or you can spend days exploring its side roads and villages, hiking its open public lands.
Find more useful information related to Massachusetts' Mohawk Trail:
How to Drive Economically: Fuel economy is a major concern when you're on a driving trip. Learn how to get better gas mileage.