Smuggler's Notch, Vermont's most dramatic road, passes through picturesque forests and bold rock outcroppings, the state's most famous resort village, and over a shoulder of Mount Mansfield, its highest mountain.
Native Americans traced the path over this high pass, but its name dates from use during the War of 1812 as a supply line to the British army in Canada, which happened to be fighting the U.S. Army at the time. In 1807, President Thomas Jefferson had imposed an embargo against trade from Canada, a hardship for Northern Vermonters for whom Montreal was a prime market. The first carriage road through the pass wasn't opened until 1894, and the present Route 108 dates from 1910. It was improved in 1922 in time for Prohibition, during which Smugglers' Notch took on new meaning, this time with contraband flowing south from Canada.
Route 108 links Stowe with a town north of the notch that's called Jeffersonville after President Jefferson. In Stowe, where most travelers begin, it's known as The Mountain Road.
Smugglers' Notch has been considered a State Scenic Road since 1978 under the Vermont Scenic Roads Law. Breathtaking forests and amazing rock outcroppings beckon visitors to hike through and climb them. Or guests might be just as happy driving and stopping at the numerous pull-offs and just taking in the gorgeous scenery. Some of the plants along the route are found there and nowhere else in Vermont. Peregrine falcons might also be viewed.
Regardless of season, Smugglers' Notch offers some of the most dramatic scenery one could hope for. Get to know the places of interest this road has to offer.
Begin you tour in Stowe, and end in Jeffersonville.
Stowe: One of Vermont's oldest and most famous ski towns, Stowe, actually attracts more visitors in summer and fall, luring them out of their cars and onto their feet and bicycles. The Stowe Recreation Path parallels the Mountain Road for its first 5.5 miles, running through cornfields and meadows. There are two Moss Glen Falls in Vermont: One is in Stowe, and the other is near Granville. Be sure to visit the one on this route in Stowe.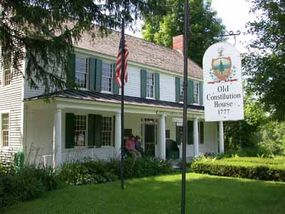 Mount Mansfield: Since the mid-19th century locals have been enticing visitors up to the heights of Mount Mansfield, a distinctive mountain with a series of peaks resembling the upturned profile of a man's face. Mount Mansfield is the highest point in Vermont. In 1858 an inn was built under "The Nose" along with an amazingly steep access road (now a ski trail in winter). The inn is long gone, but in summer and fall this toll road is still a local attraction, along with Stowe Mountain Resort's eight-passenger gondola that operates, weather permitting, to the Cliff House, a ski station with a view down the narrow valley to the east. It's still, however, a half-hour trek below "The Chin," a peak that on a clear day offers a truly spectacular view west across the Champlain Valley to the Adirondack Mountains.
Mount Mansfield State Forest: For its first seven miles Route 108 is lined with lodging places, shops, and restaurants but beyond the turnoff to the toll road and then the gondola, the road enters the Mount Mansfield State Forest and steepens to an 18 percent grade. Smugglers' Notch State Park offers tent and trailer campsites.
Big Spring: Beyond this park the full meaning of "Notch" becomes apparent. While the road is paved, it winds around boulders and beneath 1,000-foot high cliffs that hem it down to one-lane. Drive slowly, and honk before turns.
The turnoff beyond the height-of-land (at 2,161 feet) -- with an information booth that's usually staffed in summer and fall -- is the obvious place to stop. The Big Spring is here, an ideal brookside site for a picnic (there are even grills). Ask about hiking distances to natural rock formations with names like Elephant Head, King Rock, the Hunter and His Dog, and Smugglers' Cave.
Smugglers' Notch Resort: The road continues to wind on for eight miles, down through more cliffs and boulders and just as it straightens and drops through woodland, motorists are startled by a condominium town rising out of the trees. This is Smugglers' Notch Resort, a self-contained and family-geared village. Route 108 continues spiraling downward, finally leveling in the village of Jeffersonville that is a different place than the resort country south of The Notch. Explore the Lamoille Valley, circling back to Stowe via the villages of Johnson, Hyde Park, and Morrisville. On the other hand, the drive through Smugglers' Notch is an adventure that deserves an encore.
The Smugglers' Notch Area of Vermont is a four-season vacation destination with outstanding natural beauty, great recreational opportunities, and unspoiled Vermont villages for all.
Find more useful information related to Vermont's Smuggler's Notch:
Vermont Scenic Drives: Smuggler's Notch is just one of the scenic byways in Vermont. Check out the others.

How to Drive Economically: Fuel economy is a major concern when you're on a driving trip. Learn how to get better gas mileage.