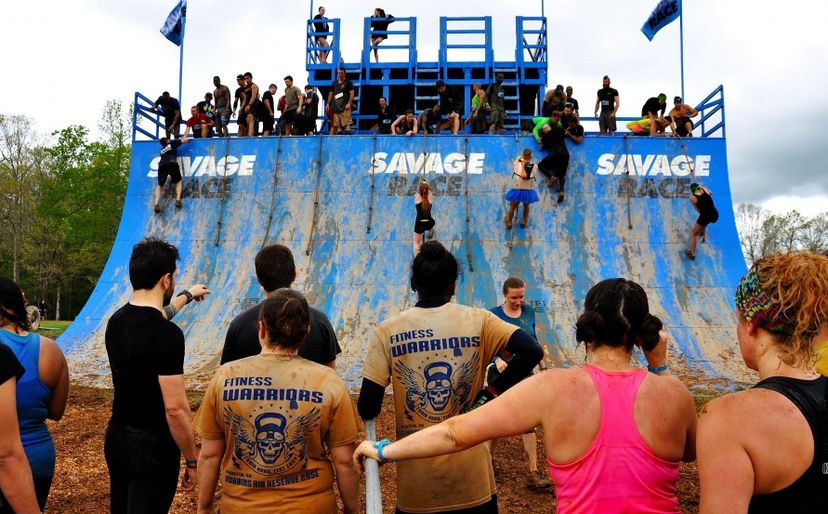 In the past decade more and more people are signing up willingly to crawl through mud pits, climb up rope ladders, jump over fire pits and even get electrocuted, all in the name of having fun and challenging themselves. All over the world mud runs and challenges are taking fitness to a new level and designing obstacle courses that challenge participants both physically and mentally. The twelve mud runs are incredibly fun, challenging and sometimes downright dangerous but they all have one thing in common, once you cross the finish line you are a changed person. Don't be afraid to get down and dirty at these 12 epic mud runs.
12. Civilian Military Combine
It is one of the most intense runs on this list and although many mud runs feature military-style obstacles, this run actually invites ordinary people to join the ranks for a day. This race is a true test of endurance and fitness, designed by coaches from the CrossFit community, members of the U.S armed forces and USA Triathlon race directors.
The run starts off with "The Pit", a 7-minute as many reps as possible workout designed to challenge you both physically and mentally. After conquering "The Pit", a 4 + mile military inspired obstacle course awaits you, through the mud. Prepare to run, walk, jump and slide your way through this incredibly difficult obstacle course. When the mud washes off, the wounds heal and the sore muscles recover; there will only be one thought in your mind- that you conquered one of the world's toughest mud races.
11. Merrell Down and Dirty
It prides itself on having the best mud, black in color, stick to your skin kind of mud and there is no way to avoid getting dirty during this run. Whether you are a beginner or expert, you can participate in one of these two runs, with your choice of distance, either 5km or 10km. One of the benefits for beginners here is that the races are not timed and therefore runners are a little more relaxed than other mud races.
The Down and Dirty takes place in 11 cities across the U.S and both courses feature more than 20 obstacles. Racers can expect challenges such as ladder walls, balance beams, and sandbags to carry. For those extreme mud runners, you can even go barefoot and win special prizes. Racers have to be over 13 years of age and there is plenty of post-race parties to participate in once you have claimed your finisher medal.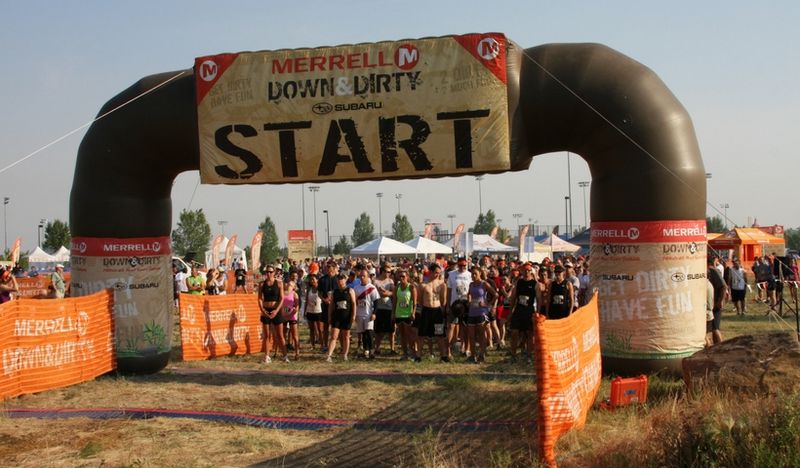 10. Dirty Girl Mud Run
There are more than 40 Dirty Girl Mud Runs across the U.S and this 5km women's only run promises lots of pink and lots of messy mud, as well as plenty of laughs. This race happens to be untimed and racers are encouraged to only tackle the challenges they are comfortable with. Groups of women come out to this event; as long as you are over 14 years old you can participate.
Obstacles include tunnels, slides, mazes, and nets. This race raises money for Bright Pink, a charity that is dedicated to the prevention and early detection of breast and ovarian cancer in women. Instead of a medal finishers of this race will receive a custom Dirty Girl jewelry charm. As a unique twist, this race reserves 300 free entries per race for cancer survivors.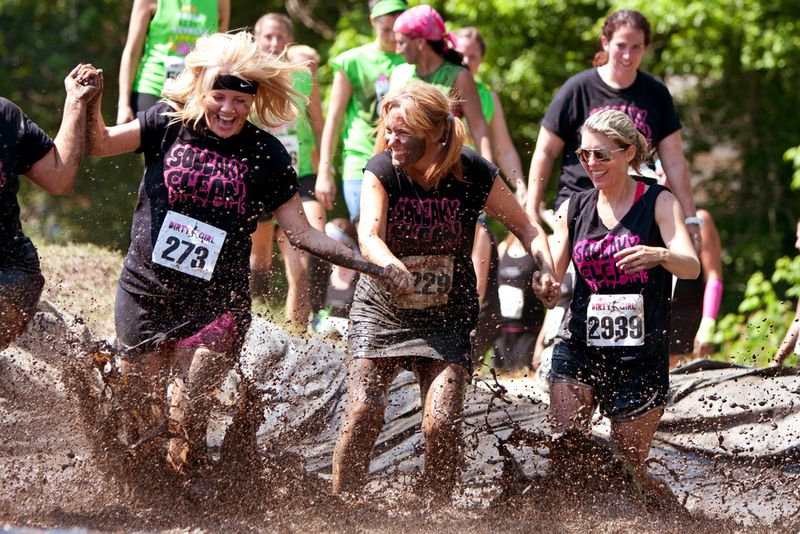 9. Warrior Dash
It is the largest obstacle race series in the world and has over 50 races on four continents and since it started in 2009 has raised over ten million dollars for St. Jude Children's Research Hospital. This series has seen over two million participants around the world and continues to grow each year. The course is tough, designed for those with determination as runner trek through three to four muddy miles of intense obstacles.
Up and down cargo nets, over barricades, down muddy slides, and over flaming fires are just a few examples of what you will face. In the end, the reward is a coveted Viking helmet, a finisher medals that doubles as a bottle opener and of course a stein of beer. Awards are handed out for the best beard and craziest costume. Finish the day off with an epic after party where everyone wears their helmets proudly and parties on.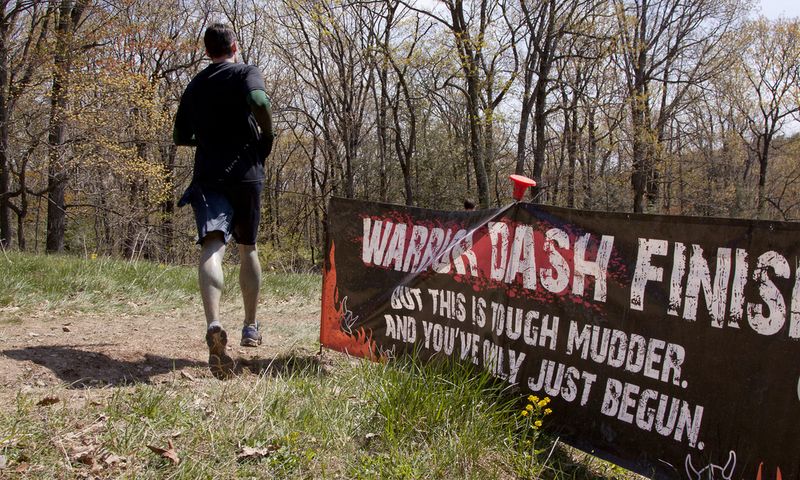 8. Muddy Buddy Adventure Series
This muddy race began in 1999 and operates across nine cities in the U.S, with three different races to choose from. What makes this race unique is that you must stick together with your buddy at ALL times, in fact, one obstacle requires you to literally hug your partner as you tackle it. The course ranges from three miles to four and a half and offers up eight to ten military like challenges including rope climbs and slides.
The Muddy Buddy Bike and Run is another challenging race in which teams of two people and one mountain bike cover six to seven miles and five obstacles. The third course is perhaps the cutest of them all when little mud runners as young as four years old can participate in four obstacles during a short race. Proceeds from the race benefit the Prostate Cancer Foundation and you can count on being covered head to toe in mud when you cross this finish line.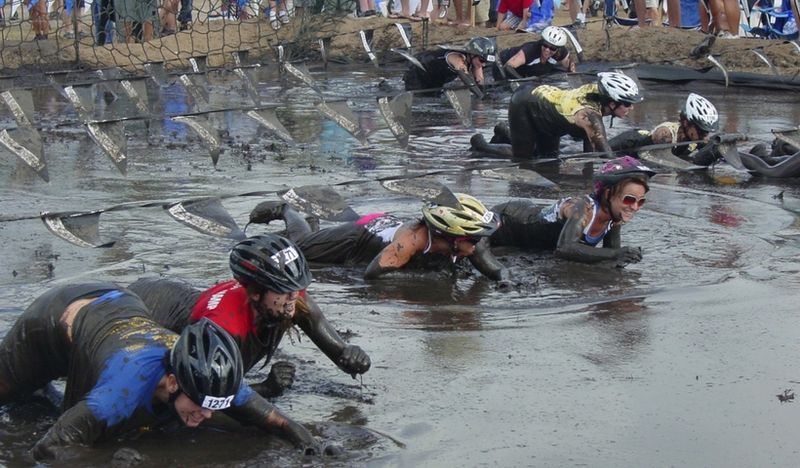 7. The Death Race
The name alone should scare most people off from even reading about the death race, never mind participating in it. Created by two Ultra athletes, the Death Race was developed as a way for athletes to test themselves for physically and mentally. Each Death Race is its own brutal challenge, with no two races being alike and can last up to 70 hours. Participants are not told when it starts when it ends, or what it entails, did we mention there is no support along the way either.
Chopping wood, running barefoot, swimming through mud, deep water diving, crawling through caves and many more obstacles await racers at this insane event. The challenges are meant to break you, meant to make you fail and quit at any time. The Death Race may just be the most extreme mud race in the world, and as the motto says "every man dies, but not every man lives".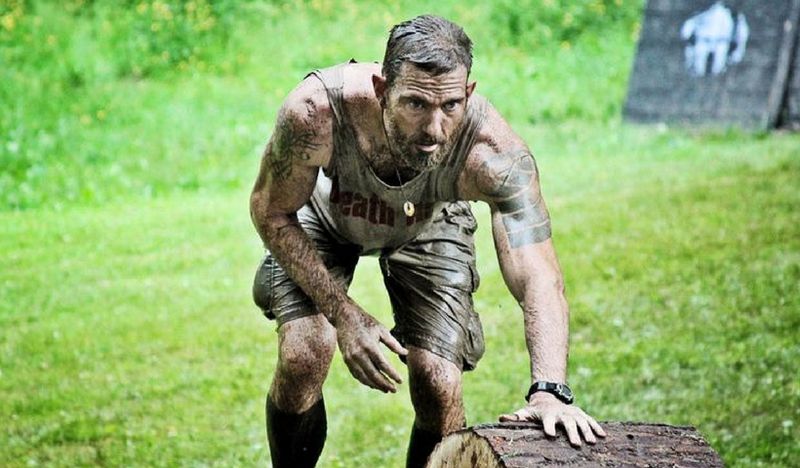 6. Mudderella
It is one of the most widespread mud races with events across the world, in U.S, Canada, Australia and the UK. This is a course designed by women for women, although men are allowed to join teams only if invited by a female team member. Races are five to seven miles long in length and the motto here is to "own your strong", through 12 to 15 obstacles.
These challenges range from muddy piggy-back rides, slides, mud crawls under barbed wire fences and more. Mudderella prides itself on not being a race and the goal of this event is to complete the course, starting together with your team and finishing together. The reward at the end of this event is a nice cold shower to rinse that mud off and a high energy post-race party complete with food, music, dancing, and beverages. Truly one of the highest energy, uplifting mud runs out there.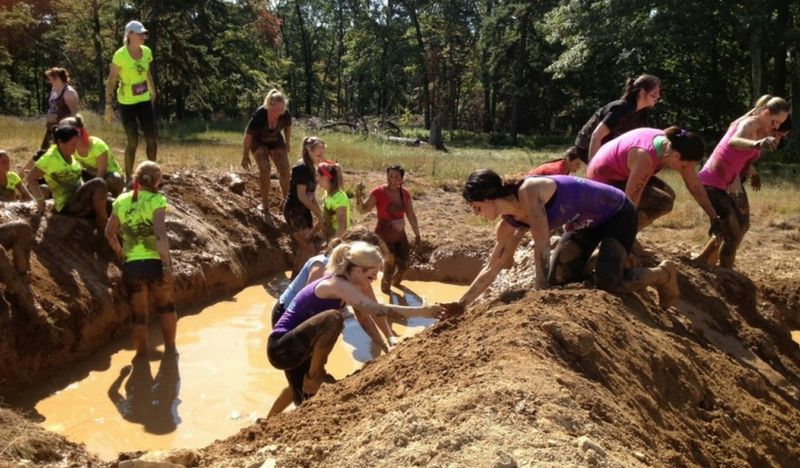 5. Rugged Maniac
It prides itself on having an abundance of obstacles, more per mile than both the Tough Mudder and Warrior Dash, and this race will leave you muddy and exhausted. The course is only 5km long but after facing at least twenty obstacles in that short time you will be ready to hit the showers. Challenges include hanging mud tires to traverse, 100 foot slides, rope nets to climb up and mud pits to crawl through.
Don't forget about the fires you have to jump over. In addition to the actually race though, this event is full of other activities including a mechanical bull, adult bounce houses, and muddy tug-o-war. The epic after-party is worth sticking around for with plenty of live bands, beer, and food.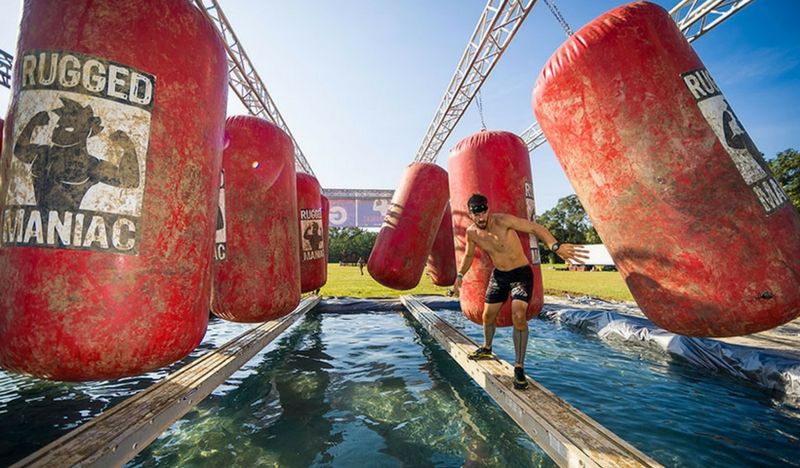 4. Savage Race
This race is offered twelve times a year, averages more obstacles per mile than any other race and has a race distance of an average of 5.9 miles. 25 obstacles await racers, including the Colossus, the prized jewel of the race. This two-part obstacle stands 43 feet off the ground and combines an enormous quarter pipe ramp with a free fall water slide.
Other challenges include a 50 foot trench filled with mud, tunnels to climb through, cement cinder blocks to carry and a bone-chilling ice dive. Extreme participants can register to go "pro" and compete for awards and cash prices while others can race for fun. This race encourages people of all ages to get involved and kids under 12 can participate in the Savage Junior Race that features 10-12 obstacles over a ½ mile course.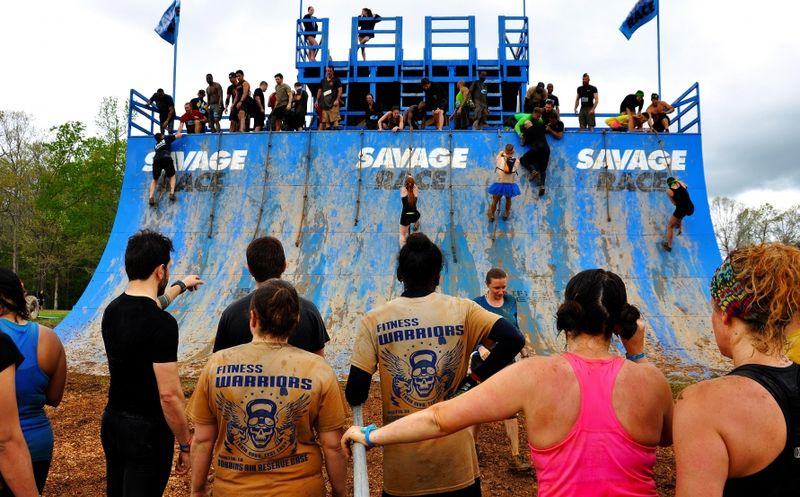 3. Run for Your Lives
If you have a thing for zombies or want to pretend that The Walking Dead is real life, this race is for you. Although technically it's not a mud race, we had to include it due to the extreme awesomeness it is. At last count this race was offered 23 times across the U.S in 2014 and participants have the option of racing as either a runner or a zombie, full makeup transformation included.
After the year 2014, the race was taken over and is now offered in Australia, Asia and other parts of the world. The race is 5km in total and features numerous obstacles including electric shocks, mazes, and one disgusting blood pit. Runners are equipped with flags and it is the zombie's job to try and steal the flags before they cross the finish line. We can't promise you will walk away from this race without blood, dirt and a little zombie guts covering your body.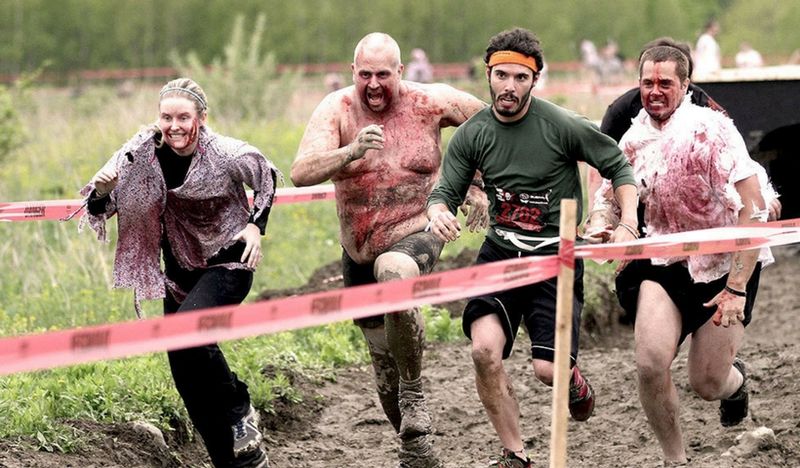 2. Spartan Race
This mud race is no joke and has gone international in eight countries. There are three main types of races here, The Sprint which is meant for the beginner racer, is only 3 miles long and features 20 obstacles. If you happen to fail an obstacle along the way through, you will owe 30 burpees before continuing on. The Super race is a bit longer; capping out around 8 miles it features 24 obstacles and is hosted on tougher terrain. The hardest of the three is The Beast, over 12 miles long and more than 30 obstacles.
Think of spear throws, rope climbs, barbed wire crawls, fire jumps and more. What makes this race so interesting is that the courses are constantly changing and the obstacles stay a secret prior to the race. If you really feel like taking on a challenge you can always enter the Ultra Beast, a 26.2 mile marathon mud race that offers no details or maps; just the promise of the ultimate tough race.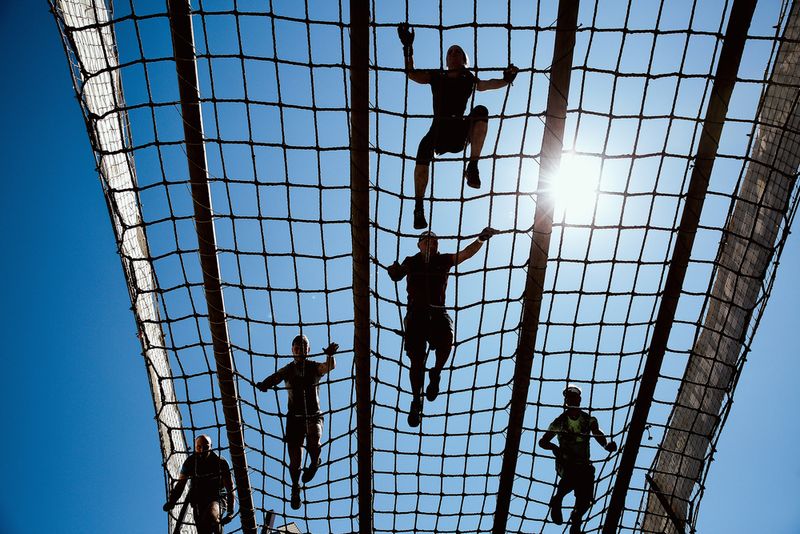 1. Tough Mudder
It is perhaps the most well known of all mud races and the 10-12 mile events are held on five continents and have raised over $5 million for the Wounded Warrior Project. The obstacle courses here have been designed by British Special Forces and include 25 military-style obstacles. Expect to swim in icy waters, jump over a four-foot high fire pit, traverse muddy walls and overcome a field of live wire. It is no surprise that only 78% of participants can actually complete the courses laid out.
Tough Mudder participants can be recognized by the signature orange headbands and the sheer amount of mud covering their bodies. If you do happen to be one of the lucky ones who finish, you will be greeted at the finish line with a beer and live music. Awards are handed out in various costume categories such as least clothing, best costume, and best mullet. You can even get a Tough Mudder logo tattooed on your body for just a $70 donation.