We're taught pretty early on that some things are okay to eat and others—not so much. It takes a particular kind of person to look at some of the things deemed "untouchable" and say, "I wonder what that tastes like?" It takes even more for someone to decide to use a verboten ingredient in gourmet cooking—but that hasn't stopped some of the chefs in New York City from including some pretty strange items on their menus. Here are eight of the strangest foods you can find (and try!) in the Big Apple.
8. Chapulines Taco
While it might seem strange to North Americans, there are plenty of places around the world where it's not unusual to find insects on the menu; they're a source of cheap protein and much more eco-friendly than cattle. Nonetheless, you don't need to travel halfway around the world to find a restaurant serving up bugs: Toloache, a traditional Mexican restaurant in NYC, uses grasshoppers in its chapulines tacos. Patrons say you won't even notice the flavor; the insects add a distinct crunch to the dish, but not much more. With chef Julian Medina behind the scenes at Toloache and inspired by traditional Mexican homecooking, you know that even if the chapulines tacos are strange, they'll still be tasty. At one time, Antojeria La Popular offered a cricket taco, but that restaurant has now closed.
7. Foie Gras Doughnut
New York seems to be having something a love affair with the much-maligned foie gras. But foie gras isn't just something to be found on the appetizer menu at an upscale eatery in the Big Apple. No, restauranteurs are experimenting with this food in strange new ways. Take Oddfellows, known for its odd and innovative ice creams flavors, which boasts a foie gras ice cream on its menu. Over at Do or Die in Brooklyn, you can taste a foie gras doughnut: the rich taste of duck meets the sugary, fried pastry of the doughnut to create a strange, but unique, dessert experience—one that, thus far, is only available in the Big Apple. This experiment may not follow in the footsteps of the cronut and become a sensation, but only time will tell.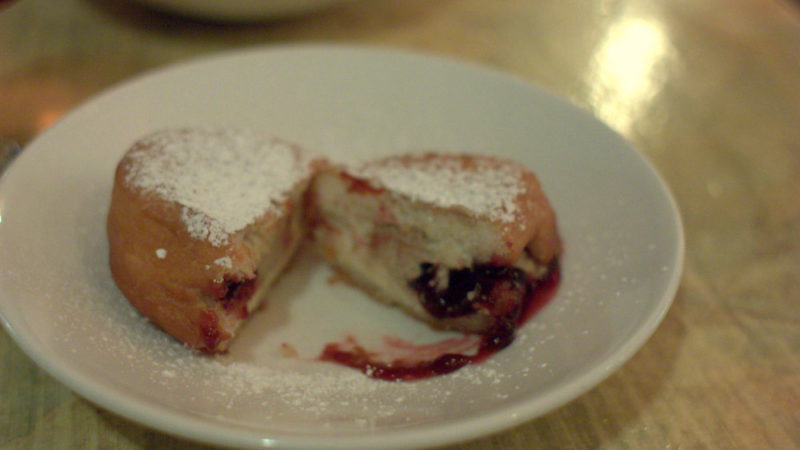 6. Pig's Head
Pig's head isn't exactly something you expect to see anywhere outside a pig roast, but it's been cropping up on the menus of a few restaurants around the Big Apple lately. Originally offered at Fatty 'Cue's now-closed Williamsburg location, where half a pig's head was served up to adventurous diners, chef Ilan Hall has carried on the tradition at The Gorbals in Williamsburg. Chef Hall offers up the whole pig's head in a signature dish, drawing on seasonal garnishes, an experience in London and his own ingenuity. There are also locations in New York's Chinatown that allegedly offer pig's head as a menu item, but The Gorbals' incarnation is likely to draw diners looking for a unique gourmand experience. Given the 18-hour braising process, the meat is butter-soft—it's more the presentation that earns this dish a reputation as a "strange" food.
5. Frog Porridge
Frog porridge may not seem all that strange to those familiar with Chinese cuisine, or even someone who has spent much time in Singapore, where the dish is often part of street food menus. But in New York, it's much more rare to find dishes that use frog as an ingredient; some of us might think of French cuisine, where frogs' legs are considered a delicacy. In Cantonese cooking, frogs are sometimes added to congee, the thick rice porridge that's popular in many Asian cuisines. When served plain, congee is often a side dish, but it can be a meal in its own right when the appropriate seasonings are added. Look for frog porridge in New York's Chinatown restaurants—along with other variations on the traditional congee that might seem to be a bit off the beaten path.
4. Tongue Sandwich
Carnegie Deli opened in 1937, next to Carnegie Hall. It has been called the most famous deli in the U.S. Part of the deli's reputation comes from its surly waitstaff and its motto: If you can finish your meal, they've done something wrong. Among the classic deli menu, which follows Old World traditions, you can find a beef tongue sandwich. Tongue also features in other sandwiches: a tongue and egg entry can be found on the menu, along with the "Tongues for the Memories" combo, which features tongue, corned beef and Swiss cheese served with coleslaw and Russian dressing. There's even a cold-cuts platter and a hot platter with tongue as the centerpiece. While tongue may seem strange to us today, it has been used in many cuisines, often as a delicacy.
3. Guinea Pig
Head over to Urubamba in Queens and you'll find a rather strange entry on the menu: guinea pig. While most North Americans think of guinea pigs as pets, in their native South America, the furry rodents are actually part of traditional cuisine—and considered an eco-friendly alternative to cattle. Roasted guinea pig is part of traditional Peruvian cuisine, and the South American restaurants in NYC, including Urabamba, have been sourcing their stock from Peru in order to give New Yorkers a taste of authentic South American flavors. Guinea pig seems to be rising in popularity around New York, so perhaps this "strange" food won't seem all too strange in years to come. In the meantime, it still seems a bit weird to see a critter we'd keep as a companion served up for dinner.
2. Calf's Brain Cream
Mix blue cheese and butter with calf's brain and you get calf's brain cream, which is served up in a tube at the restaurant Takashi in New York. Diners are presented with blini and caviar to enjoy with the paste; squeeze some out on a blini and top with caviar. Takashi is a fusion of Korean flavors and Japanese finesse, the brainchild of Chef Takashi, and focuses on beef, beef and more beef. The restaurant is well-known for using every part of the animal, even the less savory cuts, to create gourmet dishes. Calf's brain cream is one of those strange concotions; it's likely a good thing the dish comes in a small, unmarked white tube. Often, the less recognizable our food is, the less disgusting it seems. While calf's brain cream hardly sounds appetizing, the presentation and the flavor will likely sway many diners' opinions.
1. Golden Opulence Sundae
At first glance, the Golden Opulence Sundae on the menu at restaurant Serendipity 3 may not seem all that strange. A second look at the ingredients will give you pause: among the Venezuelan cocoa, candies imported from Paris and dessert caviar are 23 carats of edible gold leaf. The sundae is priced at a decadent $1,000 and the restaurant swears they sell at least 1 per month. We're not sure if that speaks to a number of people who are suffering a rather high-end variant of pica or a subset of people who have so much money they can afford to literally eat it, but it seems pretty strange. Throughout history, people have used gold as an ingredient in various potions for beauty or longer life or even to cure particular ailments, but we're pretty sure that this modern-day alchemy will only relieve you of your hard-earned cash.