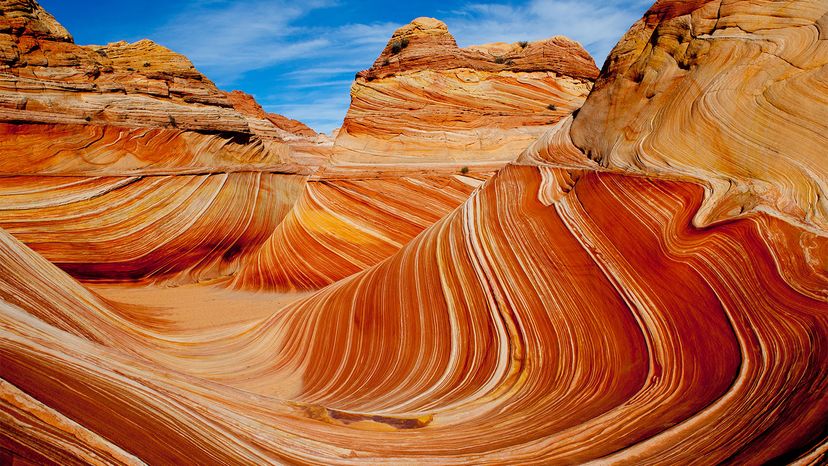 The Wave — a 6-mile (9.6-kilometer) series of canyons in northern Arizona — may look like the set from a sci-fi movie or perhaps the terrain from a distant planet, but this stunning geological formation is part-and-parcel of Earth's majesty.
Sculpted by wind and water over millennia, The Wave is a small section of the Coyote Buttes North Special Management Area in the Paria Canyon-Vermillion Cliffs Wilderness near Arizona's border with Utah.
Often considered the state's Grand Canyon, which drew more than 4.5 million visitors in 2021), The Wave takes its name from the wave-like striations running the length of its two major sandstone troughs. The troughs — one that is 62 feet (18 meters) wide and 118 feet (36 meters) long, and one that is 7 feet (2 meters) wide and 52 feet (15 meters) long — were first carved by rainfall during the Jurassic period about 200 million years ago.
The combination of varying water levels and raging gusts that once wound their way through the rippled dunes resulted in a series of colorful steps and risers that comprise The Wave's canyon walls. The orange, yellow, white, pink and rust colors that run in horizontal bands are considered one of the most photogenic — and photographed — natural wonders in North America.
In an ironic twist from Mother Nature, the geological processes that formed The Wave also will eventually destroy it. The good news? It will take the effects of wind and water several million years to erase The Wave, so you'll still have a chance to see it — if you are one of the few permitted visitors allowed each year.