Foodies Unite. The list of the world's 50 Best Restaurants of 2015 was just released. It seems that Europe has dominated once again this year with a slew of restaurants from France, Spain and Italy rounding out the top 50. There were some newcomers to the list this year as well, including one from Russia and the United States. Read on to discover why these 50 restaurants were named the best in the world for 2015, and maybe book some dinner reservations at one of these hot spots on your next trip.
50. The French Laundry -Yountville, CA, USA
For more than two decades the French Laundry has been serving up delicious French-American inspired cuisine and shows no sign of slowing down. One unique claim to fame is that no ingredient is ever repeated twice on the same menu. Visitors should expect dishes such as oysters and pearls here.
49. Blue Hill at Stone Barns -Pocantico Hills, NY, USA
This is the first time this restaurant has been seen on this list but it certainly won't be the last. With a farm to table outlook, this restaurant focuses on delivering locally sourced and grown food to diners. Diners won't find any printed menus here; instead they are subject to a multi-taste menu which includes ever-changing dishes depending on the season.
48. Schloss Schauenstein -Furstenau, Switzerland
Romance meets exceptional cuisine here at this restaurant located in a castle in the Swiss Alps. Chef Andreas Caminada has been awarded three Michelin stars and is considered one of the best chefs in all of Europe. Modern French is the style of food and guests can expect simple and familiar ingredients bursting with aromas, textures and unbelievable flavor. The dining room with its grand marble floors and the extensive wine list make this an unforgettable experience.
47. Alain Ducasse au Plaza Athénée -Paris, France
Alain Ducasse has outdone himself once again with this sparkling dining room and unique menu based around healthy eating. The concept here is a menu based on a trilogy of fish, vegetables and cereal; produce that has been caught or grown in a sustainable and organic environment. The stainless steel shells that create the tables, the sparking chandelier and the first-class intriguing menu gets this restaurant an A+.
46. Restaurant André -Singapore
Although this restaurant is only five years old, it has taken Singapore and the world by storm with its incredible menu, dining area and uniqueness. Patrons can expect eight courses which reflect Chef André Chiang's multi-culinary experience. The restaurant is located in a former shop house in China Town and features unusual art pieces and slick service.
45. Relae -Copenhagen, Denmark
This certified organic restaurant focuses less on elegant service and more on exceptional local food. Diners here will pour their own wine and help themselves to the cutlery in the table drawers. Don't let that fool you though, the daily changing menu will entice and excite your palette. Using three or four ingredients Chef Christian Puglisi draws on his Italian background and combines that with a New Nordic style of food, creating dishes that look deceptively simple.
44. Maido -Lima, Peru
This restaurant is where you will find the perfect execution of Nikkei food, a blend of Peruvian-Japanese culture. A relatively simple looking restaurant, the focus is on the food here; offering a simple Japanese menu or a 15-course Nikkei menu. Patrons can sit up at the bar to watch the talented chefs' work as they create dishes such as grilled octopus and confit of guinea pig with molle pepper.
43. Tickets -Barcelona, Spain
Tickets is not just a restaurant but a complete dining experience with high cuisine innovations combined with a fun and exciting atmosphere. This cinema-themed operation serves up an amazing combination of modern Spanish style cuisine blended with flavors from all over the world. Patrons here enjoy letting the staff pick their meals for them, in an atmosphere than can only be described as unique and amazing. It is no surprise this restaurant has made the list.
42. Boragó -Santiago, Chile
The emphasis here is sustainable and seasonal dining and with both the Pacific Ocean and the Andes at their fingertips; the local ingredients are never ending. Chef Rodolfo Guzmán is known as a pioneer of Chilean cuisine and can be known to switch up the menu halfway through the evening depending on the availability of local ingredients. Expect Chilean native ingredients combined with the European culinary skill, to create an unforgettable dining experience.
41. Maní -Sao Paulo, Brazil
This husband and wife team has done a brilliant job creating a homey, welcoming dining experience that is known for serving exceptional cuisine. Brazilian Born Rizzo Redondo recently won the title of World' Best Female Chef and continues to create food based on her home roots, combined with her husband's Spanish influence. Expect to see dishes that feature the catch of the day, foie gras and home-made flours and jams.
40. Per Se -New York City, USA
Since it opened in 2004, this restaurant has been on this list every single year and shows no sign of slowing down. The dining room with its impressive floor to glass windows overlooking Central Park sets the stage for an innovative and sophisticated menu. Seasonal American ingredients are often expressed in dishes that draw on French Cuisine, such as 100-day aged beef accompanied by tongue pirogi and borscht.
39. Quique Dacosta -Denia, Spain
Chef Quique Dacosta is truly one of the leaders of avant-garde cuisine in Spain and stays true to his roots, using only ingredients that are locally sourced within 75-km from the restaurant. Each dish is truly a work of art and incorporates a mirage of colors. The tasting menus vary in size but some have up to 30 dishes to try; giving patrons the experience of an unforgettable multi-sensory experience.
38. Amber -Hong Kong, China
The impressive wine list of over 1,100 wines and the elegant chandelier that features 4,320 bronze rods set the atmosphere for this exquisite French cuisine combined with Asian ingredients. Fish arrives daily and the chef Richard Ekkebus loves to combine the Pacific seafood with flavors from around the world. The finest meats, the finest wine pairings by an award-winning sommelier and a gorgeous atmosphere make Amber the place to be in Hong Kong.
37. Biko -Mexico City, Mexico
A trio of chefs from different backgrounds are creating innovative and fun foods with a big focus on creativity. By combining Spanish and Mexican flavors, this trio is breaking down culinary barriers and highlighting once forgotten ingredients. Visitors should expect dishes such as a cauliflower truffled soup topped with radish pickles and olive spheres or foie gras candy floss.
36. L'Astrance -Paris, France
This tiny Paris restaurant combines French cuisine with Far East flavors such as lemon grass, jasmine and daikon. There is no set menu here and diners simply choose the number of courses they want and the rest is up to chef Pascal Barbot and his team who send out surprise dishes. The wine list is all encompassing, the dining room is chic and modern and the experience is truly once-in-a-lifetime.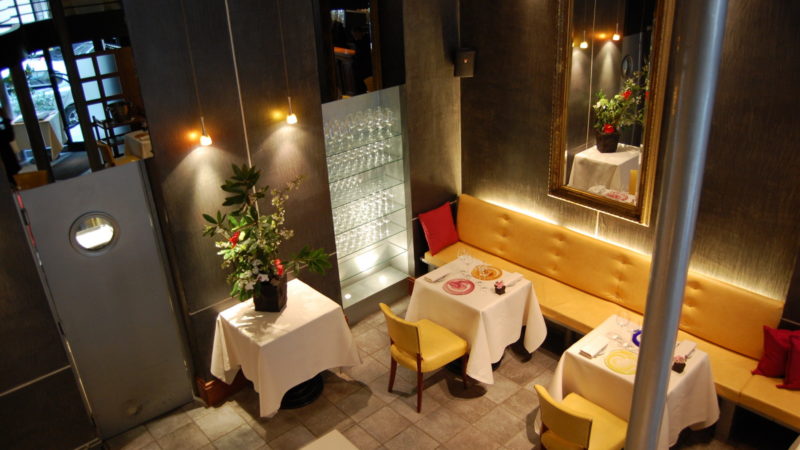 35. Quintonil -Mexico City, Mexico
With a strong commitment on reducing the ecological footprint of its food combined with a desire to create dishes based on fresh seasonal ingredients and forgotten herbs and grains; Quintonil is taking Mexico City by storm. This restaurant focuses on indigenous produce and aims to highlight fruit and vegetables on the menu, not just for their taste but for their nutritional value as well. Chef Jorge Vallejo makes his debut on the list this year but we guess it won't be the last time.
34. Le Calandre -Rubano, Italy
Chef Max Alajmo became the youngest person ever to win three Michelin stars back in 2002 and has since evolved Le Calandre into an excellent restaurant serving modern Italian cuisine. Guests have the choice of three menus here; a classic menu, a more modern take and one that is in-between the two. Diners can expect a level of Italian dining that is hard to find anywhere else with dishes such as extra virgin olive oil risotto with capers, coffee and rose.
33. Aqua -Wolfsburg, Germany
The location itself makes this an unusual and interesting place to eat; Aqua is located on the edge of a theme park right next to the Volkswagen factory. Chef Sven Elverfeld inspires the reinvention of German peasant food in a modern and more global theme. This open-minded kitchen turns out dishes such as fresh local cheese with onion, vinegar and dark malted bread to yellow fin mackerel with guacamole, smoked corn foam and black quinoa.
32. Attica -Melbourne, Australia
The location might throw you for a loop as Attica is located deep within the suburbs of Southern Melbourne, but rest assured visitors to this restaurant are in for an unforgettable dining experience. Australian native ingredients are found more often than not on the plates and chef Ben Shewry isn't afraid to experiment with new meats and spices. Along with the exceptional cuisine, expect a high entertainment factor with visits out to the garden and entertaining service staff.
31. Restaurant Frantzén -Stockholm, Sweden
Known all over the world for its modern Scandinavian cooking, this restaurant features an open kitchen, seasonal produce grown in its gardens and a bright but intimate dining room. Chef Björn Frantzén designs the flavorful menus with not just taste in mind but presentation as well. The well known signature dish 'satio tempestas' changes daily and can contain more than 40 different seasonal vegetables cooked in a variety of ways; all from the garden on-site.
30. Vendôme -Bergisch Gladbach, Germany
Pushing the boundaries on traditional German cuisine has ensured that this restaurant get its name well known throughout the world. Drawing on French, Asian and New Nordic influences, Chef Joachim Wissler creates innovative dishes such as a two-part suckling pig dish complete with green and yellow curry sauces. Polished service, views overlooking the bay and a wine list with over 900 choices round out this incredible experience.
29. Nihonryori RyuGin -Tokyo, Japan
This intimate 18-seat restaurant looks to present seasonal ingredients through a traditional multi-course Japanese style menu; while introducing new and modern ideas. Patrons can expect dishes with seven different kinds of Japanese fish, complimented by a French leaning wine list. Chef Seiji Yamamoto creates the daily menus based on what is available at the morning markets and has created his own line of teas to compliment the food.
28. The Test Kitchen -Cape Town, South Africa
Rather than just a restaurant, The Test Kitchen is truly an experience packed full of imagination and artistic flair. The menus are a combination of international techniques, flavors and ingredients and more often than not the meals are turned into works of art. The massive open kitchen allows diners to be part of the process so expect the unexpected when you visit The Test Kitchen.
27. Piazza Duomo -Alba, Italy
Alba is known all over the world for its truffles and elegant wines and chef Enrico Crippa certainly makes full use of the surrounding natural resources. The approach here is modern Italian mixed with an influence of world-wide flavors and classics are often paired with more daring choices such as olives made with minced veal. The luxurious seasonal white truffle menu is a favorite here and gives the chef an outlet to highlight the region's most famous export.
26. Alinea -Chicago, USA
This small Chicago restaurant is not only known for its unconventional approach to food but for its restaurant experience that is like no other. From mood lighting that changes the colors of the walls to expertly trained staff that can read tables and customers unlike any other in the industry, to edible balloons; patrons here will be in a world of delight. This truly personal experience will unfold in front of your over several hours and can only be described as truly remarkable and unforgettable.
25. Fäviken -Jarpen, Sweden
It is the world's most isolated restaurant; Fäviken can only serve 12 diners a night and is only open 34 weeks of the year. The multi-course menu focuses on ingredients that can be forged, hunted or farmed on the 24,000 acre hunting estate in which the restaurant is housed on. Traditional farmhouse cooking techniques are put into place to create irresistible flavors and unique dishes such as scallop cooked over burning juniper branches. The dining room with its slabs of meat and wolf skins create a most memorable dining experience.
24. Ultraviolet by Paul Pairet -Shanghai, China
A trip here is certainly unlike any other restaurant experience out there. Guests are driven to Ultraviolet in a mini bus as the location is one of the best kept secrets in this city. Only 10 diners at a time are welcomed into a room with white walls, a white table and 10 white chairs. What follows is a dining experience where each dish is eaten with a different soundtrack and the walls and table are transformed with pictures and film. The 10 course meal is full of delicate but flavorful interesting combinations of flavors.
23. White Rabbit -Moscow, Russia
This Alice in Wonderland themed restaurant features outstanding views of the historic center of Moscow, along with an exceptional menu featuring modern Russian dishes with international inspiration. Chef Valdimir Mukhin focuses on blending Russian produce with luxury ingredients producing meals such as rabbit mini cabbage rolls in foie gras sauce with potato crisps and truffle juice.
22. Nahm -Bangkok, Thailand
Although this restaurant is located in a hotel, there is nothing standard about this dining room. While Chef David Thompson is from Australia, he has taken the Thai world by storm and become an expert at this multi-faceted cuisine. Expect a wide range of traditional Thai cooking here and a tasting menu that will knock your socks off. Thompson loves to play with flavors and spice and most likely the main meal will include something of high spice level. It may not take you hours to complete a meal here but guests will leave feeling like they just ate one of the best meals of their lives.
21. Le Chateaubriand -Paris, France
This restaurant has been a leading force in the revolution of bistros in Paris. Gone are the days of white table cloths and overly expensive meals, they have been replaced by more relaxed atmospheres and excellent cuisine at affordable prices. The no frills dining room, the fixed menu written on the blackboards and the chef's colorful history set the stage for a perfect dining experience. The food is a combination of French, Asian and Latin America and the lineup changes daily.
20. The Ledbury -London, UK
Although Chef Brett Graham originally hails from Newcastle Australia, you wouldn't know it based on the menu that features the best of British produce along with local meats. The food here is refined, yet gutsy and the service impeccable which is why so many regulars appear to make this there favorite place to eat. One might even find out that the beautifully smoked venison on their plate was bagged by the chef himself.
19. Azurmendi -Larrabetzu, Spain
This dining experience starts when you arrive at the eco-friendly glass building and are immediately taken on a tour of the grounds, greenhouse and gardens. The open kitchen which leads to the dining room sets the stage for a memorable dinner. Chef Eneko Atxa loves to push boundaries and discover new innovative cooking techniques. Guest will experience food such as a truffled egg which is cooked inside out. Invigorating flavors, the utmost creativity and a passionate chef await visitors at Azurmendi.
18. Le Bernardin -New York City, USA
This restaurant was started in Paris in 1972, then it moved to New York in 1986 and has had the same famous head chef since 1994. Needless to say it has won numerous awards, been the favorite seafood restaurant of New York for decades and continues to amaze guests with its spectacular raw fish dishes. Traditional French cuisine meets skillful Japanese techniques in this example of extraordinary dining.
17. Arzak -San Sebastian, Spain
The father daughter team of Juan Mari Arzak and Elena Arzak Espina seem almost unstoppable in conquering the culinary world in this region that is full of creativity and fertility. Juan Mari Arzak is known for having pioneered modern Basque cuisine and they have combined local flavors with international sauces and compliments. Visitors here should expect a modern twist on all of their favorite local cuisine.
16. Pujol -Mexico City, Mexico
Pujol is consistently rated as one of the top 20 restaurants in the world and is known as the very best in Mexico. Determination to use native ingredients and modern cooking techniques create unusual flavors, while inventing new dishes and recreating the old has given this chef a leg up over others. The main focus here is the attention that is paid to making sure each and every last detail of a dish is perfect, and each flavor is exposed to its finest.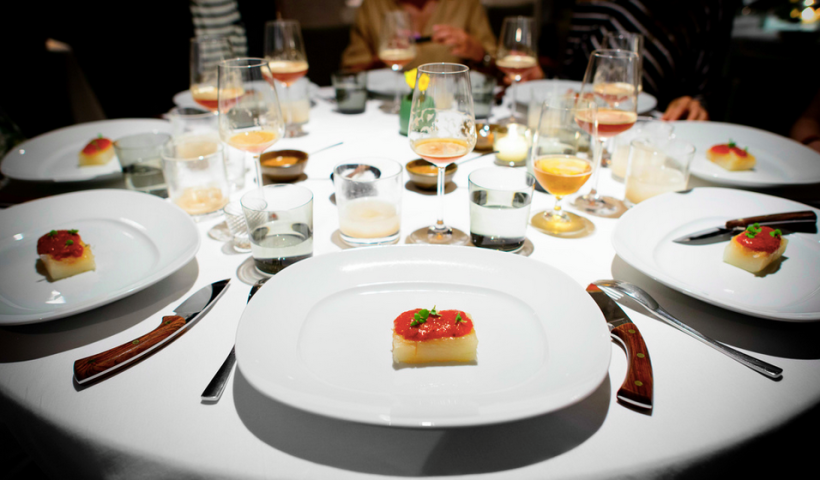 15. Steirereck -Vienna, Austria
Chef Heinz Reitbauer aims to create the very finest of contemporary Austrian cuisine in a relaxed, chic setting and he does so quite memorably. He is in fact known for his cutting edge techniques and using the finest ingredients from his hometown. Many of the ingredients actually come from his family's own farmstead. Expect innovative dishes such as the freshwater Char cooked in beeswax with yellow carrot, pollen and sour cream.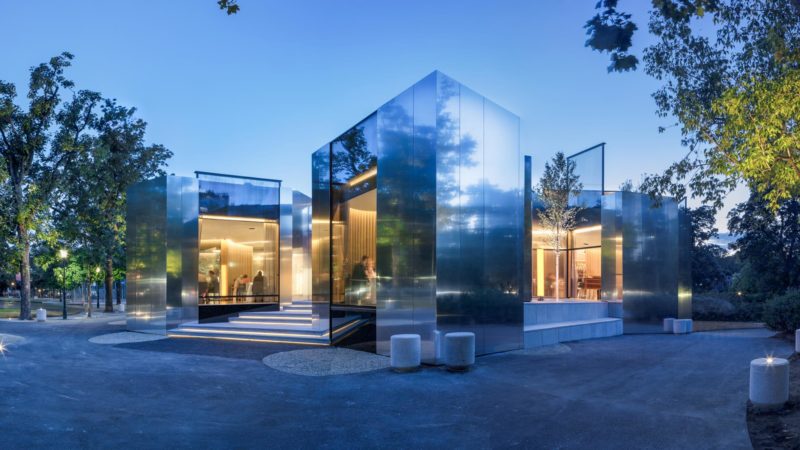 14. Astrid y Gastón -Lima, Peru
This restaurant coexists with a bar, experimental herb garden and development kitchen in a deprived area of Lima but don't let that stop you from visiting. Take a trip down memory lane with a menu that tells the story of each individual dish and how they relate to growing up in Peru. The dishes use ingredients from all over this rich diverse country and one certainly gets a taste of Peruvian history at this restaurant.
13. Asador Etxebarri -Atxonodo, Spain
Chefs flock from all over the world to see Chef Victor Arguinzoniz in action over his wood grill, as he is hailed as the founding father of creative barbecue in Europe. Ingredients here are simple and fresh, with many that have been grown, picked and butchered by the chef himself. Everything on the menu hits the wood grill and has the delicate taste of smoke throughout, creating a simple yet delicious and exceptional experience.
12. L'Arpège -Paris, France
This restaurant is taking vegetables to a whole new level and making them the forefront of an incredible menu. Think beetroot tartar instead of the traditional beef tartar and an emphasis on ingredients such as grapefruit, almonds and sweet peas. Considered a culinary genius, Chef Alain Passard creates sensational tasting food with a contemporary French feeling.
11. Mirazur -Menton, France
Perched on a hillside overlooking the sea with floor to ceiling glass windows, this restaurant is big on highlighting local seafood. Pairing that seafood with herbs, flowers, fruits and vegetables that are grown in the garden to create exceptional dishes is the primary approach here. Innovating cooking techniques, artfully presented plates and a combination of French, Italian and Argentinean flavors make this dining experience amazing.
10. Gaggan -Bangkok, Thailand
Progressive Indian is the style of food here in this downtown Bangkok restaurant. The approach taken by Chef Gaggan Anand is to take street dishes and deconstruct them, creating new innovative menu items without losing the flavors. This restaurant also features liquid nitrogen, smoke and dehydrated ingredients to give additional texture and flavor to its dishes, as well as adding a little bit of dinner theater.
9. D.O.M -Sao Paulo, Brazil
This is one of the most expensive restaurants in Brazil but considering that many of the ingredients come from deep within the interior of the Amazon, that's no surprise. Chef Alex Atala is known for searching out new ingredients and bringing them back to his restaurant for diners to try. The dining room is formal, yet relaxed and the emphasis here is on reshaping Brazilian food and convincing others to use the natural resources that are so plentiful.
8. Narisawa -Tokyo, Japan
This restaurant is truly a representation of the chef, the landscape and his love for the natural world. Although Japanese products are the focal point here, there is a strong influence of French cooking. Known internationally for being one of the best restaurants in the world, Chef Yoshihiro Narisawa takes great pride in his thoughtfully constructed food and wine list. It may be in fact the best place to appreciate the wine making of Japan.
7. Dinner by Heston Blumenthal -London, UK
Less than five years old this restaurant has made leaps and bounds, becoming a restaurant that recreates British culinary history. Forgotten dishes are brought back to life and reinvented using modern cooking techniques and present day ingredients. The dining experience is not thwarted by theatrics or entertainment; instead they let the flavors speak for themselves.
6. Mugaritz -San Sebastian, Spain
This dining experience is more of a journey through food rather than just a sit down restaurant with set menus. Guests here will experience 24 individually tailored courses based on their dietary needs and wants. It is not just the flavors here that are important to Chef Andoni Luis Aduriz but the smells and textures he provides in his dishes. Edible cutlery and centerpieces along with the breathtaking scenery from the small wooden dining room will only make the experience that much more unique.
5. Eleven Madison Park -New York City, USA
Walking into this restaurant one might think that it appears quite grand, formal and perhaps a bit stuffy but one would be wrong. It is indeed playful and interactive from the service to the food itself. Co-owners Daniel Humm and Will Guidara have done a remarkable job in running both the back and front of house in the best ways possible, thus creating an unforgettable dining experience. Tasting menu's frequently feature New York's agricultural bounty but this duo has been known to tailor dishes specific to each guest individually.
4. Central -Lima, Peru
This is a whole new dining experience as the chefs take guests on a vertical tour of Peru through food. The tasting menu features ingredients sourced at various altitudes, starting from 25 meters below to 4,200 meters above sea level. Diners are faced with ingredients found and tasted nowhere else in the world as well as being treated to food grown in the urban gardens onsite. There is a true sense of dedication here to discovering new local ingredients and how to best use them in the dishes.
3. Noma -Copenhagen, Denmark
Noma has been open since 2003 and is hailed as one of the most influential restaurants of the century, and thus it is no surprise to see it at the top of this list. The focus here is creating dishes based on what's in season and playing with techniques such as pickling and fermenting. The cuisine style appears to be more of an interpretation of Nordic food and Chef René Redzepi and his teams are known for their ability to assimilate culinary cultures other than their own.
2. Osteria Francescana -Modena, Italy
At 20 years old, this restaurant and its chef have nailed down impeccable service and food. Chef Massimo Bottura is internationally known around the world but remains true to his Italian roots in his cooking. The menu is loaded with Italian classics such as risotto cooked with veal jus, along with many classics that have a unique twist. Local, seasonal ingredients are used, the wine program is impeccable and the atmosphere sets the stage for a perfect dining experience.
1. El Celler de Can Roca -Girona, Spain
The trio of the Roca brothers who collectively run this restaurant have certainly not forgotten their humble roots. The dining experience in the glass-walled dining room complete with an innovative menu, delicious wine pairings and a soothing atmosphere makes this the number one restaurant in the world this year. Add in the fact that this team does everything to educate and inspire the team they lead through unusual initiatives, including a restaurant tour in 2014 across the Southern United States and Latin America; and it is easy to understand why they are number one.