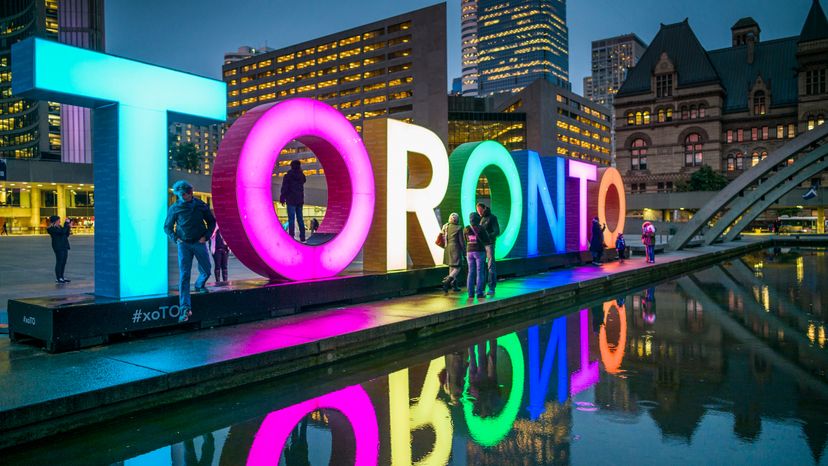 Toronto has been called Toronto the Good, the T-dot, T.O. But no matter how you choose to refer to it, Toronto has always stood for big in Canada. Beyond the usual big ticket items -- its four professional sports teams, a full slate of cultural attractions, and green space galore -- Toronto also has the wonderfully unexpected: a fairytale castle perched grandly atop a hill, a farm smack in the middle of a charming Victorian neighborhood, and an idyllic group of islands just a short ferry ride away from downtown.
More than anything, however, Toronto is a city of neighborhoods, each one with its own unique character, and many with a distinct ethnic flavor as well. Visitors should try to see a couple of the 40-odd neighborhoods to get to the heart of what makes the city tick.
The Best of Toronto
The word Toronto comes from a Huron (a Native American tribe) word meaning "meeting place," which is fitting for a city the United Nations declared the most ethnically diverse in the world. Home to 4.5 million people from more than 100 countries, Toronto's rich ethnic mix gives it an energy evident in its bustling neighborhoods. More than 80 languages are spoken widely, and two multicultural television channels broadcast in 50 languages around the clock. The city's 7,000 restaurants include cuisines as exotic as Afghani, Tibetan, and Somali, and city notices are routinely translated into about a dozen languages. Call up Toronto's transit information line and you can get help in 18 languages, from Korean to Farsi.
Being Canada's largest city, Toronto also has a formidable cultural scene. It's the third-largest theater center in the world after New York and London, drawing tourists to North American premieres and long-running shows like Mamma Mia and, more recently, Lord of the Rings. Every October the Festival of Authors draws writers and book lovers from every corner of the globe. In summer, back-to-back cultural festivals keep the city moving to the beat of the global village.
Toronto's also mad about movies, hosting North America's largest film festival each September, and film production crews throughout the year. Long ago, location scouts discovered that Toronto's ethnic neighborhoods, pioneer village, medieval castle, skyscrapers, and waterfront could stand in for other cities, places, and times. In fact, it's ranked third in TV and film production, and second as exporter of TV programming in North America, earning it the nickname Hollywood North. Walking downtown you're almost certain to see a film crew transforming Toronto into London or New York with the help of a few checker cabs or a Union Jack flapping in the wind.
Fast Facts & Information
Fast Facts & Information
Geography and landscape: Toronto stretches along 27 miles of Lake Ontario's northern shoreline and sprawls northward into hilly farm country. While there are few natural landmarks, it's an exceedingly green city, with ravines crisscrossing it and two rivers -- The Don and The Humber -- providing peaceful valleys filled with parks and bike trails that wind down to the lakeshore.
General orientation: Thanks to 19th century British surveyors, Toronto's streets were laid out in a grid running north-south and east-west, making it easy to navigate. With the CN Tower and Lake Ontario as your southern landmarks, a good map should be all you'll need to find your way around, whether you decide to see it on foot, by car, or taxi, or by public transit. Many of the city's downtown attractions are within walking distance of each other.
If your feet need a break, the city boasts one of the safest public transit systems in North America. Kids get an extra kick from riding The Red Rockets, which are Toronto's streetcars. You can get to distant places like The Toronto Zoo by bus, and even attractions in the suburbs like Canada's Wonderland can be reached via public transport.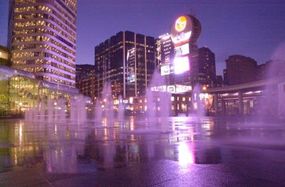 Safety: Despite its size, Toronto is actually safer than Montreal, Calgary, or Vancouver, and a great deal safer than most cities in the United States. Because Toronto's central core has remained a vibrant, livable place, there are no downtown neighborhoods to be avoided. The only place where you might encounter a pickpocket is The Eaton Centre, a sprawling downtown mall along Yonge Street. Exercise caution in crowded situations, and you'll fare well. But should you ever need assistance from police or emergency vehicles, call 911.
Population: Toronto is the fifth largest municipality in North America after New York City, Los Angeles, Chicago, and Mexico City. The population of Greater Toronto is 4.5 million residents and that includes surrounding cities and suburbs like Etobicoke, Scarborough, and North York.
Currency: Before leaving for your trip to Toronto, talk with your local bank about exchange rates and if they offer that service. That's one way to try to find the best exchange rate and have money in your pocket as you hail a cab from the airport to the hotel. Otherwise, you might get stuck in a long line if you try to use an airport ATM or the international currency exchange services booth conveniently located inside the airport.
Since Toronto is an international business center, numerous storefront exchange businesses are located throughout the city. You can walk up to the counter and buy or sell currency just like you are making a transaction at a bank. Be aware that most of these businesses aren't open Sundays or Mondays.
Most Toronto hotels will exchange foreign currency, but only for their guests. Some hotels also limit the exchanges to $100 in Canadian currency per day.
Climate/weather: Summer in Toronto can be hot and humid, with temperatures from 75 to as high as 100 degrees Fahrenheit (25 to 35 degrees Celsius). Winter brings snow and the occasional ice storm, with cold spells averaging between 35 to 13 degrees Fahrenheit (2 to minus 10 degrees Celsius). The best time to visit is spring, when trees are in bloom and moderate temperatures prevail, or autumn, when fall colors turn the cityscape into a richly textured tapestry of scarlet and gold.
One-third of Canada's population lives within a hundred miles of Toronto, so rush hour can be challenging. Keep reading for our vital tips on getting around Toronto.