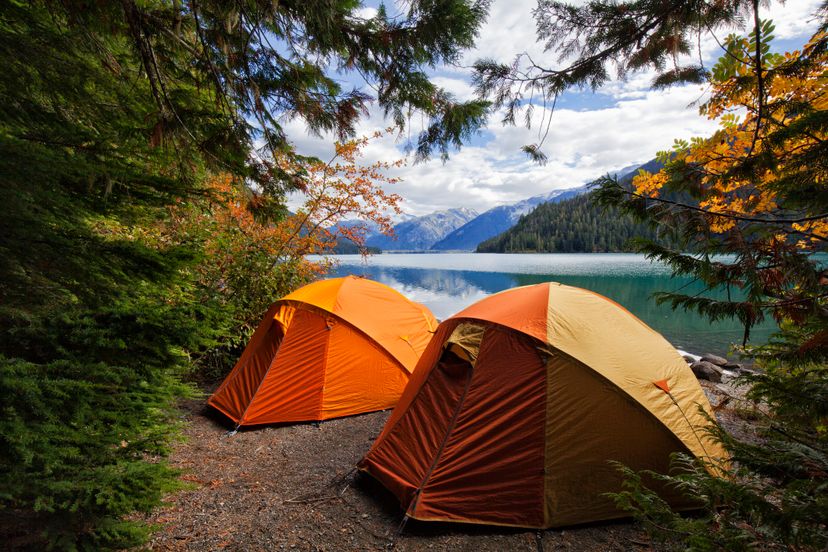 British Columbia's Vancouver Island is 32,134 square kilometers of old-growth forests, snow-capped mountains, rugged beaches, and endless wilderness trails. In fact, it's one of the planet's most diverse ecosystems. While a road trip is certainly fun, there's no better way to explore the nooks and crannies of the island than by camping, which is home to 150 provincial parks, 2 national parks, hundreds of recreation sites, and dozens of private campgrounds. So whether you're planning on traveling as a family, couple or with friends, or solo, check out this guide to the Vancouver Island campsites you can't miss!
Pachena Bay Campground, Bamfield
Nestled among a virgin rainforest on the west coast of the Island, this camping spot provides the idyllic setting for a weekend away in nature. The campground is located directly next to a huge sandy beach and at the head of the West Coast Trail, offering visitors many opportunities for hiking, beachcombing, and more. The campground is open from April until September and with great rates and stunning scenery, visitors planning on camping here should book early to avoid disappointment. Pachena Bay has recently been upgraded to provide water throughout the entire campground and with a new washhouse with hot showers and flush toilets. It's also fully wheelchair-accessible.
The ocean sites are a visitor favorite and throughout the year grey whales can be seen coming into the bay. Getting out here is part of the fun with a gravel road leading into the grounds that can only be described as treacherous. But what's a little island camping without roughing it?
Little Qualicum Falls Provincial Park, Parksville
This popular family camping site is loaded with waterfalls, swimming holes, and hiking trails. Open from May until September, there are 93 campsites available, with 63 of them being reservable. Visitors should make reservations early in the season to secure a spot. The trails and boardwalks give access to the upper and lower parts of the waterfall and swimming are permitted in marked areas.
Just a short drive away is Cameron Lake, a perfect place for swimming and relaxing in the breathtaking landscape. Activities range from canoeing to cycling and hiking to scuba diving and fishing and more. This park is often used as a home base for campers that are exploring Cathedral Grove and the Mt. Arrowsmith CPR regional trail. Steep cliffs and thundering falls, along with great weather make this the perfect camping spot on the island.
Englishman River Falls Provincial Park, Parksville
This picturesque camping destination fills up fast and is only open from May until September. The scenery and surroundings make this a superb camping spot, including two stunning waterfalls that descend deep into a canyon, an old-growth and second-growth forest, a deep crystal-clear swimming hole, and picture-perfect bridges to trek across.
There are plenty of hiking trails throughout the park for all visitors to experience. The campground includes 103 sites, each with its own picnic table and campfire ring, and sites are well spread out with large concrete pads on each. Expect great privacy, quiet nights in your tent, and some spectacular scenery here at Englishman River Falls in Parksville.
Rathtrevor Beach Provincial Park, Parksville
This relaxed family campground will be enjoyed by anyone and every one with its large sandy beach, majestic old-growth trees, and beautiful sunsets. Open year-round, it generally fills up quickly during the summer months, with 174 drive-in sites and 25 walk-in sites available. Guests love the 5 km sandy beach and forested trails, including a spectacular ocean trail loop, and the nature center hosts an awesome kids program.
There is no bad campsite at this park as all are just over a 5-minute walk to the beach. At low tide the water recedes almost a kilometer, making the beach the perfect place to build sandcastles, kick the soccer ball, or throw a Frisbee around. With three playgrounds, excellent swimming, hiking, windsurfing, and interpretive programs; there will be no shortage of fun activities to keep the whole family engaged at this Vancouver Island campsite.
Elk Falls Provincial Park, Campbell River
Elk Falls is one of the most popular provincial parks on Vancouver Island and with year-round salmon fishing and incredible scenery, it's easy to see why. Located west of the Campbell River, this quiet riverside campground fills up quickly during the warmer months and is open all year. From November to March, campers can expect steelhead to run right by the campsites while spring visitors can look forward to Chinook and Coho salmon.
Located just 3 kilometers from the campground is the day-use area, which is loaded with trails and an incredible 35-meter waterfall. In recent years the park has added new walkways, railings, and a suspension bridge which make viewing the falls even more fun. If you want a site on the river, be sure you book well in advance as they book up quickly.
Green Point Campground, Tofino
If you are looking to hike in the middle of the Pacific Rim Park, you need to visit Green Point Campground. Be sure to book early to avoid disappointment as this campground with 94 drive-in sites and 20 walk-in sites fills up quickly in the summer months. Pacific Rim National Park Reserve is known for its temperate rainforests and long sandy beaches and this campground sits right in a forested terrace above Long Beach – the only campground in the area.
It's a short trail walk to the beach below – a beach known for having the best surf waters in Canada. In the summer months, there is a great interpretive program that runs out of the theatre as well. Amenities include flush toilets, fire pits, and potable water but do not include any showers or cooking facilities.
Cape Scott Provincial Park, Cape Scott
If you are looking for rugged wilderness camping, Cape Scott Provincial Park, located on the northwestern tip of the island, is the perfect place to go. Cape Scott was only established in 1973 but offers over 115 km of ocean frontage with 30 km of stunning remote beaches. Most people come here to hike the North Coast Trail, a 46-kilometer backcountry adventure that takes hikers through incredible wilderness landscapes.
There are many places to set up camp here including 11 designated camp pads located at Eric Lake, available on a first-come, first-served basis. Random wilderness camping is also allowed in this park, though no facilities other than food and pit toilets are provided, and campers are asked to camp on the beach to reduce their footprint whenever possible. The hike here is not for beginners though, and visitors must be prepared for the variable climate and lots of rain.
Tribune Bay Campsite, Hornby Island
Tribune Bay is not technically on Vancouver Island, but it's located close enough to group it into this amazing collection of camping spots. This campsite is actually located on the neighboring Hornby Island and adjacent to Tribune Bay Provincial Park. Only open from June until September, this campground features over 100 sites all with fire pits and picnic tables.
There are a ton of trees throughout the campground providing privacy for each site. Once you've set up camp, there's no need to move the car as everything is in walking distance, including an unusual playground and a long stretch of white sandy beach. Hiking and cycling trails await visitors in the provincial park and the waters are calm and perfect for swimming, kayaking, or paddleboarding. This private campsite is perfect for families, couples, and small groups of friends. For those of you looking to party, skip this campground as quiet time starts at 10 pm and is strictly enforced.
Strathcona Provincial Park
This rugged mountain wilderness dominates central Vancouver Island and has been called the most beautiful provincial park in the country. With towering mountain peaks – some covered with snow, lakes, creeks, rivers, valleys and old-growth forests – there is no contest for its beauty. There are two campgrounds here, both equally amazing with Buttle Lake featuring 86 sites and Ralph River with 75. If you stay in the Buttle Lake campground make sure to grab one of the lakefront sites.
The Ralph River campground is perfect for those interested in doing some serious hiking along the corridor as sites are located inside a towering old-growth Douglas fir forest. If you are looking for something really special, head over to Delta Falls in the southern part of the park where you can witness Canada's highest waterfall – eight times higher than Niagara Falls!
Alder Bay Resort, Port McNeill
Alder Bay is one of the nicest campgrounds in Northern Vancouver Island, along with being one of the friendliest. This RV Park and Campground offer incredible scenery, friendly staff, and great rates. Visitors here can enjoy watching eagles soar overhead and Orca's play in the waters – right from your campsite in some cases. Nearby are trails that lead you to Telegraph Cove where you can walk the boardwalk or hike in historic Alert Bay.
Salmon and Bottom fishing are popular sports in the resort and they offer a convenient on-site fish cleaning station. Expect friendly neighbors, quiet nights, a clean campground, and no shortage of activities. Both the campsites and the RV suites offer ocean views, but make sure you book early if you want to stay at this incredible camping spot on Vancouver Island.
Loveland Bay Provincial Park, Campbell River
This small rustic provincial park is perfect for those campers looking for a quieter, more intimate setting. Every site here (except two) are on the waterfront, right on Campbell Lake, so it doesn't get much more picturesque than this. The campground is open from May until September and only features 31 sites so if you planning on staying here, book early. The sites are perfect for the kayak or canoe enthusiast as it is possible to set out right from your campsite or a boat launch nearby.
There is no designated day-use area at this park, nor a designated swimming area which means each camper has their own personal beach in front of their site. Visitors here should be warned that this is a rustic camping and only one water pump and a handful of pit toilets are located throughout the park. If you are looking to escape reality for just a few days, this is the place to do just so.
China Beach Campground, Juan de Fuca Provincial Park
Juan de Fuca Provincial Park offers scenic beauty, spectacular hiking, marine and wildlife viewing, and roaring surf along the Pacific coastline of the Strait of Juan de Fuca. The China Beach campground is the best place to set up if you're car camping, as it has 78 reservable campsites and 47 first-come, first-serve sites.
The campground is located in a forested area about 1 km away from the China Beach Trailhead with several trails connecting the campground to both China Beach and Second Beach. Amenities are basic and include pit toilets, cold water taps, and campfire rings. What visitors really come here for though is access to the incredible beaches, tidal pools, and wildlife. Be on the lookout for whales, marine birds, shells, and fascinating creatures that gather in the tidal pools on the west side of the park.