From its monuments and landmarks that celebrate liberty and freedom, to its diverse neighborhoods, the nation's capital attracts more than 20 million international and domestic visitors each year. The famous sights and museums, most of which offer free entry, and a year-round calendar of special events make Washington, DC, one of the world's top tourist destinations. It's a city that welcomes children and one that takes the Americans with Disabilities Act seriously.
Beyond Washington's most stately sights, the nation's capital is a personal place, a home to half a million residents. Downtown areas, such as Penn Quarter and the U Street Corridor, that were once depressed have been born again. Georgetown's main streets have always been young and trendy. The residential blocks that were home to Jack and Jackie Kennedy are still traditionally elegant.
Thanks to chefs who appreciate the metropolitan Washington lifestyle, the restaurant scene has heated up in recent years. Jazz thrives in small clubs as it always has, and the Kennedy Center and Wolf Trap attract top musicians as well as actors and masters of dance. DC also thrives when it comes to live performance, a well-kept secret due to the lack of a central theater district.
The federal government is Washington DC's primary industry, with tourism a strong second. DC also is home base to more trade associations than any other city in the United States. World headquarters of Marriott, US Airways, Gannett, AOL, MCI, Mars Candy, and many other corporations are scattered throughout downtown and the metropolitan area. International influence emanates from embassies, the International Monetary Fund, and the World Bank.
The Best of Washington, DC
Washington, DC, may be strong in theater and other attractions, but on the dark side, it's third in the nation's worst traffic. Roads gradually grew more clogged over the years, but became dramatically more so after the Pentagon was hit September 11, 2001. Washington has increased security of all types, both human and concrete. The same-day public tours of The White House that were once a source of pride to all administrations were cancelled and never reinstated.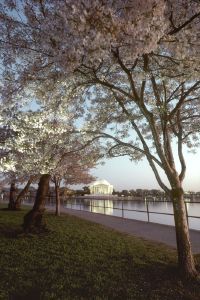 Visitors may not be able to tour The White House easily anymore, but they can still experience a cross section of Washington's unique population. A good place to start is across from the North side on Pennsylvania Avenue, now a pedestrian plaza full of concrete barriers and lean Secret Service officers. In Lafayette Park, you'll see East Wing and West Wing staffers rushing to work and lobbyists scurrying off to meetings, journalists having a brown bag lunch, aged protestors raising their signs, all manner of armed law enforcement, a few homeless individuals, students on class trips, bright college interns, and tourists.
There are many possible themes to plan a Washington visit around, from history to art, architecture to government, the military, or technology. Washington also has wonderful gardens that include the themed outdoor rooms of Hillwood Museum and Dumbarton Oaks. Teenagers love the Air and Space Museums. Now there are two, with the addition of the Udvar-Hazy branch at Dulles Airport. The National Zoo is a treat for children and adults.
Washington used to be considered a stodgy place, with northern efficiency and southern charm. Not so much anymore, with the Collection at Chevy Chase shops that include Gucci and Jimmy Choo, and the home design center called Cady's Alley in Georgetown. After a six-year wait while the neighborhood coincidentally grew in stature to match, daylight and visitors are streaming into Georgetown's Donald W. Reynolds Center for American Art and Portraiture.
The two-block Greek-Revival building, formerly the Old Patent Office Building, houses both the Smithsonian American Art Museum and the National Portrait Gallery. The meticulously restored building and museum collections opened to rave reviews on the Fourth of July in 2006.
Fast Facts & Information
Fast Facts & Information
Geography and landscape: Washington was built on swampy land. Even the National Mall land was created from filled-in swamps. It follows that the city's lowest point is sea level, at the banks of the Potomac River. The highest elevation, 400 feet, is up Wisconsin Avenue almost to Maryland in an area called Tenleytown near American University.
The District of Columbia, named to honor Christopher Columbus, was created to be the seat of the federal government authorized by the Constitution. Maryland and Virginia both gave some land to the cause, but Virginia's section was returned in 1847, thus the uneven shape of the city.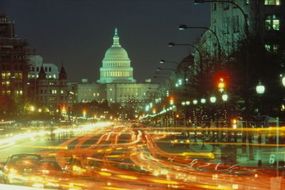 General orientation: The quasi-diamond-shaped District of Columbia is 68 square miles divided into four quadrants: Northwest, Southwest, Northeast, and Southeast. They meet at the US Capitol building. Almost every address a tourist is going to visit will be in Northwest (NW).
It's not an easy city to navigate, although it seems like it should be. Numbered streets run north and south, lettered streets east and west (there are no J, X, Y, or Z streets). Addresses on numbered streets are keyed to lettered streets, so a wonderful restaurant at 701 9th St is between the 7th and 8th letters of the alphabet, G and H, and closer to G since it's 701 and not 791. Avenues named for states (Pennsylvania, Massachusetts) run diagonally, often interrupted by traffic circles that drive residents and visitors crazy.
Safety: Like any major city, there's an element of crime in Washington. The DC metropolitan city police and many other enforcement units (Capitol Police, Park Police, Metro Transit Police, even the Secret Service) are beefed up and on guard for terrorism and other criminal activity. Crime surveillance cameras have been installed in four troubled neighborhoods with 48 more on the way in a big push for prevention and apprehension. The closed-circuit television cameras (CCTV) have been or are being installed at 14th and Girard streets Northwest, the 400 block of O Street Northwest, the 1200 block of Valley Avenue Southeast, and between the 1500 and 1700 blocks of Benning Road Northeast.
Tourism is Washington's bread and butter, so traveler security and safety are a top priority. Officers patrol on foot, on horseback, and in marked and unmarked cars. Even the Smithsonian has its own federal officers; so does each of the universities.
There are safe and less safe parts of any city. Most of Northwest Washington is safe, but common sense is always the best guiding principle. At night, it's prudent to take taxis or a car instead of walking through an unfamiliar area, but no one should fear walking around the moonlit monuments. Keep the sparkly jewelry at home. On a bus at night, sit close to the driver. Street smarts come in handy, but will rarely be tested in the tourist and business districts of Northwest.
Population: The DC city population is 572,000 residents. There are 5.4 million people in the metropolitan area, which consists of the District of Columbia and the following: seven Maryland counties (Anne Arundel, Calvert, Charles, Frederick, Howard, Montgomery, and Prince George's), five Virginia counties (Arlington, Fairfax, Loudon, Prince William, and Stafford) and six Virginia cities (Arlington, Alexandria, Fairfax City, Falls Church, Manassas, and Manassas Park).
Climate/weather: Many Washingtonians claim that we have two seasons: some years DC goes from hot (and humid) to freezing. Some winters are a wonderland of snow and ice, while others are perfectly mild. No weather chart rings true to a resident. The fluctuations are just too wild and unpredictable. However, residents would agree that it's kind to warn friends and family -- if possible -- away from July, August, and spring break season.
In July and August, the humidity makes walking around unbearable. During spring break in March or April depending on the school's chosen calendar, the weather can be naughty or nice, but hordes of families and students on class trips create crowds that are best avoided.
The weather probably follows semi-normal patterns for the mid-Atlantic States, but trust the charts at your own peril. Dress in layers and always bring a small umbrella. If it doesn't rain, the umbrella will come in handy to block the strong summer sun.
Washington, DC, can be a difficult city to navigate if you don't know where you're going. Keep reading for our guide to getting around Washington, DC.