Traveling and vacationing has been taken to a new level with the explosion of focus on health and wellness. People are traveling to destinations specifically to improve their physical, mental and spiritual health. Today's travelers now want places that offer more than just a white sand beach and endless cocktails; they want experiences that stick with them for life. From the birthplace of yoga to the palm-fringed beaches of St. Lucia to a small town in Egypt known for its therapeutic centers to the state that created the first fitness and spa resort in North America; we have rounded up the best travel destinations to explore to improve your health and wellbeing.
8. Sedona, Arizona
The red rocks of Sedona Arizona are said to be the center of vortexes that radiate earth's powers and millions of visitors flock here for a spiritual awakening. Thought to be the center of the New Age movement Sedona is the perfect place to visit for those seeking spiritual healing, meditation and self-exploration. Surrounded by psychics, life coaches, Reiki masters, massage therapists and spiritual counselor's one will feel embraced, inspired and rejuvenated.
Sedona's year round scenic beauty combined with a town filled with art galleries, gourmet restaurants and spa's designed to pamper guests is inviting to visitors all over the world. Along with jeep tours throughout the rocks, yoga after a long hike and meditation in rooms where you can burn your worries away; Sedona is full of luxury hotels. This city is truly meant to cleanse your soul and body and is a haven for any visitors looking to improve their spiritual and physical health.
7. San Benito, Philippines
Our next destination to improve your health takes you to the Philippines; specifically a place called "The Farm" located in San Benito. This internationally acclaimed health resort offers the choice of a wellness holiday, detox cleanses or healing retreat. The focus of The Farm is to create an atmosphere that allows your mind and body to cleanse itself of toxins and worries. The beautiful landscape, the peacocks that roam free, the luxurious villas, the majestic gardens and the exquisite pools make it easy to relax and heal your soul and body.
The Farm focuses on serving delicious natural vegan and raw food that is devoid of any added substances or toxins that may exist in your everyday diets. They advise guests on nutritional therapy and holistic health along with helping visitors to plan out a fitness schedule. Guests to The Farm will participate in yoga, meditation, food preparation, massages, aqua therapy, power walks, body wraps and scrubs and so much more. Meditation lounges, pavilions and pools are available to all guests at all times. The Farm is truly a place for the individual who is looking to improve their health and well being and is the perfect travel destination to do just that.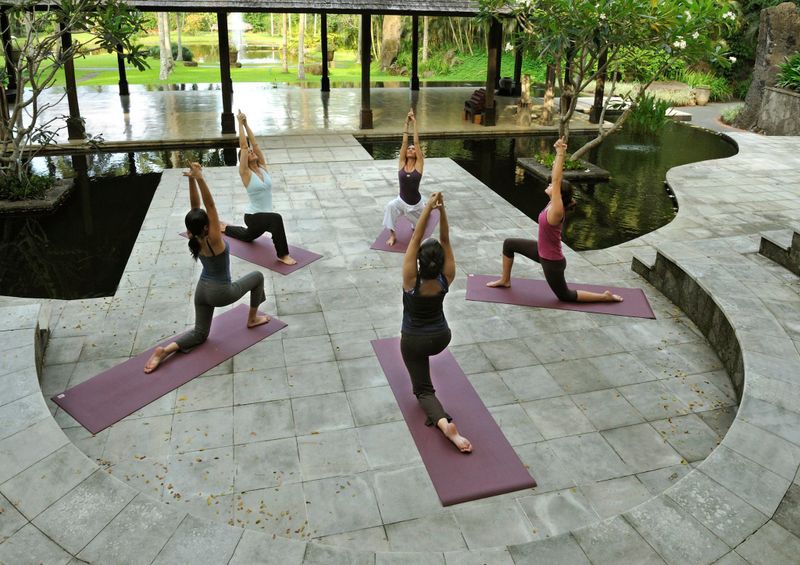 6. Thailand
From yoga retreats to sleep wellness programs to holistic therapies to detox treatments, Thailand offers up amazing opportunities to improve your health. Not to mention the culture, history, amazing temples and spectacular beaches that await you here. Friendly and loving, the Thai have a way of welcoming visitors and making their spirits feel uplifted and invigorated once arriving and staying this way long after leaving.
Ancient therapies such as herbal steam caverns, traditional Thai massages and acupuncture await guests to this country. The abundance of fresh fruit and locally grown food makes this the perfect place to rid your body of toxins and fill it with incredible flavors and natural goodness. The stunning beachfront resorts offer rooms dedicated to treatments, meditation, yoga, saunas and every other healing experience you can think of. Thailand is also the perfect destination to work on your physical health with plenty of boot camps and weight training programs. However you seek to improve yourself, Thailand is the perfect spot to do so.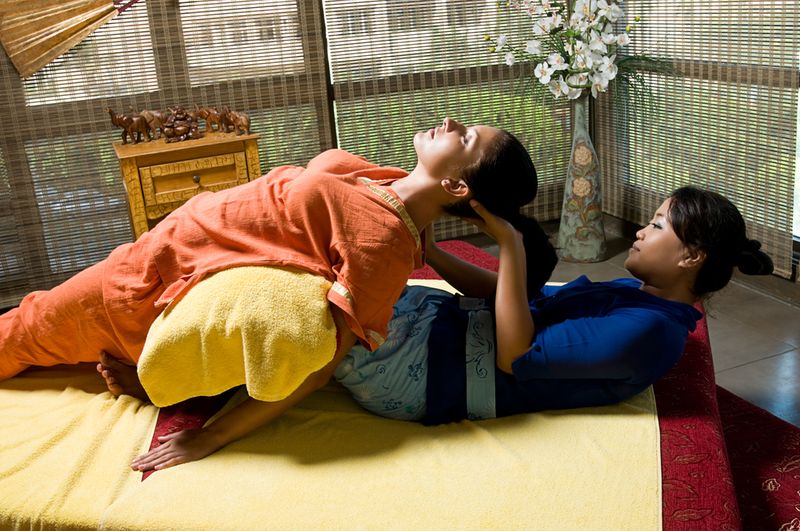 5. Dahab Egypt
Located directly on the Red Sea in Egypt lies a small friendly hippie-like town called Dahab. The golden sand beaches for which it is named for, the attractive hotels and fascinating diving spots are just a fraction of what makes this town so fabulous. In terms of improving your health this town offers no shortage of opportunities. From sacred meditation camps to its famous therapeutic centers; visitors come from all over the world to be "healed".
Desert meditation, underwater yoga and traditional Turkish baths can be found here along with a way of life that is smoother and more laid back. Visitors will want to visit the Radiant Rainbow Reiki Room; a meeting place off the beaten path for all who want to look deeper within themselves through Reiki, tarot, meditation, massage and more.  Head up to the summit of Mount Sinai and do yoga or trek into the desert on a full moon yoga retreat; there is certainly no lack of companies and hotels that offer up this ever popular activity. Rejuvenate your mind and body in a town that encourages visitors to take a break and get healthy; all while experiencing amazing diving opportunities, glorious beaches and healing centers.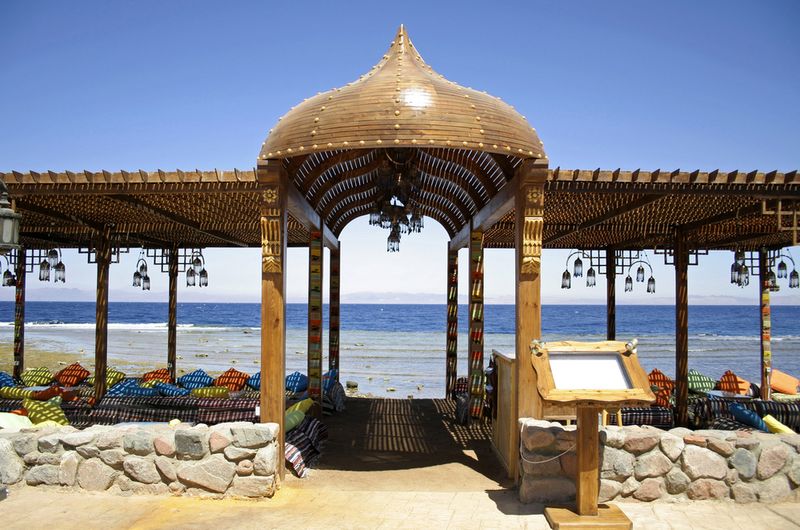 4. California
The playground for all things health and wellness related including physical, mental and spiritual health is how many people view the state of California. We couldn't leave this state off our list or even begin to narrow down which cities were the best pick because the whole state truly has something to offer in terms of improving ones health. Home to the first fitness and spa resort in North America, California is big on helping visitors achieve a healthier lifestyle. With boot camps, weight-loss programs, cooking classes, personal training sessions and spa treatments; guests can be sure to improve their physical health here.
Physical health is not the only type of health that can be worked on in this state however. Many resorts and retreats are focusing their efforts on working with visitors to improve their spiritual wellbeing as well. From silent retreats where guests are encouraged to remain silent, meditate and become one with nature, to hot springs with natural healing powers, red clay and massages on site; California is the perfect destination to improve your health; both physically, mentally and spiritually.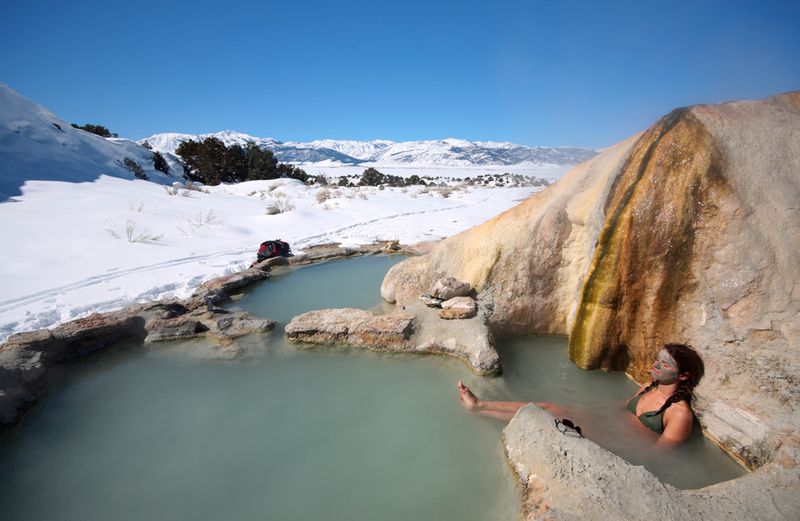 3. Sri Lanka
Amazing culture, beautiful temples, and the opportunity for meditation, yoga and a spiritual awakening awaits you in the beautiful island country. Experience the true natural Ayurveda; the traditional medicinal treatment that has been practiced for centuries and aims to rejuvenate the body. Sri Lanka also offers visitors the chance to experience the original yoga techniques that have been practiced by the Sri Lanka local people for centuries.
One of the most popular ways to discover oneself in Sri Lanka is to join a meditation, yoga or spiritual tour. Many of these tours involve Buddhist monks introducing you to the power of meditation in the tranquil settings of a monastery. Experienced yoga specialists will guide you through lessons and introduce you to new forms you may have never heard of. Become one with nature as you appreciate the beauty that surrounds you. Treatment centers offer massages, facials, steam baths and many more healthy revitalizing treatments. Relaxation, self-improvements and an emphasis on meditation and yoga awaits you in this country island full of surprises.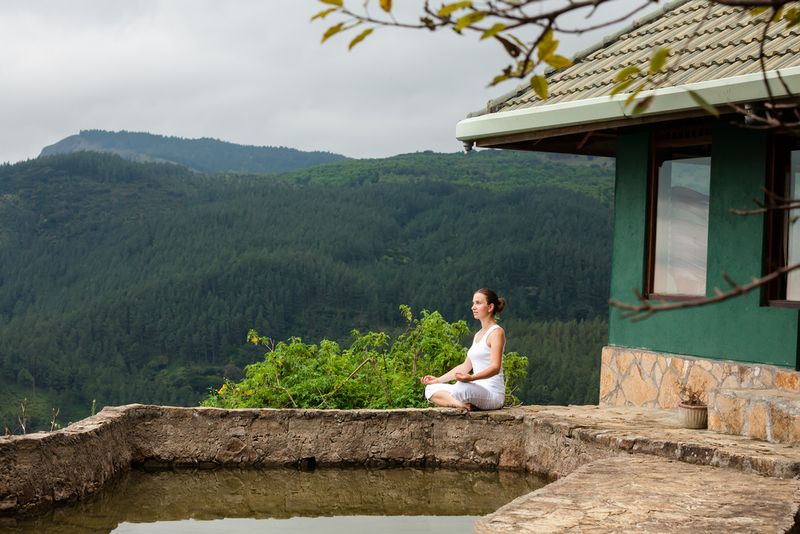 2. St. Lucia
Palm-fringed beaches, lush tropical rain forests, towering mountains, natural waterfalls and breath-taking views set the stage for an amazing destination to improve your health in St. Lucia. Whether visitors are looking to improve their physical or mental health; this island is the perfect place to drop your bags and stay awhile.
One of the most popular resorts on the island for improving health and fitness is TheBodyHoliday at LeSPORT. This all-inclusive resort strives to provide guests with relaxation, restorative beauty, exercise and good diet. Group exercise classes ranging from Zumba to tai chi to combat fitness take place on a daily basis and miles of hiking and cycling trails run throughout the resort. Daily yoga sessions, aloe vera body wraps and spa treatments round out your days. Dine on authentic local calorie-conscious cuisine at one of four restaurants on site. Other resorts in St. Lucia offer many physical activities to keep you working hard along with meditation and spiritual opportunities and this is one Island that should be on your list to travel to if you are looking to improve your health.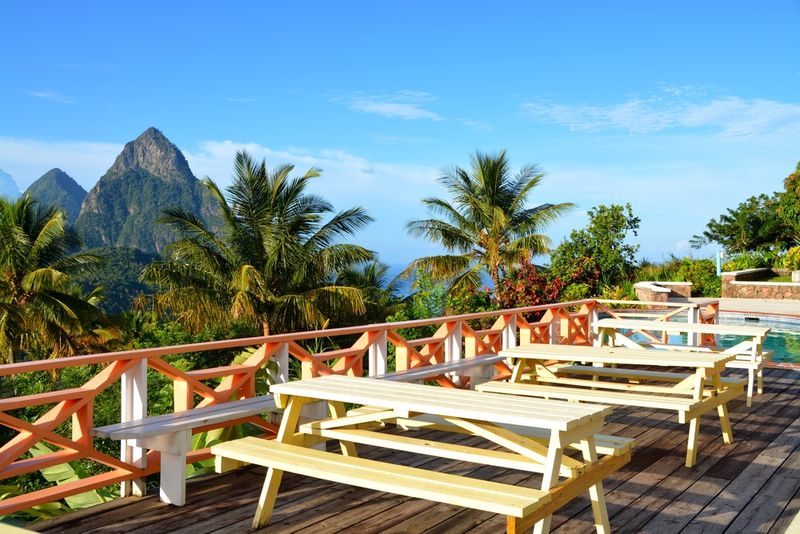 1. India
We can't possibly forget about India; the birthplace of yoga over 26,000 years ago during the Golden Age, a time of everlasting peace and abundant blessings filled with seekers of the Eternal Truth. India is the true haven and destination for any traveler that seeks to improve their mental and spiritual health and has welcomed visitors from all over the world for centuries. So much of India is devoted to meditation retreats, spiritual centers, and yoga retreats that it can be difficult to pin down which city to visit. Our best suggestion is to research what type of meditation, yoga or spiritual awakening you are after and let your senses lead you.
You can expect serene yoga pavilions, Zen gardens and hilltop retreats to be waiting for you in India. One on one meditation sessions, communal vegetarian dinners and solitary sunbathing are some of the highlights of many of these places, along with exceptional spa treatments and Buddhist teachings.  From the famous Ananda in the Himalayas; a 100-acre estate in the foothills of the Himalayas to the very remote Blue Mango high up in the Himalayas; you can find the perfect experience to suit your needs. Experience the birthplace of yoga and discover a destination where you will leave feeling refreshed and one with yourself.