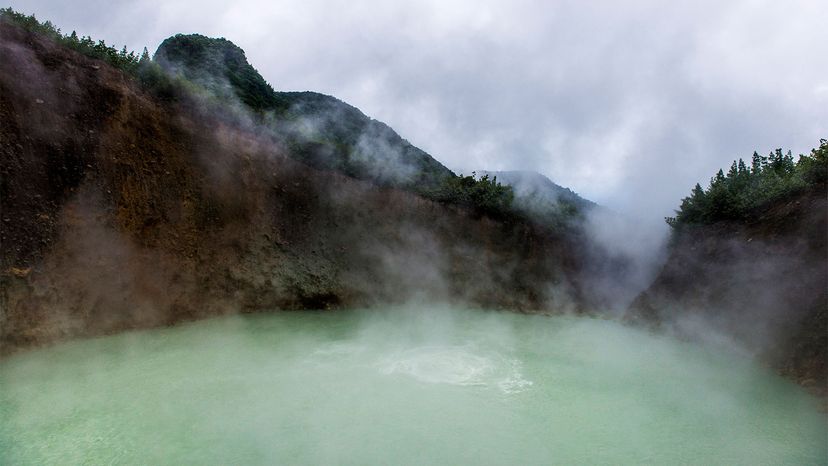 Resting in the Lesser Antilles of the Eastern Caribbean Sea is the lush island nation of Dominica. This volcanic paradise is often overlooked by travelers to the bustling region and is sometimes confused with the Dominican Republic. But with a river for each day of the year (truly, 365 rivers), astounding raw beauty, the best hiking in the Caribbean and, since December 2021, non-stop flights from the United States, the "nature island" is poised to become a compelling draw for visitors from all over the globe.
Dominica has already made a name for itself in the adventure travel community as the home to the longest trail in the region, the 115-mile-long (185-kilometer-long) Waitukubuli Trail. But the quintessential experience on this rugged and mountainous island is a visit to Boiling Lake. Beyond being the world's second-largest boiling lake, it's also part of the UNESCO World Heritage Site Morne Trois Pitons National Park, protecting about 9 percent of Dominica's biodiverse interior. Notably, it was the first listed UNESCO natural site in the Eastern Caribbean.
To learn even more, we tapped Lise Cuffy with Discover Dominica, the national tourism board for the island. She shares that Boiling Lake is located deep in the rainforest in an area known as the Valley of Desolation, within the village of Laudat, located in the Roseau Valley. Cuffy loves that this area feels untouched and relatively undiscovered, adding, "hiking to this natural wonder is one of the best experiences in Dominica, but it's also one of the most demanding hikes on the island."