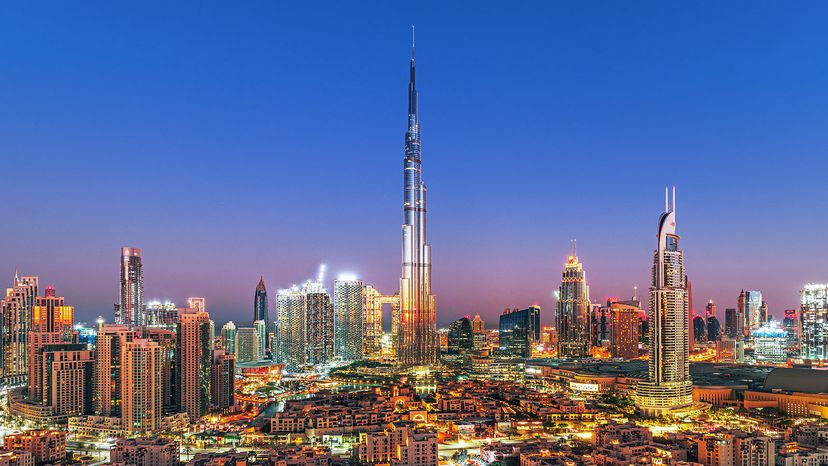 In the­ late­st pictures of the skyline of downtown tallest building in the world and the tallest human-made, freestanding structure in the world.
On July 22, 2007, the Burj hit 1,680 feet (512 meters), pushing ahead of Taiwan's Taipei 101 by 13 feet (3.96 meters). It then quickly surpassed Toronto's 1,815 (553 meters) foot CN Tower, which held the title of world's tallest freestanding structure for 31 years. At its grand opening in January 2010, the finished product had been renamed Burj Khalifa to honor the man who bailed the building out of debt, Sheikh Khalifa bin Zayed Al Nahyan, ruler of Abu Dhabi. It stood at 2,716 feet (828 meters) tall, with 163 stories.
That's taller than had been predicted. Speculators had forcasted that the world's tallest building would reach about 2,275 feet (693 meters). The building now towers 1,000 feet (304 meters) above the Taipei 101 in Taiwan, which had been the tallest in the world since 2004.
The tower is only one of the booming city of Dubai's superlative plans — plans that include the largest mall (currently, the Dubai Mall, the second largest mall in the world after the Iran Mall by total land area, is nearby), the largest ski run and the largest artificial island. Yet, it was not conceived as such. Designers originally planned for a 90-story, three-wing building but Dubai's ruler and mastermind, Sheikh Mohammed bin Rashid al Maktoum, pushed the developers, Emaar Properties, to sensationalize the project and build a globally recognized structure.