Is it possible to imagine an America that does not have a Disneyland or a Disney World? It's difficult, yet there once was a time when neither of these places existed. In July we celebrate the opening of Disneyland, which had its ribbon cutting ceremony on July 17, 1955. (You can find a great timeline showing the major events around Disneyland here.
Where did Disneyland come from? It was the vision of Walt Disney. In the 1940s, Disneyland was originally conceived to be a tiny (less than 10 acre) place for Disney employees in Burbank, CA. World War II put those plans on hold, and that gave Walt Disney time to grow his plans even larger. He wanted to create a place for both parents and kids -- a place where they could be together. He wanted to create the happiest place on Earth.
So the size of the park grew from 10 acres to 100 acres, and the eventual site was a 160-acre orange orchard near Anaheim, CA. Plans for the park were out of this world for the time and included artificial lakes, rivers, forests and mountains. Many of the rides and attractions had never been imagined before. They were divided into zones with names like Adventureland, Fantasyland and Tomorrowland.
Some of the ideas surely came from other popular parks of the time. Coney Island was extremely popular in New York, for example, and grew as large as 120 acres in the 1920s. Coney Island had dozens of rides as well as unexpected things like the worlds largest swimming pool -- two acres in size and holding over 3 million gallons of water.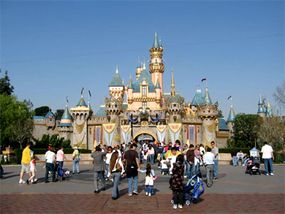 To build Disneyland cost about $17 million in 1955 (roughly $125 million in today's dollars). It was a big gamble, but it paid off. In fact, it paid off so well that Disney started thinking bigger and better. Walt Disney World in Florida is part of a 30,000 acre parcel of land that Disney bought in the 1960s. Only about 25 percent of that land is currently in use, so Disney World will be able to expand for many years to come.