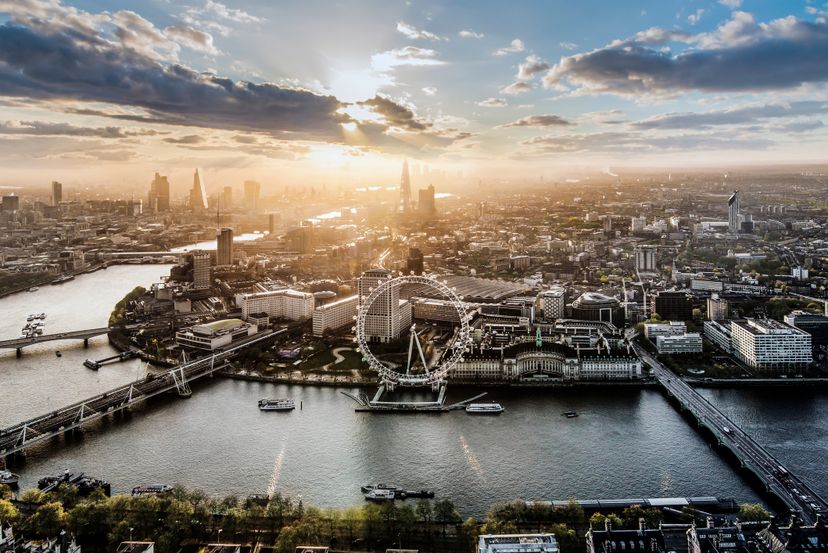 Observation structures are common tourist attractions in big cities around the world. New York's Empire State Building, Chicago's Sears Tower, Toronto's CN Tower, Taipei's Taipei 101 -- the list goes on. But how many cities can boast that their observation structure is a giant Ferris wheel?
Opened in 2000, the London Eye is located on the south bank of the River Thames. Originally called The Millennium Wheel, architects created the London Eye to celebrate the dawn of the year 2000. Why a Ferris wheel? The turning of the wheel was meant to represent the turning of the century.
The London Eye stands 442 feet (135 meters) tall -- which means it's taller than a football field is long. It has a circumference of 1391 feet (424 meters) and sits on the bank of the River Thames, near Jubilee Gardens. In 2000, when it was first built, it was the tallest Ferris wheel in the world. But that soon changed. The Singapore Flyer, completed in 2006, stands 541 feet (165 meters) tall, and the Star of Nanchang, completed in 2006 in China, stands 525 feet (160 meters) tall. The Beijing Great Wheel in China is set to outdo them all. Slated for completion in 2009, it will be a whopping 680 feet (208 meters) tall.
The London Eye is the brainchild of David Marks and Julia Barfield, of Marks Barfield, a husband and wife architecture team. A 1993 competition organized by London's Sunday Times called for monument ideas to mark the upcoming Millennium celebration. Marks Barfield's concept of a city-centered, ever-turning wheel offering a unique bird's-eye view is now the No. 1 paid-for tourist attraction in London. As of June 2008, 30 million people had visited the London Eye -- not too shabby for a glorified Ferris wheel.
To pay for such a gigantic project, Marks Barfield collaborated with British Airways, which financed it, took 50 percent ownership and re-named the attraction the British Airways Millennium Wheel. The original project plan called for a development and construction process ­of two and a half years. However, funding and paperwork delays put off the project, which shrunk its construction time to 16 months.
Tony Blair officially opened the Millennium Wheel on Dec. 31, 1999, and in March 2000, it opened to the public. Although it was originally only granted permission for a five-year stay, the planning council made the London Eye a permanent London attraction in 2002. As of 2005, however, the London Eye hadn't yet turned a profit, and British Airways and Marks Barfield were in debt. In 2006, the Tussauds, a company that owns other attractions, bought the wheel and dropped "British Airways" from its name.