Everyone already knows a few things about San Diego -- the picture-postcard beaches, the world-class surfing, the calorie-laden Mexican food, and Shamu. Yes, San Diegans definitely know how to appreciate bikinis, long boards, and a good fish taco, but a visit to this coastal metropolis is about more than just a day at the beach.
For every expectation, San Diego throws you a curve. Just when you think it's entrenched in conservatism, along comes liberal, crunchy Ocean Beach, complete with llamas and a vegan co-op. Just when the masses of plastic-surgery ads have you convinced of the town's superficiality, along comes the Deepak Chopra Center, the Self-Realization Fellowship Ashram, and the deeply spiritual culture of soul-surfing.
This is a city defined by its literal position on the edge. Forget what you think you know, because San Diego never ceases to surprise.
Beautiful Beaches Image Gallery
The Best of San Diego
Recent decades have seen San Diego's downtown transformed into a highly-trafficked entertainment mecca, with giant dance clubs, low-key lounges, and see-and-be-seen bars, plus restaurant after restaurant serving every cuisine imaginable, not to mention a brand-new park for the city's baseball team, the San Diego Padres.
Year-round amazing weather makes San Diego one of the country's best places for outdoor recreation, including surfing at clothing-optional Black's Beach and kayaking around the caves at La Jolla Cove. San Diego is also home to the largest urban cultural park in the United States -- Balboa Park.
San Diego fosters a vital arts and cultural scene, with dozens of museums and theaters, plus grown-up pursuits like classical music and opera. Kids get to keep busy while splashing around with dolphins at SeaWorld San Diego, hanging with blockheads at Legoland, and exploring the microcosms of sea life in endlessly fascinating tide pools.
And the coast, as always, remains; some of the world's most beautiful sunsets can, and should, be enjoyed here. But there's more to San Diego than surf, sunshine, and sand. You just have to know where to look.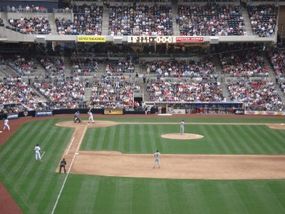 Fast Facts & Information
Fast Facts & Information
Geography and landscape: Situated on the southwest corner of California, San Diego is the southernmost big city in the state, bounded loosely by mountain ranges and deserts to the east and by the Mexican border to the south. Like Los Angeles, San Diego is a sprawling mass of suburbs and neighborhoods.
Central San Diego is full of hills and valleys, and the city's 70 miles of coastal terrain ranges from the wide, flat, sandy swaths at places like Pacific Beach and La Jolla Shores to the rugged cliffs of Ocean Beach and Torrey Pines. Mission Bay swirls inland from the Pacific, isolating a skinny strip of sand known as Mission Beach, while the larger San Diego Bay separates downtown from the "island" of Coronado (which is actually a peninsula).
There are also neighboring cities that make up the San Diego metropolitan area, including Chula Vista, El Cajon, La Mesa, Encinitas, Carlsbad, Oceanside, and Escondido, plus dozens of smaller towns in between.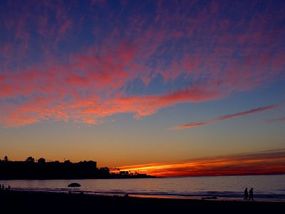 General orientation: San Diego's downtown area is located on the shores of San Diego Bay across from Coronado, with popular beach areas like La Jolla, Pacific Beach (or PB) and Mission Beach situated a few miles north near the city's smaller Mission Bay. Much of the action occurs west of Interstate 5, the artery that runs north/south through the city and perpendicular to Interstate 8, which runs through Mission Valley and connects the beaches to suburban areas farther east.
San Diego's uptown neighborhoods (like Hillcrest, University Heights, and North Park) are located in the elevated area above downtown, on the north side of Balboa Park.
Safety: San Diego may be the sixth-safest big city in the United States, according to city police officials, but crime is no stranger to these polished, well-manicured streets. Vigilance will serve you well when walking alone at night through certain neighborhoods, especially those to the south and east of downtown, and on the beaches after dark. The roads can also be treacherous, with heavy traffic and a complicated freeway system (plus, San Diego's not known for having the world's best drivers). In nightlife areas, like Pacific Beach and the Gaslamp Quarter, keep an extra eye out for drunken drivers.
Population: San Diego has a population of 1.2 million, making it the second-largest city in the state of California.
Climate/weather: Average daily temperatures hover around 70 degrees Fahrenheit, and almost three quarters of days are sunny, which means the weather is generally so perfectly mild that you don't even think about it. Winter averages dip to about 65 degrees Fahrenheit, so going to the beach isn't out of the question even at Christmas (though a light jacket is probably a good idea). August, meanwhile, has the warmest days, with an average temperature of 78 degrees Fahrenheit.
A couple things to watch for, though, especially if you're planning a late spring/early summer visit: San Diego's beach areas are plagued by a phenomenon that weathercasters call "May Gray" and "June Gloom," in which a thick layer of marine stratus descends on the coast. The coastal clouds may remain all day but sometimes give way to some hazy afternoon sunshine.
Whether you're planning to fly into San Diego International Airport or drive to the city, be sure you have a map to help you get around. Before embarking on your trip, you'll also want to read the San Diego transportation primer on the following page.