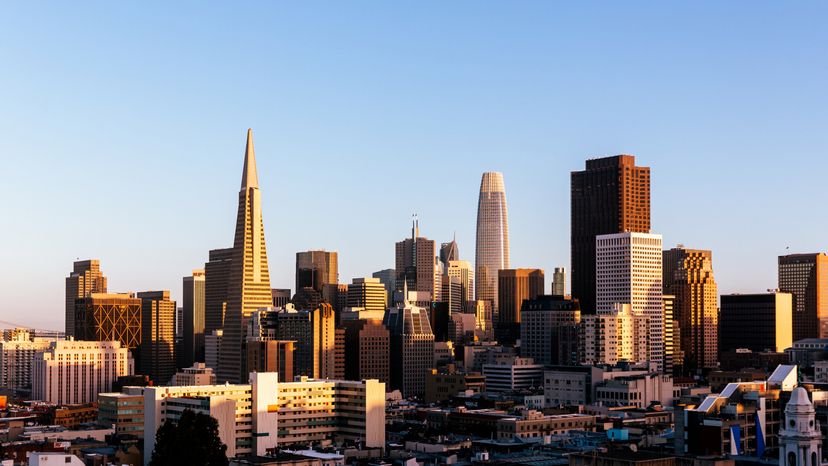 Every summer, the vendors of San Francisco's Chinatown and Fisherman's Wharf make a killing. Not off of souvenirs, dumplings, or bread bowls filled with piping hot chowder. Nope, the money pours in for the cheap sweatshirts. Why? Because so, so many people forget the most important detail about visiting San Francisco: the weather.
Who can blame them? Weather is boring, and especially when there are plenty of other things to think about -- which galleries have good shows coming up, what's on at the San Francisco Museum of Modern Art, which restaurant is being buzzed about, when does crab season start, and where can I catch a great rock show?
Whew. Lots to do, but none of it's going to be much fun if you're shivering on top of Nob Hill in shorts and a T-shirt as one of the Bay's bone-chilling winds whips across yet another June day. So get thee to Chinatown, wrap yourself in a bright yellow Golden Gate Bridge sweatshirt, throw on some sneakers and let's explore the city of 43 hills, a little gold rush town that boomed in the mid-1800s and never stopped. After years of growth, San Francisco proudly boasts that it's home of the only moving National Historic Landmark (literally -- the cable cars), birthplace of the Chinese fortune cookie (invented by a Japanese family in true San Francisco multicultural fashion), and a prime travel destination for nearly 16 million visitors every year.The Best of San Francisco
San Francisco is the quintessential melting pot, with young and old from all over the world setting up homes, shops, and communities in the city's various neighborhoods. The beauty of San Francisco lies in the sum of its parts: each neighborhood has a unique personality and charm, and together they make this city one of the best places on Earth to wander around for an afternoon. San Francisco is a relatively small city, only about seven square miles that are easily explored in a few days.
Though locals tend to avoid Fisherman's Wharf because of its tourist traps, it still affords one of the best views of the bay, Alcatraz, and the Golden Gate Bridge available in the city. If you skip the overpriced restaurants, you can snag yourself a heaping plate of fresh steamed crab from one of a dozen or so street vendors; then grab a bench anywhere along the piers, enjoy your crab, and take it all in.
If you walk toward the Golden Gate Bridge, away from Fisherman's Wharf and across Van Ness Avenue, you'll stumble upon one of the best shopping districts in the city, the tony Marina District, where sorority-girls-turned-publicists and the fraternity-boys-turned-investment-bankers who love them drop hundreds on designer duds, gourmet fusion, and imported liquor.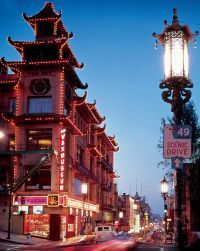 Full of secret alleyways and underground finds, Chinatown is a million mysteries waiting to be discovered, from swanky tea parlors to underground mahjong games and colorful stores filled to the brim with exotic candies.
If you take California Street from Chinatown, walk up over Nob Hill -- pause here to gaze at the fancy hotels and the stunning 360-degree view of the city -- and wander down into one of the city's wealthiest neighborhoods -- Pacific Heights, where you can ogle mansions, get a facial, do a little shopping, or get a fantastic meal at any number of fine restaurants.
On Geary Avenue, toward the ocean, the Outer Richmond is dominated by the city's Russian population, whose bakeries, restaurants, and shops sell top-notch pierogi (dumplings), smoked fish, and borscht. The Outer Richmond is also one of three neighborhoods to border Golden Gate Park -- 1,017 acres of green wonderland smack in the middle of the city.
In addition to barbecue pits, soccer pitches, and baseball fields, Golden Gate Park is home to a windmill donated by Amsterdam (San Francisco's sister city), the Conservatory of Flowers, two top-notch museums (the newly reopened De Young Art Museum and the California Academy of Sciences, which is under renovation but will reopen in 2008), Stowe Lake, a traditional Japanese tea garden, and a pack of water buffalo. Yep, you read right, water buffalo, also known as bison.
The Fillmore District is a musical hub, with the epic Fillmore hosting shows every night, and a handful of blues and jazz clubs offering entertainment most nights. Japan Town is comprised of several buildings connected by a network of traditional Japanese bridges. Each building contains a variety of Japanese restaurants, teahouses, bars, and shops.
A few blocks South of Market you'll find SoMa (guess where the name comes from), where the majority of the area's publishing, arts, and design companies are headquartered. AT&T Stadium is also South of Market in neighboring China Basin, an area that is booming thanks to extensions to the city's street car (Muni) service, and plans to build a new University of California extension campus and a handful of Biotech research laboratories in the tiny area known as the Dog Patch just slightly further south.
Fast Facts & Info
Fast Facts & Info
Geography and landscape: San Francisco is built onto 43 hills in roughly seven square miles at the tip of a 32-mile peninsula between the San Francisco Bay and the Pacific Ocean. The highest of these hills, Twin Peaks, are 900 feet above sea level and provide fantastic panoramic views of the city. Twin Peaks also provide a fog barrier between the northern and southern parts of the city -- you can see the fog spilling over them into the downtown nearly every evening.
The city is surrounded by water on three sides, with bridges leading across the bay to the East (San Francisco-Oakland Bay Bridge), North (Marin -- Golden Gate Bridge), and South (San Mateo, Silicon Valley -- Dumbarton Bridge and San Mateo Bridge).
General orientation: All those hills can make San Francisco a bit disorienting, as can the one-way streets and random alleyways, but the city is actually laid out on a simple grid -- a quick look at a map and an hour's wander should sort out any confusion. The only streets that don't follow the grid are Market and Columbus Avenue, which cut diagonally across at right angles to each other.
If you do get lost, just remember, you could only be a few miles or so off target, which is no big deal. That said, if you're driving, prepare to be frustrated -- the one-way streets quickly become a real problem in a car, as does the traffic, and parking is an absolute nightmare. Walking is the best way to both see the city and to understand its layout.
Safety: As in any big city, visitors should be aware of their surroundings in San Francisco, especially at night. Though most of the city is safe during the day, the Tenderloin, Lower Haight, Fillmore, and South of Market (SoMa) areas should be avoided at night, unless you know exactly where you're going or are with people who do.
There are quite a few upscale restaurants in SoMa that are worth a visit, but it's a good idea to take a cab there and back as opposed to meandering from your hotel. 6th Street, from Market Street downtown to South of Market Street, is an area that you should also be careful in.
Climate/weather: This is important: summer in San Francisco is late August-late October. June and July are known to be some of the city's colder months, when a marine layer from the Bay keeps the city cool (40s to 50s) from morning 'til night.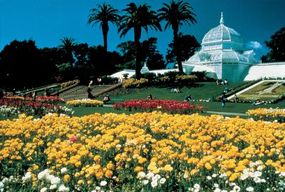 San Francisco weather is usually about mid-60s most of the year with occasional dips in summer, rain usually from December to February, and temperature peaks occurring in August to November.
Though the weather is never really extreme, you can easily experience several different types of weather in one day: Mild and sunny in the morning, rain in the late morning, more sun in the early afternoon, overcast by later afternoon, then a big gust of chilly wind for a clear, cold evening, and finally a big fat fog attack for a cold and misty night.
The key: layers of clothing and plenty of 'em. To get a birds-eye view of the weather and a five-day forecast, check out the webcam and weather info on UC Berkeley's Lawrence Lab.
If you're thinking about taking a trip to San Francisco, check out the next section for everything you need to know about getting around the city.