A road trip can be defined as a journey by car, with no restrictions on how long you must travel for or how many stops you must make. Therefore exploring America's most scenic road trips has led us anywhere from day trips to week-long adventures. In terms of scenery, America is full of crashing coastlines, rain forests, historical architectures and rolling fields of wildflowers. From the lava flows of Hawaii to the quirky roadside signs on Route 66 to the quaint villages of New Mexico; these 15 scenic road trips will have you headed to the car in no time.
15. Route 6, Cape Cod, Massachusetts
When you hear the words Cape Cod, one immediately thinks of quaint villages, historic lighthouses, miles of beaches and picturesque harbors. Route 6 offers over 117 miles throughout the Cape Cod area and road trippers will want to give themselves a few days to complete this trip, in order to truly get the most out of the scenery. Sand dunes, tidal pools, beaches and marshes will all entice you to stop the car and explore the surrounding areas. In the midst of the forests along the side of the road, keep your eyes peeled for wild blueberry and huckleberry bushes.The perfect treat to compliment any trip. Route 6 takes you into Provincetown, where music festivals and art work await. Make sure you rise early to catch the epic sunrises over the Atlantic Ocean while on your trip.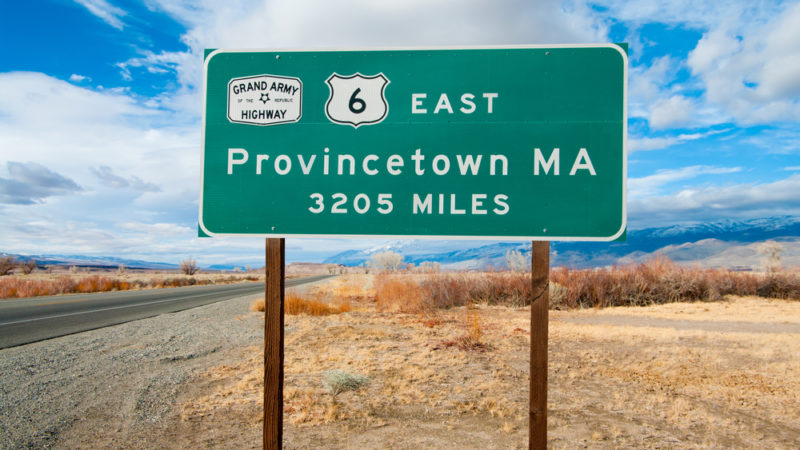 14. The High Road, Santa Fe to Taos, New Mexico
This winding scenic road takes travelers along a 52 mile route through an authentic remainder of Old Spain, which is evident in the religion, architecture, topography, history, and people here. This day trip can take anywhere from four to seven hours depending on how many times you stop to admire the breathtaking churches, scenic byways and unique villages. This twisty road takes you up into the mountains, with views of snow-capped peaks, evergreen trees and wildlife. In the autumn this road turns into the "High Road Art Tour" where artists open their studios and galleries to the public. Visitors can meet with the artists and purchase directly from them while taking an incredible road trip through the historic villages, in a season where the trees turn color and the sky is an incredible shade of blue.
13. Historic Route 66, Chicago to Los Angeles
For three decades Route 66 was known as the "Main Street of America" as it wound its way through small towns across the Midwest and Southwest. This legendary old road passes through the heart of the United States and continues to captivate people from all over the world. To drive the entire route, it is over 2,000 miles and takes you past some of the most outrageous road signs, giant statues and quirky roadside attractions. The scenery along Route 66 is not to be forgotten though. Giant cornfields of Illinois, the streets of St. Louis and the golden sands of California pave the path for an unforgettable road trip through the history of America. Step back in time and discover what was the start of the American love affair with road trips on this iconic route.
12. Million Dollar Highway, Colorado
It provides one of the closest ways to experience the Wild West, as if it were still wild today and the Million Dollar Highway through Colorado takes travelers past old mines, deep gorges, waterfalls and breathtaking views. The actual Million Dollar Highway is only a 24 mile stretch of road but many road trippers choose to extend their trip down to Durango. Along the way travelers are privy to the peaks of Red Mountain, a set of three peaks that get their name from the red iron ore rocks covering their surface. The region's old mines are here and can be explored by hiking or biking. The spectacular overlook at Molas Pass is not to be missed and it is said that the air here is the cleanest in the USA. In the spring, wildflowers are in full bloom and elk, mountain goats, black bears, and mule deer are often visible from the road.
11. The 1 Week Grand Circle Road Trip, Southwest Canyons
The dramatic red-rock scenery will absolutely blow your mind as you travel through Zion National Park, Bryce Canyon, Capitol Reef, Monument Valley and the Grand Canyon. In Zion visitors will be privy to emerald pools, the Narrows of the Zion Rivers and dramatic orange-red sandstone. Bryce Canyon is known for its colorful hoodoo formations that will awe and inspire you. The drive from here to Capitol Reef will be full of scenic overlooks and breathtaking views. Make sure to get out of your car and explore the Grand Canyon by foot or bicycle as every viewpoint offers something different. This amazing one week popular road trip offers jaw-dropping scenery both on the road and off, and is a must do for every American.
10. Blue Ridge Parkway, Virginia
It is one of America's most scenic road trips; no matter what time of year you travel it, but many travelers head here in the fall to see the unbelievable display of changing colors on the leaves. This scenic highway connects Shenandoah National Park and the Skyline Drive in Virginia, with the Great Smoky Mountains National Park in North Carolina and Tennessee. This highway runs 468 miles with cliff-hugging turns, sweeping views, diverse flora and fauna and over 200 overlooks to take advantage of. Expect lakes, gorges, waterfalls, red oak trees, wildflowers and incredible rock formations. Begin in Virginia and snake your way down this colorful road all the way to Great Smoky Mountains National Park. Hiking and biking trails lead right off the parkway and the small town's quirky roadside attractions and great restaurants along the way make for the perfect scenic road trip.
9. Historic Columbia River Highway Scenic Byway, Oregon
This was the first scenic highway in the United States, a marvel of engineering for its time, a National Historic Landmark and is still considered one of the most scenic drives in all of America. The highway treats travelers to ever-shifting views of the Columbia River Gorge, along with numerous hiking and biking trails that lead to hidden waterfalls. Historic monuments and buildings, fish hatcheries, stunning overlooks and of course the majestic waterfalls await you on this 70 mile journey. The most highly anticipated part of this drive is the five miles of figure eight loops that lead travelers down the river, loaded with waterfalls at every turn. The 620-foot Multnomah Falls, the fourth largest waterfall in the US is the highlight for many on this trip. After the waterfalls comes the impressive geological formations of the gorge and makes way for the dry, eastern Columbia River plateau where native plants and wildflowers make up the view.
8. Road to Hana, Maui, Hawaii
The Road to Hana is at least a day, if not two day adventure through the beautiful island of Maui. This legendary road winds its way 50 miles through lush rain forests, past waterfalls, plunging pools and by dramatic seaside. The road is full of hairpin turns, one-way bridges and state parks. Taking your time on this road is highly recommended. The best way to see what the Road to Hana really has to offer is to do your research ahead of time. Many of the beaches, waterfalls and dramatic lookout points are hidden just off the road and require you to know which mile marker to pull off at. Black sand beaches, turquoise sea waters, bamboo forests, old wharfs, lava tubes, churches built of lava rocks and so much more await you on this epic drive through a breathtaking island.
7. Beartooth Highway, Montana
This almost 70 mile stretch of highway from Montana to Wyoming is only open from May until late September and takes travelers throughout some of the most spectacular scenery in the United States. This zigzag highway is complete with switchbacks, steep climbs and endless views of the snow-capped Rocky Mountains, alpine plateaus, lush forests and sparkling lakes. This drive can take you anywhere from two hours to two days, depending on how many times you want to stop and explore. Most choose to start their drive in the town of Red Lodge and head east to Yellowstone National Park, as this route reduces glare and gives you the best views of the twenty plus peaks you pass. Wildlife sightings, countless overlooks and jaw-dropping views await you on one of the most scenic drives in all of America.
6. The Olympic Peninsula Loop, Washington
This scenic loop takes travelers 329 miles, from the Olympic Mountains to the rain forests and to the beaches of the Pacific Ocean. What makes this drive so unique is the diversity of terrain it covers as it circles the Olympic National Park and Olympic National Forest. It is recommended to take at least two to three days to make this scenic road trip because many of its best kept secrets are located off the beaten path. It is therefore important to mention that not all the 'scenery' can be seen from the road. Venture off at Sequim and head to the Dungeness Wildlife Refuge and Dungeness Spit where you can visit the world's longest natural sand spit. Don't miss Rialto Beach where towering rock formations and sea life provide ample photography opportunity. Other hot spots are Lake Quinault and the Quinault rain forest, Ruby Beach and Hurricane Ridge.
5. Seward Highway, Alaska
Starting in Anchorage, this 127 mile highway runs from sea to mountains and back to sea, all the way south to the harbor town of Seward. If you are planning on doing this route as a round trip, it is recommend you give yourself at least three to four days because the sights you see will literally be a visual overload. This drive is where you will find majestic waterfalls, blue glaciers, whales, jagged mountains, ponds and ocean fjords. Numerous hiking and biking trails can be caught right off the highway, as well as many overlook points and picnic areas. What makes this drive so special is that it is truly interesting the entire way, with mountains, glaciers, wildlife, trails, lakes and rivers to see throughout the entire 127 miles. Combine that with a wide and easy driving road and you have yourself one of the best road trips in all of America.
4. Pacific Coast Highway, California
It comes as no surprise that this is one of the best loved drives in all of America with its mind-blowing scenery, quirky stop-offs and exhilarating driving experience. This highway runs a whopping 550 miles along California's coastline and is the most scenic part of the highway, although most travelers tend to drive the Central Coast which runs about 240 miles. Driving north to south is recommended to have unobstructed ocean views the entire way. Highlights of this trip include upscale villages, state parks which feature hundreds of species of birds and mammals, remote forests and towering sand dunes. Big Sur is often the highlight of the trip, as this coastline is made up of redwood groves stretching high into the sky, jagged cliffs stretching out into the sea and waves crashing onto rigid rocks.
3. Going-to-the-Sun Road, Montana
It is the only road that crosses Glacier National Park in Montana and is only open from early spring until late fall. This two-lane paved 50 mile highway gives visitors a look at all terrains within the park including large glacial lakes, alpine tundra's, cedar forests and dozens of animals. The road twists and turns throughout the park and offers plenty of places to pull over, admire the views and snap photos. Visitors should expect to take at least a few hours to drive this road. This highway was created with the notion of making it barely visible in the landscape, thus creating a minimal impact in the park and leaving visitors with the feeling of driving on the edge of a cliff. Make sure to keep your eyes peeled for waterfalls, the Jackson Glacier and the array of beautifully colored lakes.
2. Pacific Coast Scenic Byway, Highway 101, Oregon
This 363 mile Byway traces the entire coast of Oregon, one of the most photographed regions in the nation. To do the entire coast, you will start in Astoria and head south, all the way to Brookings. The road takes travelers to the sea and away again, as it winds past marshes, seaside cliffs, lush agricultural valleys and wind-sculpted dunes. Expect to see majestic temperate rain forests, a rugged, rocky coastline and resort towns scattered throughout the state. All of the beaches along the coast are open to the public and travelers will want to spend some time exploring them, beachcombing for shells and splashing in the waves. In the winter months it is possible to see the migrating gray whales and colonies of seals and sea lions appear all year round. Make sure to allocate an extra day or two as most travelers find themselves stopping more than expected due to the striking landscapes, beaches and towns to explore.
1. The Hawaii Belt, Big Island, Hawaii
The Big Island was the first Hawaii, the biggest of all the islands and is home to one of the most scenic road trips in all of America. Taking a road trip around this island is perhaps the best way to experience everything the island has to offer, from its lava desert flows to its soaring mountains to the farmlands and sandy beaches. The Hawaii Belt Road is made up of three sections and it fully circles the island, giving travelers a full picture of what Hawaii truly is. Expect to see coffee farms, Eden-like forests, active lava flows, lush rain forests, long stretches of beaches and welcoming villages. It is easy to take this road trip on a whim with plenty of places to stay and eat along the way. Experience the finest of the Big Island and all its beauty it has to offer.