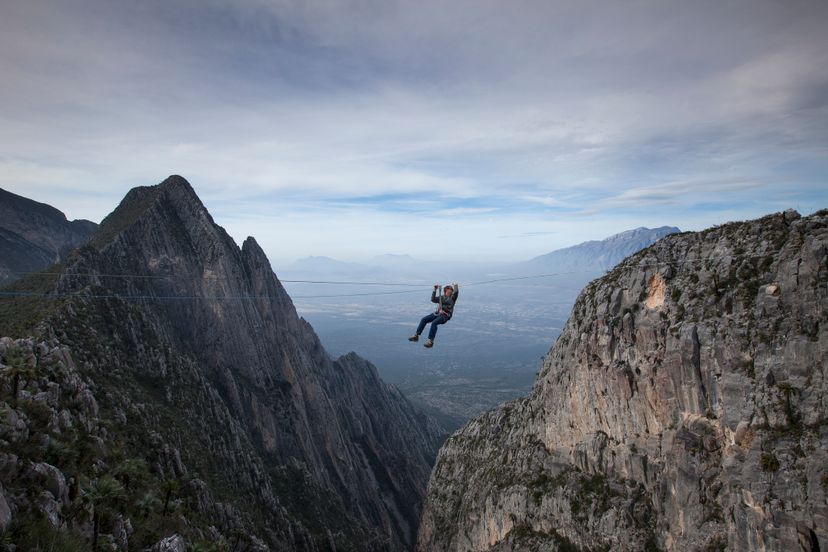 Take to the skies and fly on your next vacation! On a zip line, that is. Be sure to put on your harness and secure your cable first though! Ziplining allows riders to get an amazing aerial view of their surroundings with many rides purposefully situated in some of the most beautiful places on Earth. Mountain tops, old-growth forests, volcanos, ancient ruins, and oceans are all seemingly at your fingertips as you rip down the line. If you're looking for an adrenaline rush, this might be the perfect activity for you! To get you excited and perhaps inspire some travel, here are the most extreme zip lines in the world.
Royal Gorge Cloudscraper Zipline
This 1,200 feet up zipline, located in Colorado above the Arkansas River, is the highest in America. The ride is equipped with special harnesses that make for a super comfortable ride as you soar 2,350 feet across the gorge. They're also "The Travel Channel's #1 Colorado Bucket List experience", so you know you can't miss this extreme zipline in the United States.
Toro Verde Nature Adventure Park, Puerto Rico
This ecological adventure park has eight zip lines, the longest one (called "The Monster") being 2.5 kilometers (about 2 miles) long – making it the second-longest zip line in the world. The Toro Verde Nature Adventure Park tours take place an hour and 54 minutes from San Juan. The ziplines will let you experience the jungle treetops and mountain views of Puerto Rico with the harness holding you vertically via the chest and waist.
Whistler Zip Line, British Columbia
The zipline in Whistler, British Columbia is 2+ km long and made up of 5 lines and 1000 feet of sturdy lines whisking you over ice-covered pines, frozen creeks, and past the same snow-capped mountains that played host to the 2010 Winter Olympic Games. This Canadian ride – called "The Sasquatch" – reaches speeds upwards of 100 km per hour and is a dual line, which means that you can ride along with whoever you're traveling with!
Icy Strait Point, Alaska
Alaska's Icy Strait Point zipline in Hoonah, Alaska claims to be the largest of its kind in the world. At more than 5,330 feet long and 1,320-feet high, these six ziplines will rocket you over Hoonah Mountain's lush, tree-covered mountains back down to sea level, right by the ocean! Up to six guests can descend at the same time, making it perfect for families or larger groups of friends.
Arenal Volcano Park, Costa Rica
This two-mile, jaw-dropping open-air experience zips you over Costa Rica's rainforest, Arenal Lake, and Arenal Volcano (it's still active, but it hasn't erupted since 1984). You might even catch a glimpse of birds and monkeys jumping across the canopy, and if that's not thrilling enough for you, you can opt for a nighttime zip line experience.
Sun City, South Africa
Called the "Zip 2000", this adrenaline-packed zipline is 2 kilometers long and the original extreme zipline. Fly over the stunning grasslands of the South African plains on the ride that boasts being the fastest in the world, reaching speeds of 160 km per hour. Plus, it's quite the rush hanging from your back, vertically instead of horizontal (as per most) with an extra fin for added speed between your legs!
Skyline Zipline, Calgary, Alberta, Canada
With a hair-raising vertical drop of 100-meters, 550-meters of cable, and speeds reaching 140-kilometers-per-hour, it's no wonder why this stretch of snow-capped mountains draws adrenaline seekers from all over the world. Not only is it host to Canada's Olympic Park (which you'll see), it offers a stunning view of the highest vantage point of the entire city.
Flight of the Gibbon, Thailand
This particular adventure is a combination of zip lining, rock climbing, cycling, rafting, and even rappelling if you're up for more than just the regular zip line. But it's the scenery that's truly memorable. You'll see native wildlife such as gibbon monkeys, zebra, and elephants, as well as zip over local Thai homesteads. Plus, the tour operator practices responsible ecotourism, and all proceeds from the ride go towards the rainforest. They also receive the Tripadvisor Certificate of Excellence every year from 2014 to 2017!
Simatai Zip Line, China
If you want your zip line experience to really wow you the famous zip line over Simatai, China gives you a spectacular, eagle eye's view of Gubeikou Town of Miyun County and the nearby Great Wall of China. All you need to do to earn your way is the climb to the top… we're kidding, you can take the chairlift.
The Zip Zone, Philippines
Who knew the sleepy, picturesque countryside of Bukidnon, the Philippines would be host to two 840 meter zip lines that let you fall at hair-raising speeds up to 100-kilometers-per-hour. The Zip Zone at Dahilayan Adventure Park is Asia's longest zip line and even boasts dual carrying cables so you can race your buddy to see who finishes first!
Dragon's Breath Zip Line, Haiti
Stretching approximately 2,600-feet over nothing but water, the massive zip line in Labadee, Haiti is nothing but thrilling. This ride claims the lengthiest stretch over water in the entire world! However, you'll see more than the sandy beach and blue seas below; if you really focus you might see birds soaring into hidden rock coves, cruise ships, and scenic mountains.