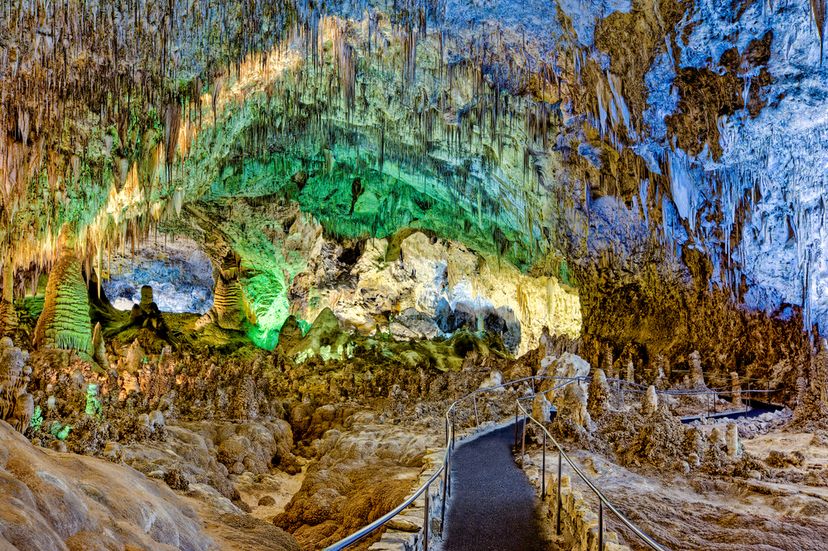 The United Nations Educational, Scientific and Cultural Organization (UNESCO) describe a World Heritage Site as a place (such as a forest, mountain, lake, island, desert, monument, building, complex, or city) of special cultural or physical significance. 12 natural designated heritage sites exist in the United States, generally in the Midwest or west coast, with one situated on the island state of Hawaii. Included in the list, is one site whose preservation is currently in danger.
These sites must fit one of several criteria to be considered a heritage site. Until 2004, the sites were selected based on six criteria for a cultural site and four criteria for a natural site. After 2004 however, the criterion were combined making a total of 10 for both types of sites. Now, these landmarks must meet at least one of the ten according to the Operation Guidelines. Visit WHC.Unesco.org/en/criteria/ to see a full list of the selection criteria.
12. Redwood National and State Parks
This national site is indeed a special one. Redwood National Park is a region of mountains along the coast of Northern San Francisco on the Pacific Ocean. A forest of redwood blankets the area with the tallest and most awe-inspiring trees in the world. Sea lions, bald eagles and pelicans make these parks seem more like the setting of a Pixar movie rather than real life.
Nearly 16,000 hectares of old-growth redwoods are what's left of trees of the old world. Once found in moist temperate regions throughout the world, they can now only be found on the west coast of North America. In fact, 42 per cent of the remaining redwood is located here. Marshes, ponds and streams comprised of freshwater act as a natural nesting and feeding ground for over 75 species of animals. The aforementioned birds are all endangered, which also includes the American falcon. Historically, the area was home to ranching, fishing, dairy, mining and logging industries, as well as military structure.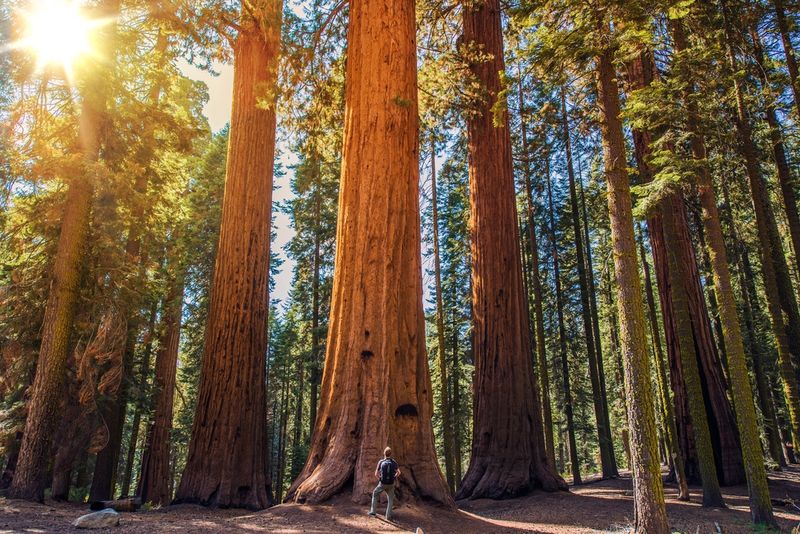 11. Carlsbad Caverns National Park
These caverns of New Mexico consist of over 80 outstanding caves. Outstanding not just for their size, but also for the excessive diversity of mineral formations found within. One in particular, Lechuguilla Cave, contains a subterranean laboratory for geological and biological processes. The setting is as breath-taking as it is useful.
The reef sections within the Carlsbad Caverns National Park are some of the best preserved in the world that remain accessible for scientific study today. Around 800 species of plants have been identified at this site; three of which are a threatened species internationally. All three of these are species of cacti. Along with plant life, the caves are known for several species of migratory bats, including the Mexican free-tailed bat. Fungi and bacteria in the cave pique the interest of scientists and medical professionals alike. One threat exists to the park potentially, that being the oil and gas exploration near its borders.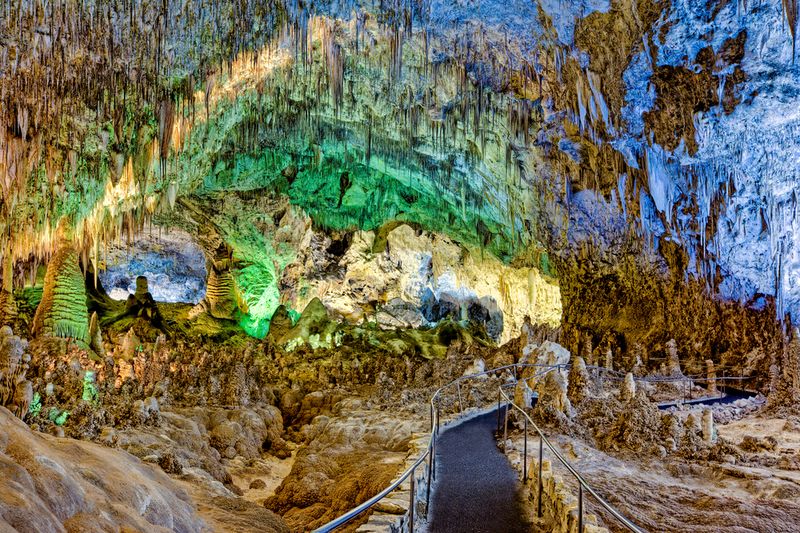 10. Everglades National Park
The Everglades are the only site on this list that is currently in danger. The site on the southern tip of Florida has been referred to as "a river of grass flowing imperceptibly from the hinterland into the sea". In laymen terms, it is an exceptional water habitat for a plethora of birds, reptiles and other endangered species like manatees.
Of the 800 protected species in Everglades National Park are 14 threatened species, 25 mammals, more than 400 bird species, and 60 reptile/amphibian/insect species which include two different endangered species of butterflies. Other than living species, the park has rich prehistoric and human history as well. Over 200 archaeological sites are located here, but also it was once home to the largest brick masonry fort in America. Fort Jefferson was big enough to hold 1,500 soldiers, and although it never saw battle, it secured a post for the Union during the Civil War, later to be used as a prison.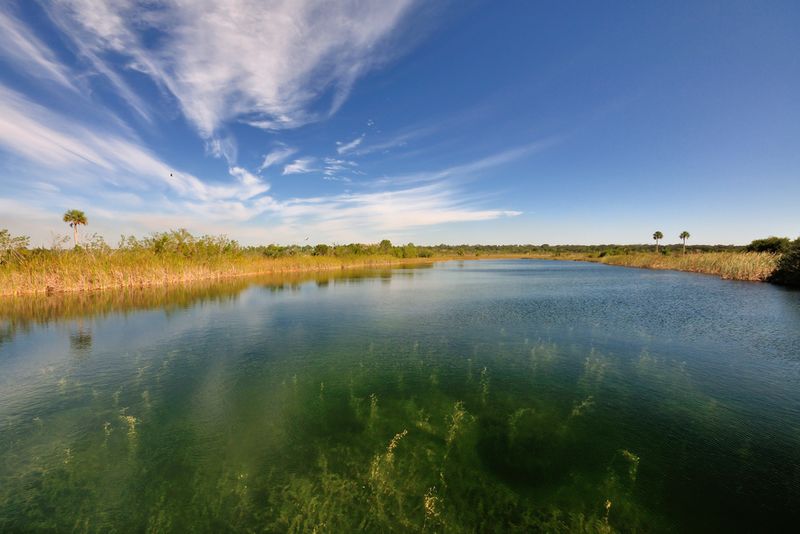 9. Grand Canyon National Park
A movie reference and must-see attraction on the list of many road-trippers, the Grand Canyon is nearly 1,500 meters deep and is easily one of the most impressive gorges in the world. The Arizona wonder traces back more than 2 billion years, which is a bit less than half the age of the Earth.
Over 1,000 plant species have been identified at the park alone, 11 of which are labeled as threatened. There are an additional 15 plant species that have been recommended to be under the Endangered Species Act as well. Over 100 mammals and reptiles along with about 300 bird species have been spotted here, too. But human history takes no backseat at the Grand Canyon, with 2,600 documented prehistoric ruins showcasing evidence of early inhabitants such as the Cohonina and Anasazi natives. Grand Canyon National Park contains much more to learn than what is generally put across in the media, and requires more than a simple passing-by to absorb all it has to offer.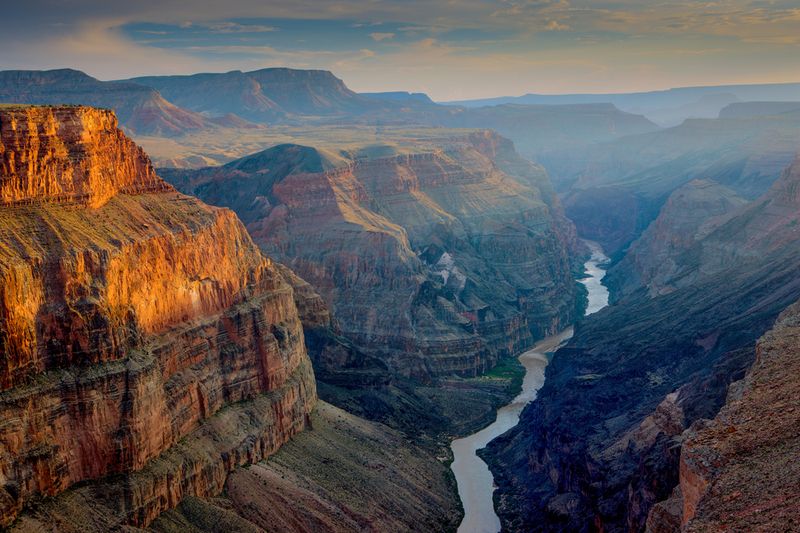 8. Great Smoky Mountains National Park
While many endangered species call the Great Smoky Mountains their home (including the largest variety of salamanders in the world) the 200,000 hectare land grows almost as many species of trees as there are in the entirety of Europe. The roaring greenery that straddles the border of North Carolina and Tennessee remains reasonably untouched to this day, which is the main reason so many endangered animals still call it home.
The inhabitants of the Great Smoky Mountains were likely hunters and gatherers, whom built some of the best log buildings in the United States based on findings from the mid-1800's to early 1900's. With over 15,000 years to span, the culture of the site is vast. Evidence of four pre-Columbian cultures exists: Mississippian, Woodland, Archaic and paleo-Natives. The history ranges from the first evidence of organized horticulture in North America, to the saltpeter deposits discovered on nearby cave walls which were harvested and processed into gunpowder from 1809-1819. Great Smoky Mountains National Park displays temperate vegetation before the influence of humankind.
7. Hawaii Volcanoes National Park
Perhaps the most dangerous natural site on the list, the Hawaii Volcanoes National Park contains two of the most active volcanoes on Earth; Mauna Loa and Kilauea which stand 4.1 km and 1.25 km high, respectively. Amidst forests of giant ferns, the lava flow reveals wondrous geological formations.
Although it is preserved, the park has been forced to endure biological changes since the arrival of mankind. Forestry that has been removed for sugar and pineapple plantations or ranching and logging have drastically lowered the elevation levels of the wood. Most native mammals are scarce from the area, as most pig, goat and mongoose have had almost all (if not all) of their habitats destroyed. Malaria is also rampant in the area, which is one of the many reasons control programs have been undertaken to not only assist the existing ecosystem, but remove that which does not belong as well. Of course, the natural danger of the volcanoes will always exist too.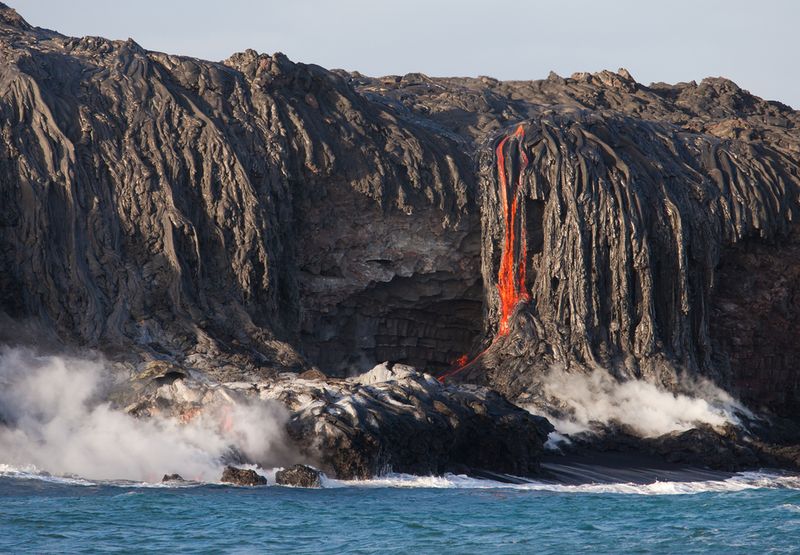 6. Kluane / Wrangell-St. Elias / Glacier Bay / Tatshenshini-Alsek
This mouthful of parks is a complex system of glaciers and high peaks on both sides of the United States and Canadian border. Yukon, British Columbia and Alaska all share these eye-catching natural landscapes which are native to grizzly bears, caribou and sheep. The largest non-polar ice-field in the world is located here, providing a great habitat to cold-weather animals even as portions of the arctic wither away.
A range of climates and elevations in the region give an extensive ecosystem representing all major biomes. Alpine tundra, northern coniferous and coastal coniferous biomes are there, which house tall spruce-hemlock forests, along with various bogs and marshes. A real sight to be seen, these parks have many song birds to whistle explorers through their journey. While east-coast fisheries struggle with population, all five species (red, chum, silver, pink and king) of Alaskan Pacific salmon thrive here. Other varying species of trout and whitefish are also found in surrounding and persevered waters.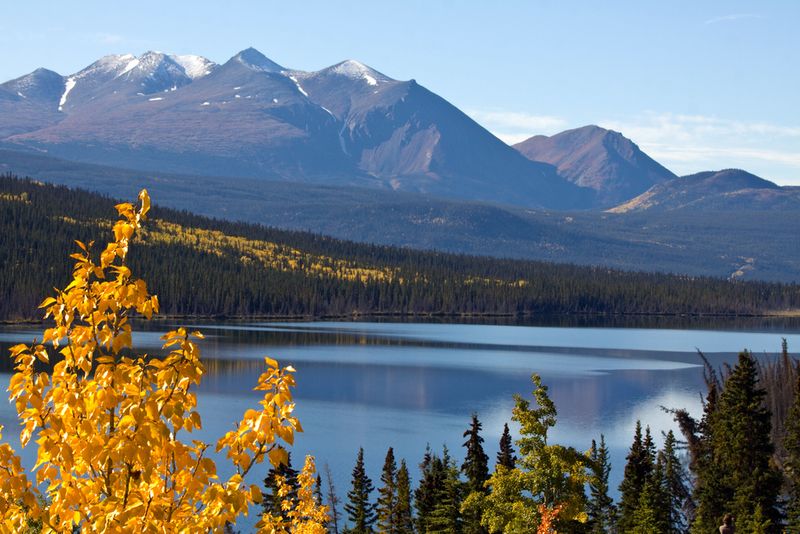 5. Mammoth Cave National Park
The largest network of natural caves and underground passageways can be found at Mammoth Cave National Park, located in Kentucky. Over 560 kilometers of cave paths are located here, along with different types of endangered species. These limestone formations have been the subject of great study for a long period of time.
Of the 200 mostly invertebrate species that are natural to the caves, 42 of them live in complete darkness. The caves are wondrous enough to be showcased on the must-see BBC documentary series Planet Earth. From glowworms and bats to crab and birds there is no shortage of marvelous lifeforms to learn about at Mammoth Cave. Coral life and other fossils of the Mississippian age are published on the rocks within the site that supports no real human life. About 240 people live on the outer buffer zones, with about 1,500 in total in the surrounding transition area.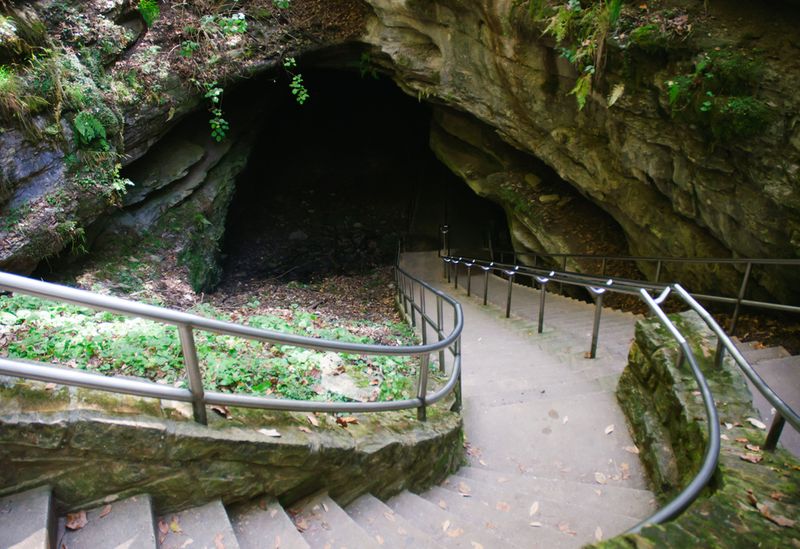 4. Olympic National Park
In Washington State, Olympic National Park expresses the diversity of its ecosystems. Glacier peaks and alpine meadow reflect the illustrations drawn only by old, temperate rainforest indigenous to the Pacific Northwest. The mountains (which are drained by 11 major river system), provide a great habitat for fish species which breed in freshwater (anadromous).
With over 100 km of undeveloped coastline, it is the largest of its kind in the United States. Critically underpopulated species such as the northern spotted owl call this site home, furthering the need for it to remain untouched. The argument for that however, would be that most of the Earth's species inevitably go extinct. With about 60 active glaciers this site is unique in the fact its altitude is the lowest in the world in terms of where glaciers exist, at under 2,000 meters with some even under 1,000 meters. The old-growth forest is the shining example of preservation, which remains intact and protected through the many alpine meadows and woodlands.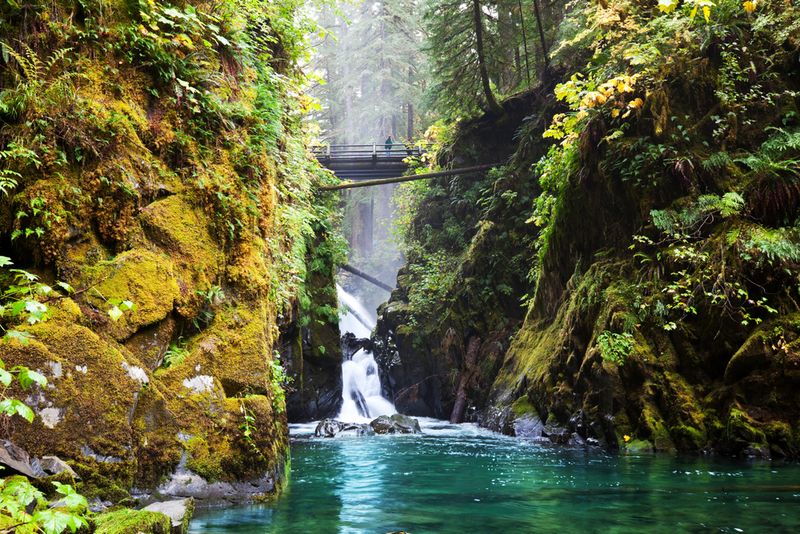 3. Waterton Glacier International Peace Park
Once existing as two separate parks (Waterton Lakes National Park and Glacier National Park) in Alberta and Montana, Waterton Glacier International Peace Park sits on the border between the United States and Canada to offer both countries a taste of its glorious scenery of plant and mammal species alike. Prairies, forests and glacial features also add to the picturesque land that bridges the gap of two nations.
Carnivores such as wolves, coyotes and cougars wander around the wide range of landscapes at this site. This includes a self-sustaining population of over 200 grizzly bears in the glacier complex. The five large eco-regions that make up this park are: alpine tundra, subalpine forest, montane forest, aspen parkland and fescue grassland. The varying temperatures and landscapes are the reason for the vast scope of species which also includes rare white-tailed deer, moose, bison and the indigenous mountain goat and bighorn sheep. Geologically, 1.25 million years of sedimentary and tectonic evolution lies underneath Waterton Glacier International Peace Park which give history not only based on ecosystem, but on earth formation as well.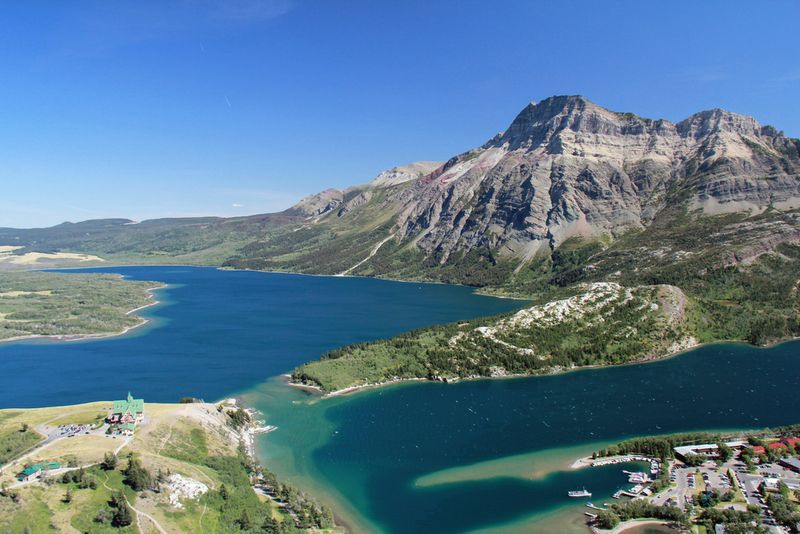 2. Yellowstone National Park
The world-famous Yellowstone National park is over 9,000 square kilometers in size. It spans three separate states, with 96 per cent in Wyoming and the remainder spread through Montana and Idaho. Yellowstone showcases over 10,000 geothermal features, which is half the number of the entire world. The largest collection of concentrated geysers (300+) is located here, which some confuse with hot springs which are located in places such as Iceland for example.
Bears, wolves and bison wander the plains of Yellowstone, with its proximity to many major water sources being a particular factor for the abundance of these mammals. Three major rivers come to a head at Yellowstone; Firehole and Gibbon rivers come together to form the Madison River, which then connects to the Missouri. Yellowstone Lake is the largest at a high elevation in North America, sitting at over 2 km in altitude. Although there are over 40 breath-taking waterfalls, archaeological investigations determined that human groups have visited the park area for 10,000 years, but none have made it "a permanent home".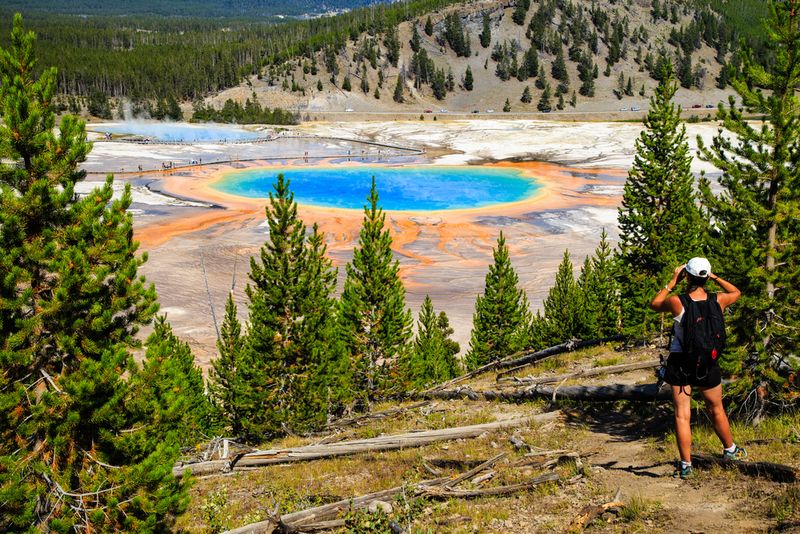 1. Yosemite National Park
Posted in the middle of California, Yosemite has an array of waterfalls, lakes, moraines and u-shaped valleys. Glaciation is prevalent in the park, with varying elevations ranging from 600 to 4,000 meters. This includes a 914 meter deep area which was scraped out by glaciers.
Although there are no longer any glaciers, the marks left behind are everywhere. The glaciers moving against the bedrock have shaped the area into unique and protruding landforms. The Sierra Nevada (which makes up most of the park) is made up of granite, showcasing itself by way of domes, knobs and cliffs. Walls of granite are freshly carved (relatively of course) out from glaciation, with very little erosion to be seen. Aside from these natural formations are many waterfalls and approximately 300 lakes. Other erosions such as the Grand Canyon of the Tuolumne River and the Tenya Canyon make Yosemite National Park a visual Wikipedia of naturally occurring rock and glacial wonders.